For a unique women's style, a special umbrella
No woman likes to encounter a rainy day and not be prepared. So, to stop worrying about those days when the rain spoils your look or your hairstyle, equip yourself with our women's umbrellas. Turn this accessory into your best ally to protect you from the rain and take advantage of it to give a touch of color and style to that gray day.
Read more about Women's Umbrellas
We will show you some types of umbrellas for women with which you can be fashionable even on rainy days. Today the umbrella has become an essential women's fashion accessory, which not only offers comfort but can use it to give style and elegance to your look. So to find the one that best suits your tastes and needs and enjoy its benefits.
Types of women's umbrellas
According to design
Classic large stick­ womens umbrella with a hook handle
A classic option of larger size, they are a safe bet to not get wet in any way on rainy days. In addition to being the ideal protection, you can carry it as a cane to make your walk in the rain something elegant and stylish. Providing extra protection against those wet floors that seem to be wishing you slip on them.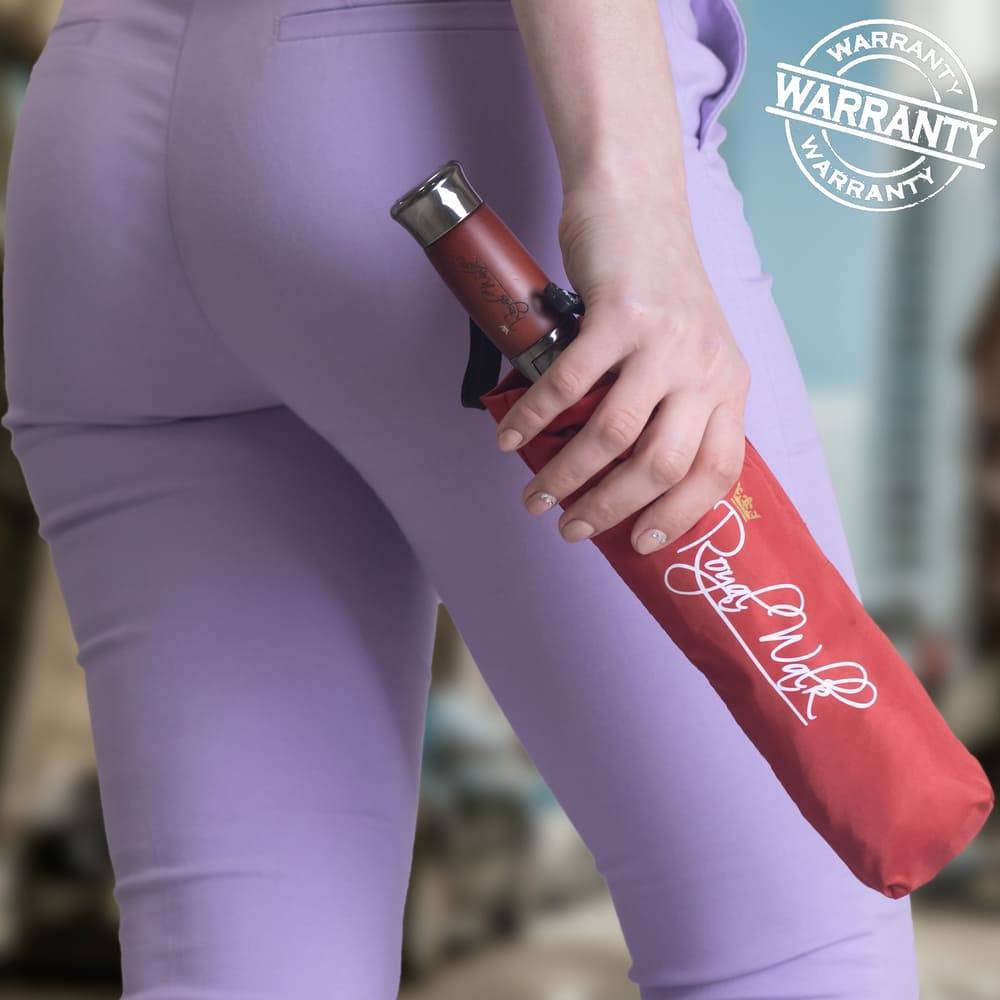 Folding umbrellas for women
They are comfortable, functional, and ideal to use as needed: rain is not synonymous with carrying an umbrella all the time. If it is not raining or you are undercover, you can keep your umbrella in your bag and forget about it until you feel a few drops.
Folding umbrellas are the best option, so you don't have to worry about where to store your umbrella or what to do with it if it doesn't rain.
This is the first selection you should make; the control umbrellas are classic, more robust, and more significant, so they usually cover more than the others. However, the folding ones are very comfortable as they can be stored in bags. Combined with caps and hats, they also protect you perfectly from the rain.
According to Women's style
Women's umbrellas with flowers and prints
Women's umbrellas with this kind of design are ideal for highlighting your creative essence. When you see them, it is impossible to fall in love with the variety of styles available. You can find combinations with vivid, pastel, and also sober tones that adapt to the trends. There is a wide variety of umbrellas for women with different and varied designs printed on them. Designs with flower prints, hearts, raindrops, tree leaves, animals are the most common.
This umbrella type can be combined with any garment, especially those with a classic bell or bubble design. Many famous women, such as Queen Isabell II and many models and influencers, have used this type of umbrella. However, the best-sellers are the transparent umbrellas with different printed designs and the ones with a colored stripe at the bottom to match the color of the clothes.
With this design, you can walk in the rain with your head and shoulders protected but without losing sight of everything going on around you.
The umbrella has become an essential accessory in women's fashion. One of the easiest ways to enhance and improve your look is to look for an umbrella with a color that matches the models you usually use on rainy days. They can be long umbrellas or folding umbrellas carried in your bag, whichever type you like best.
You always have to put a good face on bad weather and that's why umbrellas in rainbow colors are an excellent choice. They will lift your spirits even on gray and rainy days with their many cheerful colors.
Tip for choosing umbrellas for women
Once you've decided on the type of umbrella you want, it's time to choose the style. If you want a closet umbrella that will never go out of style, go for a neutral color: black, blue, gray, or brown. But if you prefer to give a touch of joy to cloudy days, opt for umbrellas in bright colors: red, pink, green. Prints will also add a fun touch to the rain: plaid, stripes, geometric shapes, or flowers, choose your favorite!
Want to be the trendiest in town? Choose a transparent umbrella: original, stylish, and they go with everything; what more could you ask for? If you are also looking for comfort, choose an automatic folding umbrella or one with a handle. It will be straightforward and quick to open when the raindrops start to fall.
Finally, don't forget to wear a pair of gloves, some scarves, and warm collars and you'll have everything you need for cold rainy days.
Why buy an women's umbrella?
Women today need a beautiful and functional umbrella that enhances their glamour and femininity while protecting them from the sun and rain. Therefore, it is an essential accessory that you should not be without. We have many options available so you can choose the one that best suits your tastes and needs. In addition, they are of exceptional quality thanks to the resistant materials with which they have been manufactured.
Suppose you are a woman and you are looking for a stylish and quality umbrella or you are a man who is inquiring about this product to make an excellent gift to your wife, girlfriend, or friend. We have the best selection of umbrellas so you can choose the one you are looking for.
Why choose us to buy ladies umbrellas?
The technology of our umbrellas for ladies is applied. It is an article of long duration and comfortable and straightforward use. Thus, to choose our umbrellas, we analyze aspects such as size, weight, and smoothness of the mechanisms. The result is a product that is compact, simple, resistant, and of optimum quality-price ratio.
In addition, behind each of our umbrellas for ladies, there is background work, where styles and trends are carefully studied to have all the personality and style you deserve.
Our materials have soft and pleasant to handle surfaces on the handles. In addition, the fabrics are resistant so that they do not fade or loosen the ribs.
Royal Walk Women's umbrella luxury accessory for rain protection
Royal Walk Women's umbrella is not only a luxury accessory to their outfit, but they are waterproof and windproof as well. Ladies are usually in a hurry in their daily life and they need small and light umbrellas, compact and stylish as well. What is crucial for a nice lady umbrella is to make sure it will keep the women dry under heavy rainfall.
Most Preferred Ladies Umbrellas
Mostly women prefer light travel umbrellas and folding fast-drying ones with a smaller canopy, with a nice wooden handle. Others love having classy walking stick umbrellas, supporting them while walking.
The best women's umbrellas
Our women's umbrellas collection includes a wide range of people's favorites - large umbrellas, windproof umbrellas, small folding automatic umbrellas, double-canopy air-vented umbrellas, walking stick umbrellas, wooden handle umbrellas, and other classic umbrellas for women.
We specialize in manufacturing windproof and water-resistant rain umbrellas that would withstand the stormiest weather. In most of the umbrellas, we have used fiberglass to create the ribs, which makes them flexible and strong.
We as manufacturers are determined to bring you the best value at affordable prices, high-end quality, and quick & reliable service.
Give yourself extra rain protection with Royal Walk Women's umbrella.
Show off your umbrella in the rain
Need a new umbrella? You're in the right place. Here you can choose from many different designs from the best brands to find your perfect ally; you'll be looking forward to the rain!
We know how important it is to make a good choice of umbrellas for women, so we have models for all tastes. In addition, our selection of umbrellas is made with high-quality materials. For this reason, you can have the best protection for cloudy days and with a lot of precipitation.
In Royal Walk umbrella for rain store, we have a wide variety of practical and modern umbrellas. Furthermore, we have all the facilities to acquire the product of your choice safely and quickly.
Visit our store and get the best umbrellas for women!
---
Customer reviews for Royal Walk Women's Umbrellas
British umbrella for women at it's best
Beautiful classic women's umbrella which is a joy to hold and use. I chose dark red, which compliments the wooden handle wonderfully. Most umbrellas (especially those targeted for women) have short stubby hard plastic handles that are slippy when wet and you are overjoyed when closing as they are unpleasant to hold for any length of time. The umbrella comes with a smart cover.
Strong yet compact and very easy to use
A very well finished and professional-looking women's umbrella suitable for both men and women with a handy sleeve to store it away. It is a great size making it suitable for any occasion as it won't get in the way and is opened and closed instantly at the push of a button which sits seamlessly in the wooden handle next to your thumb. It has a sturdy frame so it will stand up to strong winds. A great purchase.
Women's umbrella with beauty wood handle
Beauty umbrella with very fast drying. This weekend had to take advantage of it, really good protection from the rain, there was a strong wind, and even the umbrella is not broken. Open/Close automatically and perfectly suitable for the trip or just for everyday use, because often it rains in England. Very compact and suitable for both men and women.
Good quality umbrella for women
When closed, this umbrella is small. When opened, it is larger than most umbrellas of that type. The automatic open-close mechanism works really well. The shape is elegant, for Botha men and women.
Great women's umbrella
It's the first umbrella I've ever owned, and it's super easy to open and close. Definitely helped me be the "knight in shining armor" when I was able to offer a lovely woman the umbrella to keep dry. Why don't you have one of these in your car just in case? You should.
A must buy 5 stars for this women's umbrella
Fabulous now I know why so many people ordered it a very compact sturdy umbrella also very easy to hold. Well made beautiful shape & lightweight which is so important would highly recommend 👍🏻 Price is good too
Five Stars ladies umbrella
I love how easy it is to open and close it. It's good for both men and women.
Louboutin of Umbrellas
A very luxurious-looking umbrella. Mix it with a suit and women will think you are Robert Downey Jr.
Sturdy and strong women umbrella.
Delighted with my new umbrella. It is very sturdy and is obviously never going to blow inside out. I chose pink and it is a beautiful bright color. Would make fabulous birthday presents.
Great ladies umbrella! Seller provides excellent customer service.
Today was the first day I took this little beauty out for a test drive in our lovely welsh weather. it was wet and windy and the umbrella stood up well to the weather. It did blow inside out once, but that was because it has withstood several gusts of wind and I got a bit blasé, didn't turn into the wind, etc. it reverted back easily enough, no damage was done. previous folding umbrellas were a complete waste of time as they are unable to cope with our weather. This actually worked. Buy!
When it arrived the first thing to hit me was the beautiful color, it's a very sturdy umbrella for women.
I was fed up with buying cheap umbrellas that kept collapsing on me with the first hint of wind or rain, so decided to pay a little more and buy this. When it arrived the first thing to hit me was the beautiful color, it's very sturdy, maybe a little on the heavy side but I have no doubt it will withstand the really bad weather when it comes! The added bonus is that it has a lifetime guarantee - really pleased.
I'm so stoked that the women umbrella is not only great quality, durable
The first umbrella I received was broken, but after contacting Upper Echelon Products they not only send me a brand new umbrella for free but also gave me a discount code for my next purchase. I'm so stoked that the umbrella is not only great quality, durable, and a beautiful shade of yellow; but that it's backed up by superb customer service.
Best women's umbrella I have ever had.
Excellent quality product and service. I would recommend this product and company. It is very good in terms of not turning inside out in high winds. The size of it means it will comfortably cover one person. It is however quite heavy. Finally it can be used as a walking stick if necessary. This is the strongest umbrella I've ever bought. It handled a really pouring rain with wind in my city next to the sea!
Just a wonderful umbrella for ladies
I haven't used this umbrella properly yet, but I unpacked it and spent an entire evening deploying it on the sofa and it's already paid for itself. It's just so satisfying. Buy the umbrella. Bought as an additional umbrella to keep in the boot if the car. Had to use it almost immediately and it proved to be brilliant for 2 people on a very wet and windy day. Now my primary umbrella!
Top quality umbrella for every woman
I've had umbrellas branded as being extremely windproof before but this endures the onslaught even better than them. This brolly is both light and strong with its size capable of keeping three close buddies dry its great value for money. Absolutely perfect for my needs and the one handed opening makes life much easier than a standard umbrella of this size.
Royal Walk Umbrellas