What is the automatic umbrella?
The stylish and essential accessory for women and men
Automatic umbrellas have a system that allows you to open them quickly with the push of a button located on the shaft. Its efficiency improves multitasking, as you can easily open/close your umbrella for immediate protection against rain while handling other items. For example, you can easily adjust your umbrella while carrying your handbag effortlessly. Sounds great, no?
Read more about Automatic Umbrellas
Types of automatic umbrellas: folding and stick umbrellas
Size is significant when it comes to umbrellas, especially when you are one of those people who are always accompanied. That's why there are different types of automatic umbrellas depending on their size, and you can choose the one you like the most.
Automatic umbrella mechanism
Folding umbrellas also have a good covering capacity. Still, you can store them in different suitcases and bags, thanks to their small size when closed. So they are the best umbrellas for those who don't want to have them in their hand all day long.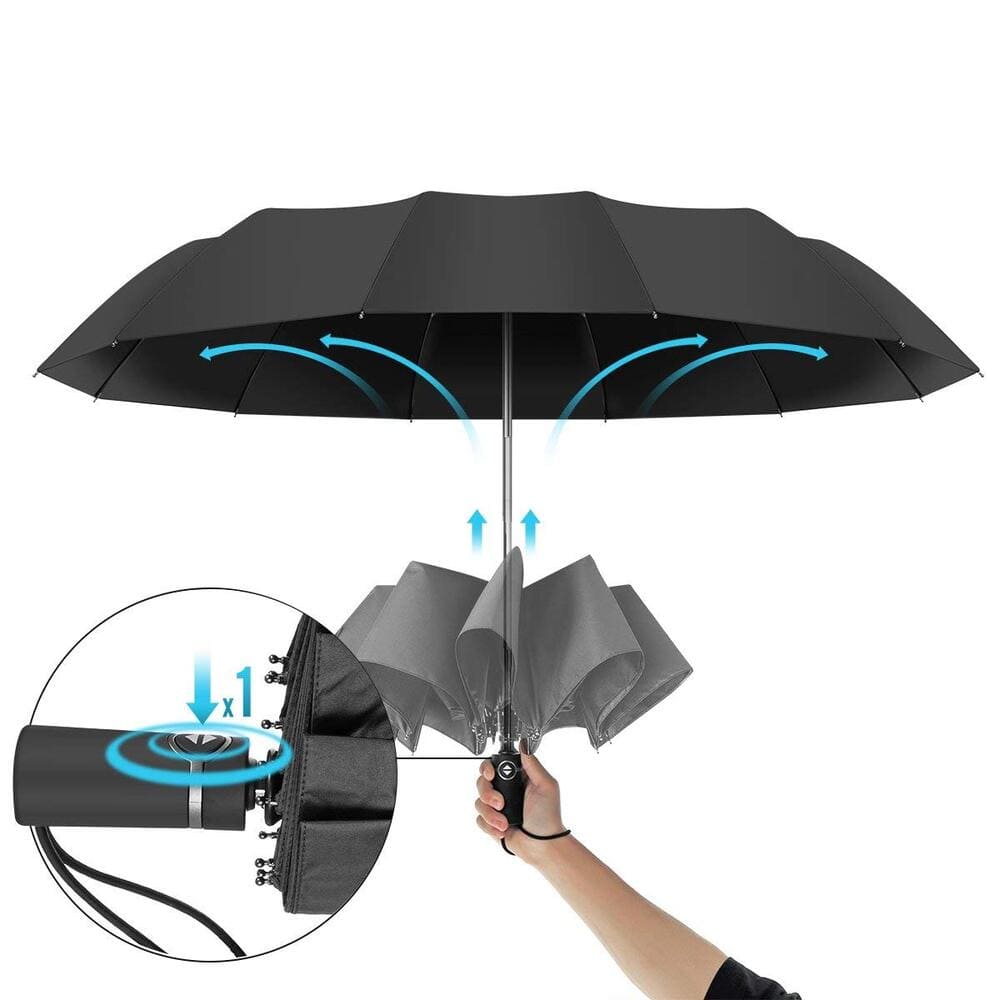 Stick Automatic Umbrellas
Long umbrellas are perfect for those who are looking for more coverage. They have a wider coverage space, excellent designs, and unique fabrics for the rain. These would be the best umbrellas for those who go out accompanied or want to have total coverage of their backpacks, bags, or other items.
Types of automatic umbrella systems
The opening and closing systems are also fundamental when choosing an automatic umbrella. Get to know the types of opening systems:
Semi-automatic
The semi-automatic opening system is handy for rainy moments. If it suddenly starts to rain, you only need to press the opening button to open the umbrella and cover yourself. Unfortunately, this system does not have automatic closing, so you will have to close it manually.
Fully automatic - auto open and close umbrella
The fully automatic system only requires you to press the button on the handle to open and close the umbrella easily and instantly with a gentle push. Now, no need to waste time opening the umbrella when you get out of your car in the pouring rain or when your hands are full of stuff.
Automatic reversing system
The automatic reversing system allows the umbrella to open quickly by pressing the button on the handle, just like a regular umbrella. The only difference is that it opens upside down (it automatically expands from the tip to the center). To pick it up, press the button again.
Superior Waterproof - Water Repellency
The automatic umbrella has a Teflon-coated fabric, which is highly water-repellent and quick-drying. In addition, the waterproof and moisture repellency prevents raindrops on the umbrella from passing through the fabric.
Thanks to this Teflon fabric, the fabric will not get soaked quickly; just shake it gently after closing the umbrella, and then all the drops will go. So you will no longer have to worry about putting the umbrella in your bag and getting your things wet. Because the fabrics treated with this product easily repel water and prevent dirt from sticking.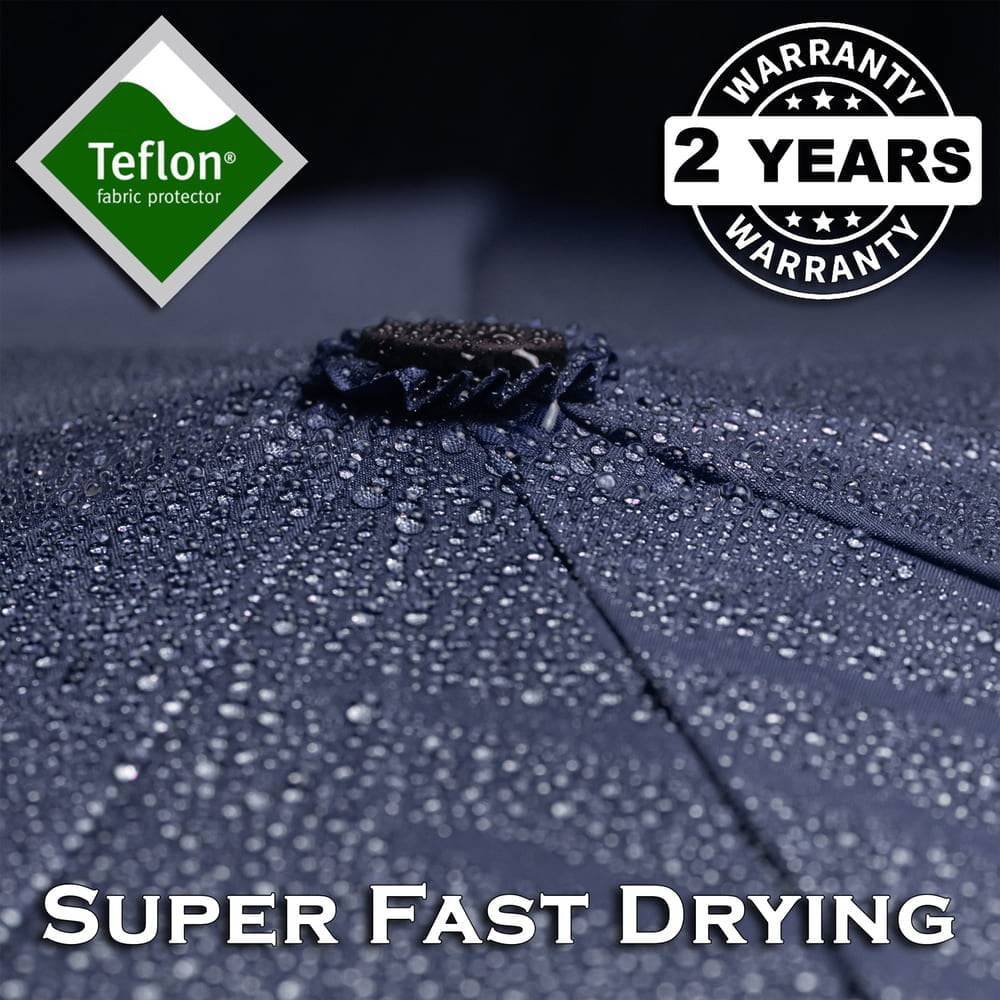 Types of automatic umbrella handles
Depending on the material:
The handle of the automatic umbrella can be made of plastic, wood, or rubber to guarantee a good grip, or it can also be made of EVA foam, bamboo, or aluminum to give stability, flexibility, and lightness to the umbrella. The important thing is that whatever the handle's material, it must be safe and pleasant in hand.
Depending on the shape:
A J-shaped umbrella handle is more accessible to hold than regular umbrellas. It is considered a non-slip ergonomic handle, a comfortable and secure grip in any weather, and its shape allows you to have a better holding experience. Meanwhile, the straight handle has a distinctive appeal that distinguishes it from other umbrellas, denoting more extraordinary elegance.
How to choose the best automatic umbrella?
To correctly choose an automatic opening umbrella, you should take into account the following aspects:
Functions
Be sure to check that the functions you want are integrated into the model you plan to purchase. Otherwise, it would be very beneficial to move on to another option. However, technology is growing very fast these days, and that is why you should look for a superior product.
The brand name
Automatic folding umbrellas are long-term investments, and therefore should be made with great care. Instead of spending your hard-earned money on random products, choose brands with the highest level of credibility.
Big brands provide you with excellent service in terms of product quality and features and guarantee better customer service and warranty options. Most of the reputed brands offer their users better customer service and guaranteed quality assurance.
Check out the different offers
One of the best things that most people love is that everything is already online. Instead of spending hours in different online stores, it has become easier for users to visit the other e-commerce stores to get the best deals. We invite you to look at the models of automatic umbrellas that we have available in our store.
Check out the reviews
Reviews speak volumes. Reviews make it easy for a person to understand a product in-depth, whether online or offline. So when you are looking to buy an Automatic Folding Umbrella, make sure you read the reviews and try to know the pros and cons in detail. Seeing reviews and customer ratings will work wonders to be sure that you purchase a quality product.
Reliable seller
When buying an Automatic Folding Umbrella product online, ensure that the seller has a good reputation and is not involved in scams like selling the first or second copy. However, when you are ready to buy online, our store is one of the most reputable brands that provide a lot of trust and credibility.
Compact automatic umbrellas that make your life easier
Automatic umbrellas are among the most popular and trendy types of umbrellas. They are preferred and frequently inquired by both men and women. The automatic function makes it quick and easy to open the umbrella when sudden rainfall catches you. These umbrellas open within a second by the touch of a button. There is a slight difference between fully automatic and semi-automatic umbrellas.
High-quality materials make automatic umbrellas wind resistant
Royal Walk Umbrellas specialize in manufacturing windproof and water-resistant automatic travel umbrella with wind vent for men and women that will withstand the stormiest weather. All Royal Walk automatic umbrellas are made of high-quality materials like fiberglass, aluminum alloys, and wood that make Royal Walk umbrellas be light and robust at the same time, ensuring long-lasting performance and the best rain protection.
Regardless of the umbrella type, you are looking for – either a fully automatic umbrella or a semi-automatic one, this is the right place for you. We as manufacturers are determined to bring you the best value at affordable prices, high-end quality, and quick & reliable service.
Multi-Purpose Umbrella
Our automatic umbrellas collection includes a wide range of people's favorites - classic windproof umbrellas for men and women, double-canopy air-vented umbrellas, wooden handle umbrellas, all available in different colors.
We specialize in manufacturing windproof and water-resistant rain umbrellas that would withstand the stormiest weather. In most of the umbrellas, we have used fiberglass to create the ribs, which makes them flexible and strong.
We as manufacturers are determined to bring you the best value at affordable prices, high-end quality, and quick & reliable service.
Give yourself extra rain protection with Royal Walk Automatic Umbrellas.
Our automatic umbrella models offer you the following benefits:
COMPACT: the automatic umbrella is highly compact and lightweight; it is easily stored in briefcases, backpacks, bags, and more. A perfect travel companion to take wherever you want to go while taking up minimal space.
QUALITY FABRIC: waterproof Teflon material with excellent rain resistance and special quick-drying water-repellent resin. Eco-compatible material, free of toxic substances, with a focus on health and the environment.
RESISTANT: the shaft and the exceptional top-quality ribs make the umbrella ultra-light and resistant even to the strongest gusts of wind or adverse weather conditions without the risk of breaking or overturning.
OPEN-CLOSE: you can easily open and close the umbrella by simply pressing the button on the handle, allowing you to keep one hand free for your luggage when getting in or out of a car.
VERY WIDE: there is all the comfort of pleasant rides for two in the oversized dimensions of the umbrella.
Get the BEST Umbrella: automatic, classic, compact, stable and strong
Classic design, innovative features make our umbrellas not only the best automatic umbrella model on the market. It is also one of the best accessories for men or women, whether it's raining, windy or stormy.
---
Customer reviews for Royal Walk Automatic Umbrellas
Great anti storm and fully automatic umbrella for this cost
This product is fitted with an anti-storm cover which prevents damage due to high wind. It is also a fully automatic umbrella, so it opens and closes at a press of a button. Fabric is thick and repels water very well. It's also very sturdy even when open, so I can fully recommend this Royal Walk umbrellas
Sturdy and light weight automatic umbrella
The umbrella is sturdy, lightweight. The compact automatic umbrella is perfect for carrying in a bag. The automatic open and shut works well and hopefully doesn't stop in future considering how's umbrella buttons work. Happy with the product and would recommend anytime.
You can't go wrong with the stylish design and the flashy automatic open/close mechanism which feels very much like being in Kingsman
This automatic umbrella has every hallmark of true workmanship, backed up by the manufacturer's confidence in their product in the form of a lifetime warranty. The materials are of high quality though I still have to test the effectiveness of the Teflon covering in a real downpour. The frame is made of light-weight parts that are clearly precision-machined. Operation is firm and precise due to liberal use of micro-springs in the ribs and a powerful one in the vertical shaft.
Well made and high quality automatic umbrella
I had the opportunity to use this well made umbrella in gusts of wind and heave rain. The umbrella did not get blown inside out nor did it get blown into bits... like all my other cheaper umbrellas. The canopy is really good quality, just give it a shake and the rain will come off and leaving the canopy rather nice and dry. The automatic open and close button is really Smooth to use and the whole thing does not weigh a ton which is really good for a small person like me. I highly recommend this high quality umbrella
AMAZING AUTOMATIC UMBRELLA! :)
AMAZING umbrella! And wonderful customer service too! It is an incredibly sturdy umbrella, so far resisting the wind and rain of Belfast very well. It is great to have an automatic open and shut umbrella rushing in and out of work/ the house/ shops, and I have had so many compliments on the colour. 
Good automatic umbrella, works well so far.
Compact, lightweight, opens with the push of a button, though in order to do so, it has to be fully closed (nothing happens if the handle is already extended but the umbrella itself is folded and you press the button). Other than that, so far it has been tested in strong winds and heavy rain. Rain was no problem at all, at some point the wind made the umbrella fold outwards, but it righted itself again automatically after 2 seconds, which was quite impressive as my previous umbrellas used to end up getting ruined or broken if something like that happened.
I'm very happy with this automatic umbrella
I'm very happy with the umbrella. It's a bit heavier than I expected but still fine to carry in a handbag. Its sturdy and the automatic open/close mechanism works well, you just have to make sure there's enough space in front as it opens very quickly on pressing the button.
Sturdy and Strong Automatic Umbrella
This is a sturdy automatic umbrella. Have only used it once felt good. So far so good, hope it lasts but as it has the guarantee I thought it was worth paying the extra as I should be able to get it replaced if it doesn't cope well with the wind.
You wont be disappointed with Royal Walk automatic umbrellas
Have had plenty of cheap umbrellas, all of which have broken. Decided to spend a bit more and get a decent one. Not disappointed. Arrived quickly, well packaged and pink on black right on trend (if you can have a trendy umbrella !!). Automatic function great and easy to put up and down. Material dried quickly and easy to pack back into holder. So far, so good, fact that this has lifetime guarantee is a great feature. Would recommend product and company.
Sturdy automatic umbrella.
At last am small automatic umbrella that feels sturdy and well made. Easy to operate and collapse back and fold. Very pleased and much sturdier than previous small umbrellas. I was particularly pleased that the width was enough to go over both shoulders to stop them getting wet.
Very pleased with umbrella.
Umbrella is very good quality, with very efficient automatic opening. Haven't had it long so cant comment on durability yet, but to say it is built very well and looks robust, so don't expect to have problems, Very pleased so far.
Excellent solid automatic umbrella.
Item bought in Navy Blue. Really impressed with this item, really sturdy, has an excellent weight to it an feels really good in the hand. The automatic extension and retraction works really well and the umbrella clicks solidly back into place. It dries out fast and the fabric feels nice and thick. Not tried in heavy winds as yet, but I'm happy with the purchase so far. Fast delivery and excellent service from the seller.
Royal Walk Umbrellas