Luxurious and High-Quality UMBRELLAS for RAIN
Best selling umbrella for rain with windproof ultra-strong frame construction
Large umbrella for rain with extremely durable frame and 16 fiberglass ribs, elegantly complemented by a comfortable real wood handle.

The big diameter of 47 inches (120cm) makes this large umbrella the best rain protection for men and women.

Classic black large umbrella for rain with an automatic opening system at the touch of a button.

Royal Walk large umbrella for rain comes with a black branded matching carry shoulder strap sleeve.

Easy to carry, compact and elegant when folded in the sleeve.




Large umbrella for rain with UV protection.

Super-fast drying fabric – 190T high-density water repellent fabric.

Comfortable and beauty natural wood handle

Durable walking stick umbrella
Best-selling large umbrella in 5 European countries
2-years international warranty
Inches of Arc and 47 Inches (120 cm) in diameter
Strong Ribs of Aluminum Alloy and Fiberglass
% Rain Protection for 2 People
Bestselling Awards in 5 European Countries

Ventilated Windproof umbrellas
Innovative vented double canopy umbrella for rain with strong windproof construction
Ultra-flex frame technology used in the construction guarantees both strength and flexibility.
The vented double canopy construction supported by solid super wind-resistant frame with premium fiberglass & high-grade steel.
The highest resistance tested against winds with a speed of up to 150 km/h.
Fast drying windproof umbrella made of 210T Teflon coating fabric, using the international leading waterproof technology
Luxurious ergonomic natural wood handle is extended and thickened (10cm long), giving a strong, comfortable, and secure grip feel.
This folding windproof umbrella, gives class, style and a great pleasure to use!
This compact folding umbrella for rain is small when folded and large enough when open.
Big size (diameter in the open state – 103 cm) to protect you in the heaviest rain.
Lightweight – weighing less than 1lb (490 grams only), and measuring just 11.5″ long (with a folded length of only 34 cm), the handheld classic men's umbrella is extremely packable and can be easily assembled in purses, briefcases, backpacks, luggage, or business men's bag (women's bag).
Double Canopy Windproof Umbrella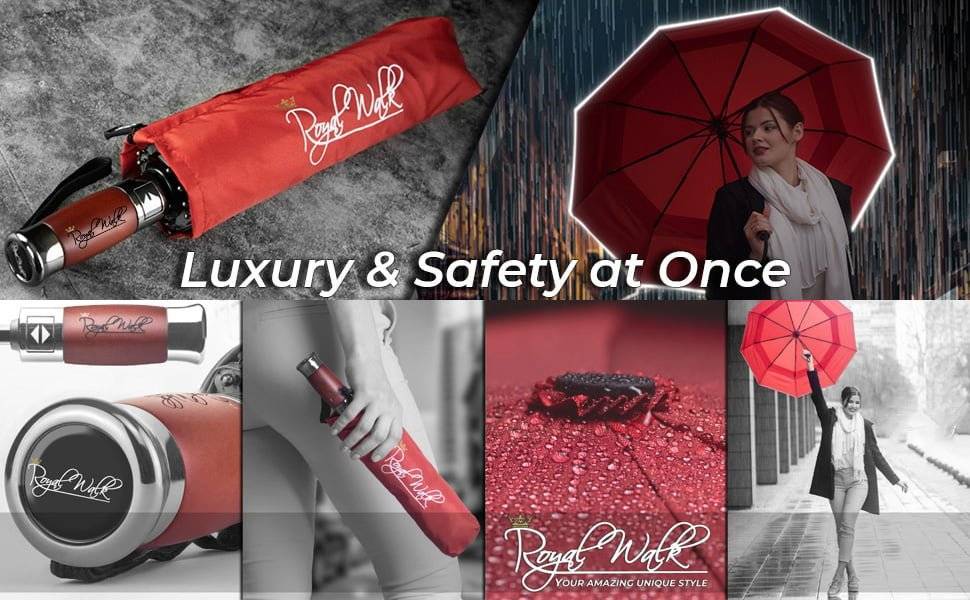 Every Royal Walk Umbrella for Rain comes with
International 2-Years Warranty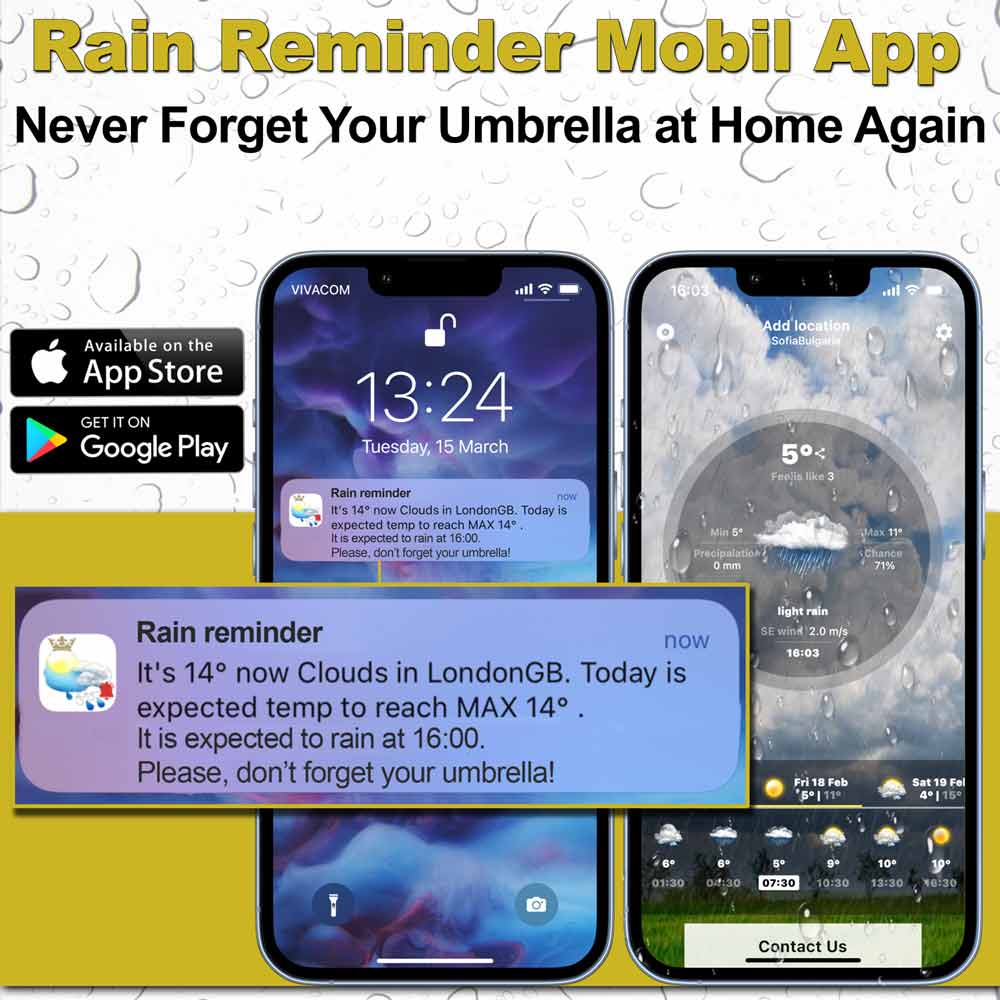 Rain reminder mobile app
Never forget your umbrella at home again
Free subscription
Enjoy a free lifetime subscription to our Rain reminder mobile app only for royal walk customers
Customizable notifications
Set a morning and evening notification at your chosen time of the day to let you know if there is a possibility of precipitation.
Accurate weather forecast
Our rain reminder provides accurate forecast for your current and favorite locations
Never forget your umbrella
Free subscription
Quick customer support
Current & favorite locations
Flexible daily notifications
Hourly & daily forecast
Reliable rain probability
Easy & beautiful design
Additional benefits and discounts
How to get the warranty and the Rain reminder mobile app?
Every umbrella comes with an attached flyer card with a QR code.
Scan the QR code with your smartphone camera (if you haven't got a QR code scanner, you can download it for free for iOS and Android smartphones).
Get 2 Years Warranty and a Free subscription for our Rain reminder mobile app.
Every time when there is a possibility of precipitation you will be notified with a screen notification of your smartphone.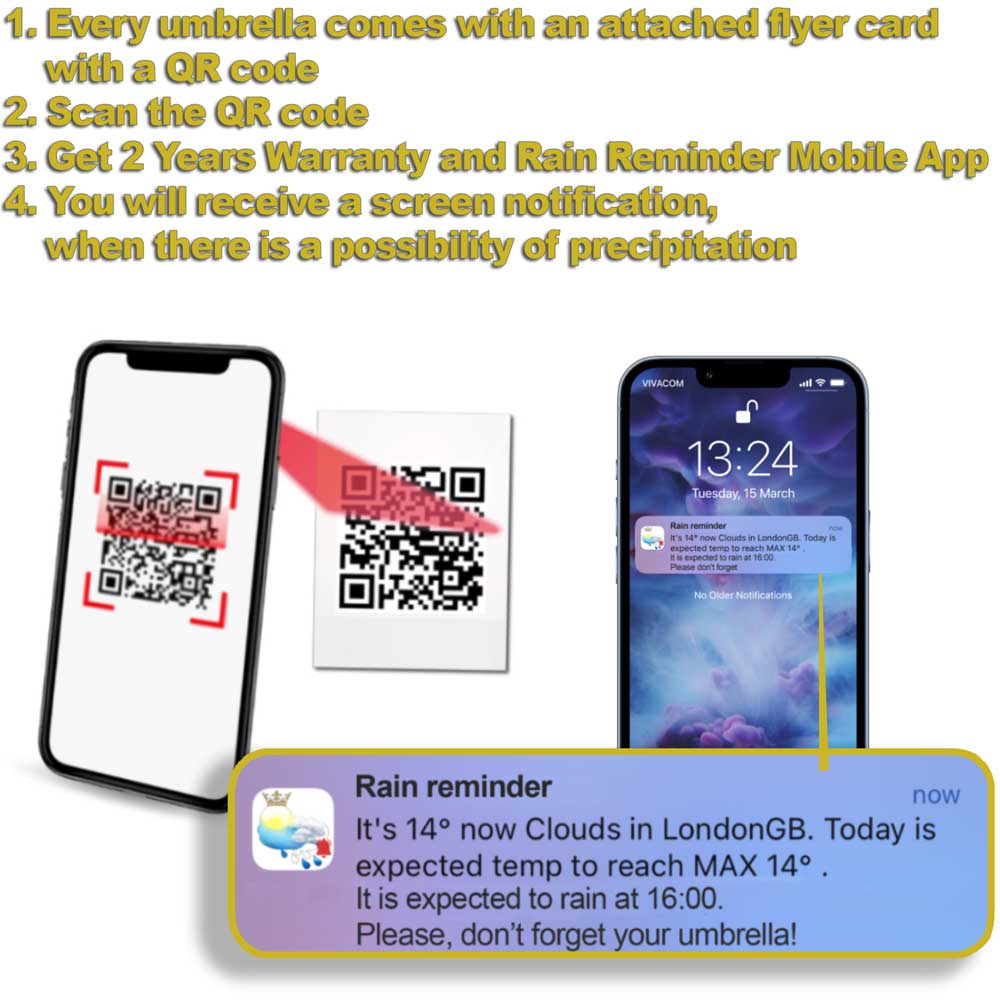 Top rated UMBRELLAS for rain