Style and beauty to complete your outfit
So that the rain doesn't catch you unawares, get a folding umbrella. The folding umbrella takes up little space, and you can take it anywhere.
What is a folding umbrella?
The folding umbrella is a compact and ultra-lightweight accessory, making it easy to carry anywhere. These are small, closed umbrellas that are only 30-35 cm long. They are ideal for carrying your bag or backpack because they take up little space and weigh very little.
It is convenient, with an original design and high-quality materials that make it a perfect choice as a travel umbrella. Its small size and foldable nature also allow you to transport them easily.
Read more about Folding Umbrellas
Folding umbrellas for every woman
Folding umbrellas have a practical design, are easy to carry anywhere, and come in a wide range of designs and colors. So if you think of giving it to a woman, you have thousands of options to choose from and buy one that she likes and goes with her style and preference.
Generally, this design is very comfortable since you can press a button with one hand, and it will be open in seconds. You can easily hang it from your purse or wallet or wear it hanging from your wrist. They come in various colors, pastels, flowers, or some very subtle and other more extravagant and creative prints.
They are practical, beautiful, and very comfortable to wear, generally with closed dimensions of 30 cm and weighing no more than 400 grams.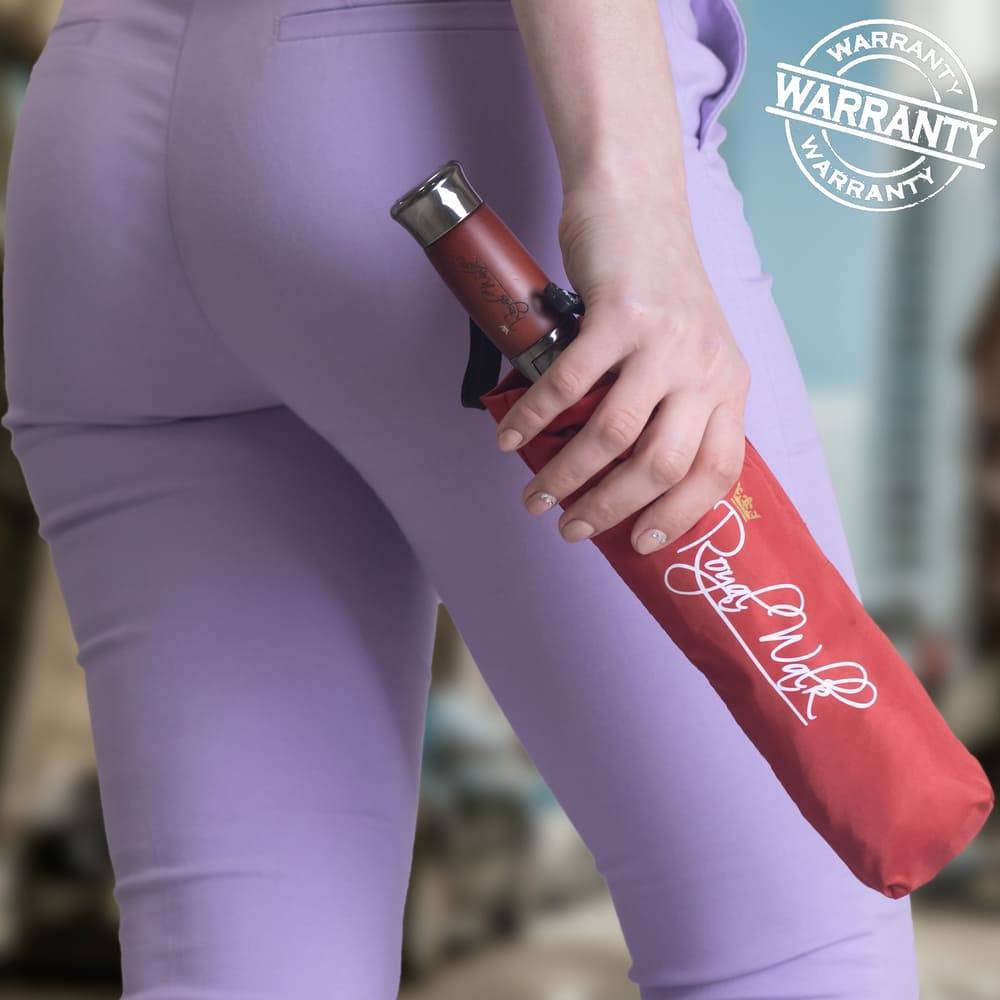 Folding umbrellas for every man
This type of umbrella also offers designs for men with more sober colors. There are automatic or semi-automatic, close and open quickly, with wooden handles, metal handles, and windproof.
Generally, there is a practical pocket model for men. These are the standard sizes of the designs of these umbrellas that men buy, all oriented to practicality, comfort, and ease.
Types of folding umbrellas
According to their design:
Umbrellas with typical or traditional folding have 2 and 3 folds in their design. The handle of classic folding umbrellas is usually made of hardwood. However, they can also be made of plastic, plastic-coated rubber. This simple style is considered the most popular among buyers.
Inverted folding umbrella
The reverse umbrella opens (or closes) upside down from a normal one. The opening position is the same as the normal ones. The umbrella is stretched from the bottom until it is completely unfolded.
However, the difference lies in how it opens since the reversible (or reverse) umbrellas start to expand from the tip towards the center. And if you notice, normal umbrellas do it the other way around; that is, they extend from the lowest part of the umbrella outwards.
According to the material of the handle:
The materials are another essential factor. From them, you will be able to know how resistant and durable your folding umbrella will be. The most recommended ones are made of plastic, wood, or rubber. All these materials will guarantee a good grip, resistance, and long life to your umbrella.
Depending on the opening system:
Folding umbrellas can be with three types of openings: manual, automatic, and fully automatic (opening and closing). Royal Walk Folding Umbrellas are fully automatic. This is crucial for folding umbrellas to be good ones, large when open, and compact when folded.
Manual opening systems can provide better stability, as you can adjust the umbrella to your liking. However, automatic and fully automatic opening systems are much more practical and easier to use. They also save a lot of time if you are in a hurry to use your umbrella.
Folding umbrellas with water-repellent fabric
While umbrellas were mainly made to help you withstand the rains, some only come with little water resistance. These are not practical at all and, over time, may eventually stop working.
It would help if you bought ultra-water-resistant models, such as umbrellas with Teflon-coated fabric, which you can store in your bag without any problems as they are quick-drying.
Folding umbrellas with stron windproof construction
Who hasn't been soaked and had their umbrella blown over by the wind? The umbrella must be oriented in any direction without losing its shape; it should never bend outwards. The solution checks the solidity and materials of its structure and its seams. The handle must also be ergonomic enough to direct the umbrella against the wind with as little force as possible.
Windproof umbrellas are constantly reinforced with extra strong materials and are often given a double-layer cover. The reinforcement and double layer canopy prevent this umbrella type from blowing upwards, as they can withstand strong winds. They are also large enough to cover a large number of people, so it is ideal for a large family.
Why buy a folding umbrella?
Easy to use
Practical and lightweight in design.
Sturdy and come in sizes that make them easy to carry around.
Automatic and semi-automatic models for quick opening and closing.
Designs, colors, and materials for a variety of tastes.
Spacious and very comfortable.
Very durable.
Ultra-drying designs.
We have many options for these folding umbrellas in our store, so select the one you like and buy it now.
Style and beauty: complete your outfit
Folding umbrellas are an essential fashionista accessory for sunny or rainy days, complementing history and prestige.
The umbrella is an invention that has been functional and essential throughout time. Therefore, it has a significant legacy and deserves all kinds of valuable recognition. That is why, beyond its function and what it represents, it is also a complement considered as a fashionista.
Not everyone goes out with an umbrella just for the sake of it. Still, some use it as a walking stick or as a handbag pendant, or simply for those sunny days when, in addition to sunglasses, they use a glamorous folding umbrella.
What to consider when choosing a folding umbrella?
The number of ribs. The more ribs, the better, the more stable it will be, the more resistant to heavy rains and strong winds. It is best to select an umbrella with at least eight ribs. This is the recommended amount so that you can be sure that the umbrella is resistant.
Material of which the ribs are made. Fiberglass or carbon fiber is best.
Select a folding umbrella that has a synthetic fiber fabric such as nylon and polyester. These types of materials allow better waterproofing and have more resistance against rain and weather variation.
Handle strong. Some designs come in wood, and these are perfect umbrellas because they are shock-resistant. There are also plastic ones that are pretty strong and promise durability and good results.
Having made these crucial points clear for choosing quality folding umbrellas, we invite you to see the umbrellas that you can buy online in our store.
Visit our Royal Walk Umbrellas for rain store and buy your folding umbrella NOW!
The most practical travel umbrellas
Folding umbrellas are among the most popular and wished types of umbrellas. This is so because a foldable umbrella is much more convenient for people how are always in a hurry walking in the busy city. When folded, they are very compact umbrellas and easily fit in a purse or a backpack. Men's and women's who travel a lot prefer folding umbrellas because they are portable and light.
Folding Umbrellas with Lightweight, Strong, and Windproof Construction
Royal Walk Folding Umbrellas are made of fiberglass ribs and aluminum alloy sticks and which is a solid base for a good windproof folding umbrella. An additional benefit is to have a double air-vented canopy, that allows air to pass through without turning the umbrella inside out.
We specialize in manufacturing windproof and water-resistant folding umbrellas that would withstand the stormiest weather. In most of the umbrellas, we have used fiberglass to create the ribs, which makes them flexible, strong, and makes Royal Walk folding umbrellas one of the best rain protection.
Our folding umbrellas collection includes a wide range of people's favorites - classic windproof umbrellas for men and women, double-canopy air-vented umbrellas, wooden handle umbrellas, all available in different colors.
We as manufacturers are determined to bring you the best value at affordable prices, high-end quality, and quick & reliable service.
Give yourself "extra" rain protection with Royal Walk Folding Umbrellas.
---
Customer reviews for Royal Walk Folding Umbrellas
High quality & Unique folding umbrella with great mechanism
The umbrella is high quality for a reasonable price. It has an interesting folding mechanism, which looks unique and makes it smaller when folded compared to other similar diameter umbrellas. Its closing and opening spring is strong and fast, which is very satisfying.
Sturdy and well-made folding umbrella. Well worth the extra.
So, living in London, no surprise that it's been raining and windy all day, and so this umbrella has been well and truly road-tested. It's sturdy, a bit bigger than your usual folding umbrella, but still small enough to fit into a bag (though maybe not a handbag).
Excellent folding umbrella
The handle feels good in the hand, the push button opens and closes the brolly very effectively and the whole item seems to be sturdy and well constructed. Yes, it is a little heavier than other folding umbrellas I've had and a little bigger but it's more than worth it for the quality you get. Came with a good quality zipped cover and even another outer sleeve. Very quick delivery was an extra bonus. Highly recommended.
Excellent folding umbrella as Advertised.
This is not a tiny folding umbrella - I have one of those and it is flimsy; great for getting out of the car and into say, a place of work but I wanted something substantial for more prolonged use say when shopping or out walking. For the price I was surprised at the quality and two can, at a squeeze get under the canopy.
Great quality folding umbrella
Bought this Royal Walk umbrella for my dad a while back, he loves it! Has a real quality feel to it and doesn't seem to fold back on itself in high wind which is normally a problem with brolly of a similar price point.
Brilliant, smart, lightweight and strong folding umbrella!
Very happy with my Royal Walk umbrella! Arrived promptly, without issue. Very well packaged.
This folding umbrella has its own cover to put away in when not in use, which I find very handy. It's very easy to open with the click of a button and also fold, again with a click of a button!
Superb Folding Umbrella
Excellent quality and works really well, with the vented double canopy you can use it on a windy day without it folding inside out.
Overall good quality umbrella at a decent price point
Very good folding umbrella. Quality build, I like the push button folding as well. I find nothing to dislike at all.
Wind resistant folding umbrella
This is 100% windproof folding umbrella. This is the best windproof one. The wind in the UK is really strong.
Sturdy and smart folding umbrella
No complaints: nice wooden handle, sturdy- not inverted after many months of use, love the way it opens and closes with the press of a button. Much bigger than other folding umbrellas but would like to see a larger size available too.
This folding umbrella stands up to wind and rain!!
Bought as a present and receiver thinks its very good, the best folding umbrella. She's had but wishes it was small enough to go into a (fairly large) handbag.
Well built and nice to look folding umbrella
I bought this as it was listed as one of the very best folding umbrellas. It's a little on the heavy side, but beautifully constructed. The canopy is a bit larger than most folding umbrellas, so I guess that will help to keep me dryer.
Royal Walk Umbrellas