This has probably happened to you, or at least you have seen it?
Do you need a strong, high-quality, luxurious & large umbrella for rain with which:
✔️ To be always well protected from the heavy rain?
✔️ To bring your large umbrella with a pleasure everywhere?
✔️ To have an elegant branded umbrella carry sleeve with a shoulder strap?
✔️ An umbrella for rain that is strong enough that could last for years without any problems?
✔️ To handle the umbrella with unadulterated pleasure?
✔️ An umbrella with the highest quality possible?
✔️ Low price and high quality?
✔️
Luxury umbrella
which to add a touch of class and style to your business outfit?
✔️ A big size canopy to keep you and your partner safe from the wet rainy EU weather?
Our Royal Walk big umbrella is exactly the one you need!
In our latest model, we at Royal Walk guarantee that we have invested everything that makes an umbrella stylish, durable, windproof, reliably constructed and ensuring your safety in heavy rains and strong gusts of wind.
AUTO OPEN with a stylish wooden handle umbrella and carry sleeve with shoulder strap
CLASSIC BIG GOLF Umbrella with an automatic opening system at the touch of a button. The curved stylish wooden handle brings comfort and supports you while walking!
Royal Walk large umbrella comes with a black branded matching carry shoulder strap sleeve.
Easy to carry, compact and elegant when folded in the sleeve.
Inches (137cm) of arc and 47 Inches (120cm) in diameter
Strong ribs of aluminum alloy and fiberglass
% Rain protection for 2 people
Bestselling awards in 5 European countries
You receive a big size canopy stick umbrella for rain, supported by an extremely durable aluminum frame and 16 fiberglass ribs, elegantly complemented by a comfortable real wood handle.
This makes the large umbrella with a diameter of 120 cm easy to carry and resistant to strong and stormy winds.
Get our durable and at the same time lightweight Royal Walk large umbrella now!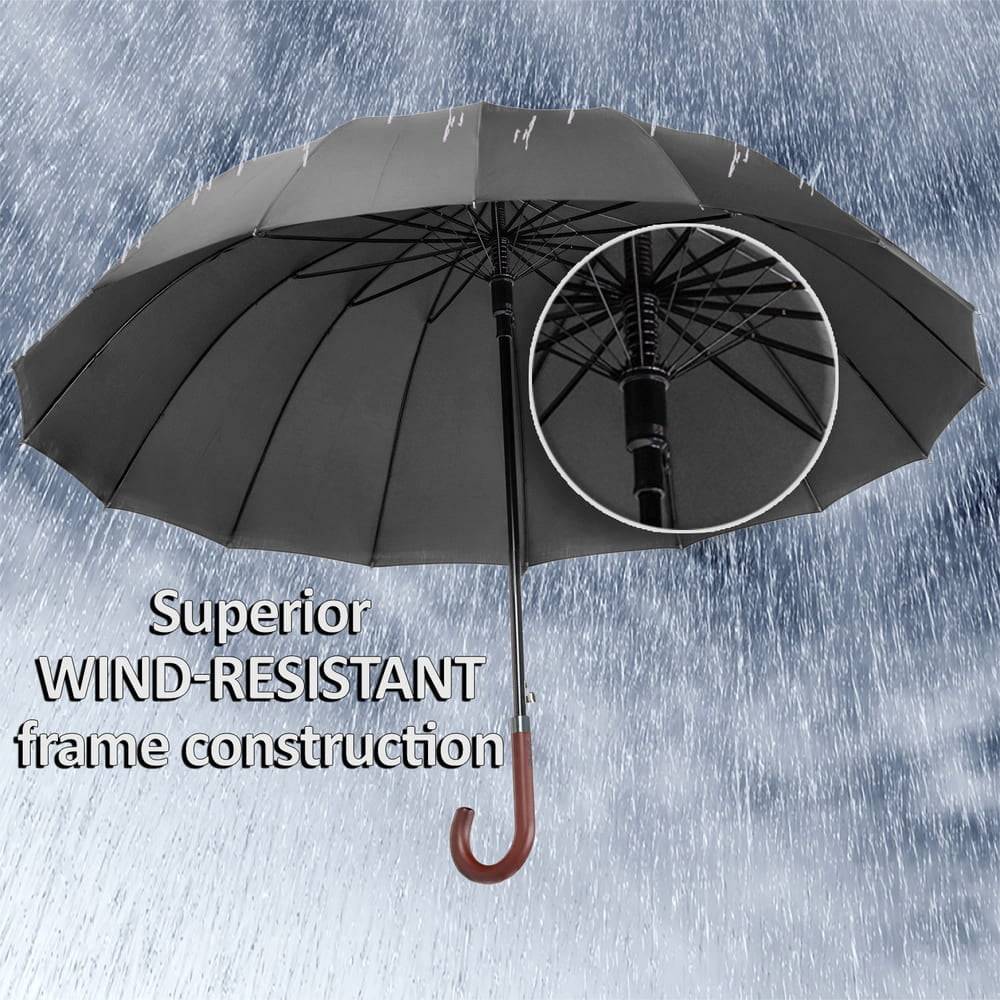 Large umbrella – Big enough for two
With its 39 inches (99cm) length and 47 inches (120cm) in diameter Royal Walk large umbrella will keep you and your partner safe from the wet rainy British weather.
Larger Canopy than most on the market
More ribs – more stability
Keeps you and your beloved one safe from the rain
You can rest assured that when you leave your home you will go back dry!
If you are looking for a men's or women's big umbrella, this is the perfect choice!
Royal Walk large umbrella protects both from heavy rains and sun's UV rays
Large umbrella for rain with UV protection
Made of the highest quality materials and has been tested in rainy and windy UK
Big walking stick umbrella designed to meet the needs of both men and women
The best big umbrella for rain you can have
With its light but strong construction it is an ideal option for choosing a women's umbrella as well.
A Big umbrella for rain that gives class, style and a great pleasure to use
Super-fast drying umbrella!
Luxurious large umbrella with super-fast drying fabric – the perfect combination!
Lightweight 190T high-density water repellent fabric with Teflon coating, keeps you dry and protected from the rain.
Rain drops just slip aside – water droplets flow and are not absorbed into the fabric. All this allows the Royal Walk large umbrella to dry instantly after gently shaking.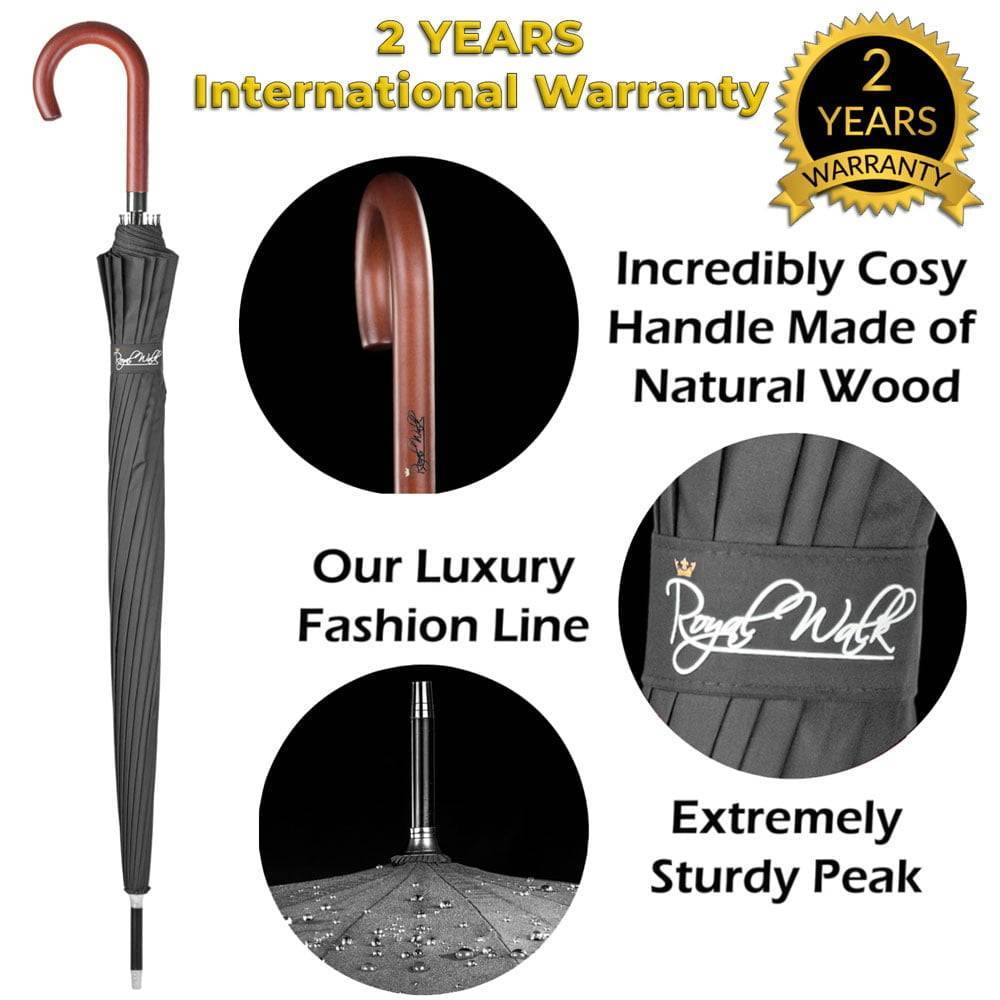 Walking stick umbrella with j-shaped wooden hook handle
2-Year International Warranty
Large brolly for 2 person
Big umbrella with windproof protection
Waterproof – water repellency fabric
Large umbrella with UV-protection
Comfortable and beauty natural wood handle
Durable cane umbrella
Supported by black aluminum frame, 16 fiberglass ribs, and a fancy comfortable J-curved wooden hook handle
*** 2 YEAR FULL INTERNATIONAL WARRANTY – Every Royal Walk large umbrella with wood handle comes with a 2 years International Warranty against defects.
* If you have any questions or suggestions you are also welcome to contact our customer service.
Classic luxurious umbrella with a beautiful wooden handle
The luxury Royal Walk rain umbrella is equipped with an elegantly branded J-shaped wooden handle made of natural wood, which makes it one of the most luxurious and purchased rain umbrellas in Europe
Natural wood, specially selected for this purpose, is used to make the handle of the luxury umbrella for rain in order to successfully withstand repeated exposure to moisture and water.
One of the best gifts that can be made – beautiful, functional, and durable over time.
Royal Walk large umbrella specifications:
Automatically open and manually close
Black aluminum frame and 16 durable fiberglass ribs
Sturdy and luxurious J-shaped wooden handle
Carry sleeve with a shoulder strap – Black branded pouch for slinging the umbrella and easy transport
Measures 39 inches (99cm) long and 47 inches (120cm) in diameter and 54″(138cm) when open arch
Material: Premium 190T Pongee fabric
What makes Royal Walk a desired and unique umbrella?
There is no special secret about it. Using the best quality materials, luxurious design and key attention to details – this makes it outstanding!
The Royal Walk large umbrella with traditional wood handle is extremely beautiful and classy, and is suitable for both men and women.
This sturdy large umbrella can be used as a walking stick aid to walking on difficult terrain.
The luxury Royal Walk large umbrella for rain that everyone should have!
Get one Royal Walk large umbrella and you will feel the difference within a second.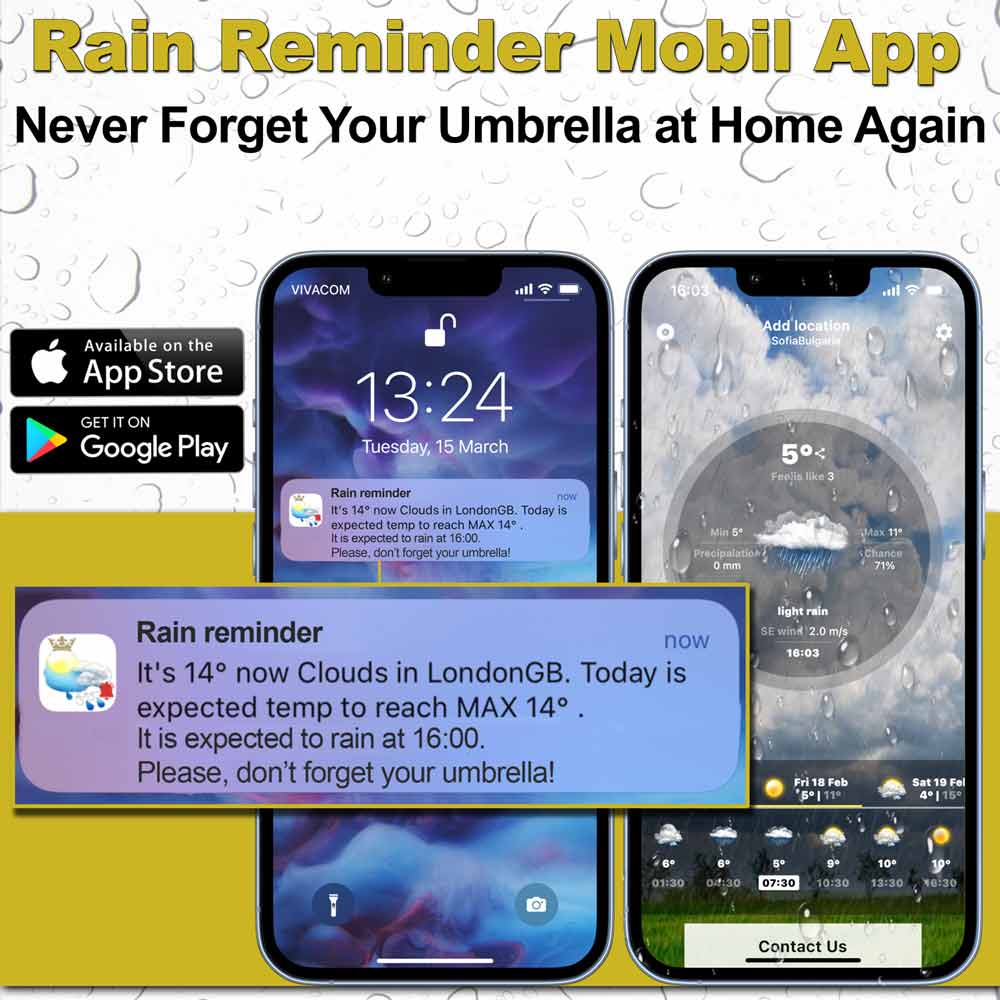 Rain reminder mobile app
Never forget your umbrella at home again
Free subscription
Enjoy a free lifetime subscription to our Rain reminder mobile app only for royal walk customers
Customizable notifications
Set a morning and evening notification at your chosen time of the day to let you know if there is a possibility of precipitation.
Accurate weather forecast
Our rain reminder provides accurate forecast for your current and favorite locations
Never forget your umbrella
Free subscription
Quick customer support
Current & favorite locations
Flexible daily notifications
Hourly & daily forecast
Reliable rain probability
Easy & beautiful design
Additional benefits and discounts
How to get the warranty and the Rain reminder mobile app?
Every umbrella comes with an attached flyer card with a QR code.
Scan the QR code with your smartphone camera (if you haven't got a QR code scanner, you can download it for free for iOS and Android smartphones).
Get 2 Years Warranty and a Free subscription for our Rain reminder mobile app.
Every time when there is a possibility of precipitation you will be notified with a screen notification of your smartphone.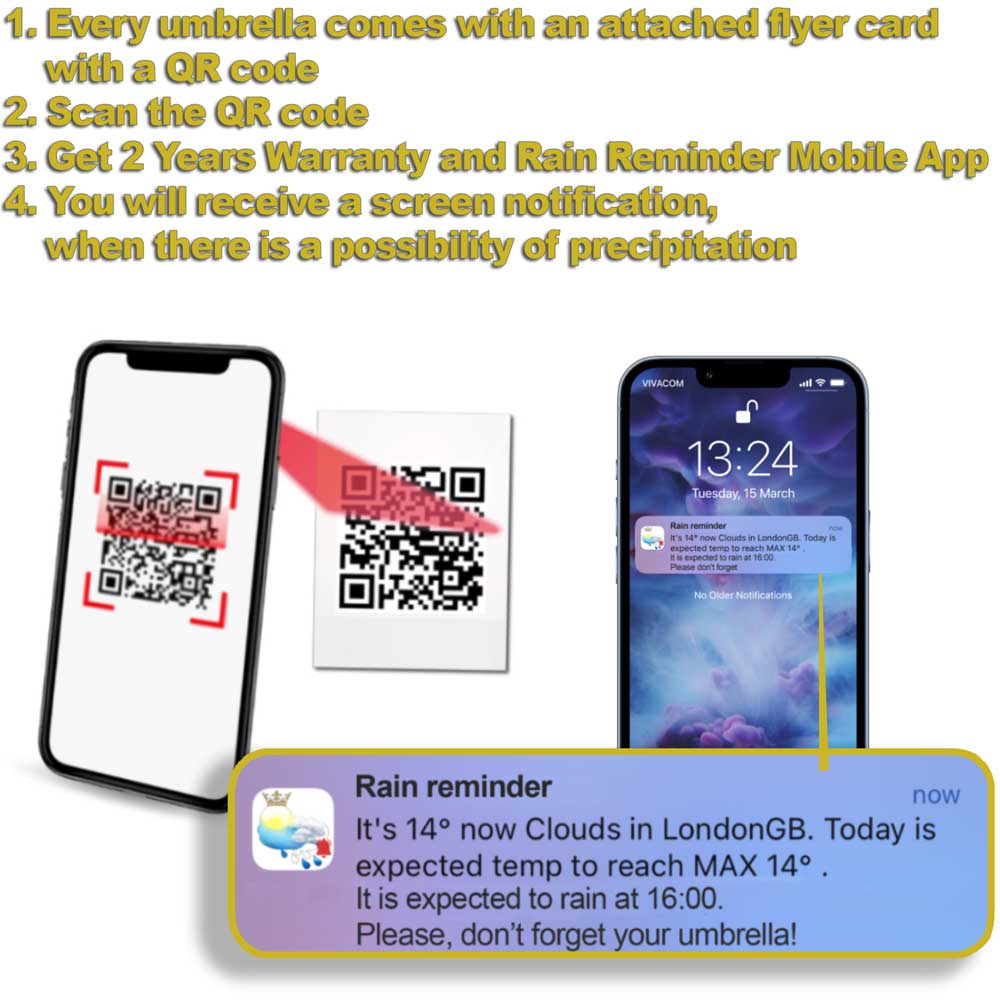 Positive reviews on Amazon
European countries – Best-selling large umbrella
Awards for the best umbrella on specialized umbrella websites from the UK
The perfect men's or women's umbrella with the best rain protection – It's your choice!
As one of the best-selling luxury large rain umbrellas in Europe, we have sufficiently detailed customer profile statistics. The number of purchases made by men and women is almost the same. This is an indication that our large luxury rain umbrella is a perfect choice for both men and women.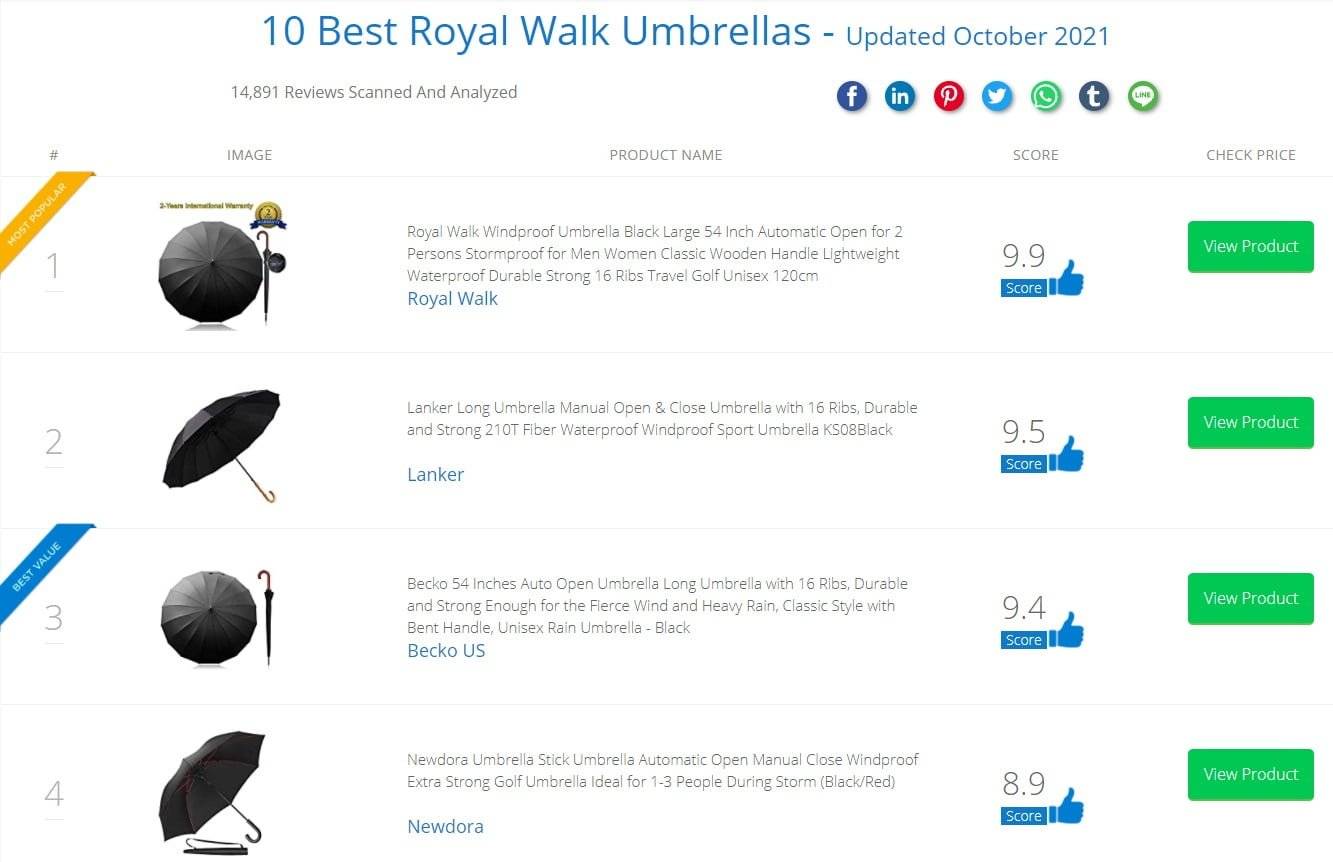 Rating for the luxury rain umbrella from a specialized site for product evaluation by customers – bestreviewstips.co.uk
Royal Walk's luxury large rain umbrella received a maximum rating of 9.9 from the data collected from over 14,000 reviews and ratings from independent customers.
Customer reviews for Royal Walk large windproof umbrella for rain
Elegant design and large umbrella with nice-looking handle
I received my large umbrella on time and it is awesome! Elegant design and very nice looking handle. The best thing is it is literally HUGE! Thank you so much product exactly as described! I definitely recommend this large umbrella.
Large umbrella with strong construction but lightweight
Very strong and wide enough to protect my wife in her wheelchair as she transfers between wheelchair and car. But still light and easy to carry. Love the carry case of the Royal Walk large umbrella comes with.
Good quality black big umbrella
Nice large umbrella which doesn't look odd as a walking stick. I find the umbrella just slightly too long to act as a walking stick but again that is a trade-off for having such a large canopy. The large canopy is exactly what I was looking for so no argument there. Great black large umbrella.
Nice large umbrella windproof – great buying options
Lovely cheap large umbrellas of high quality have a cover with a carrying strap which is really useful. The fabric appears to be of good quality and obviously has a waterproofing quality as the water beads quite well. The automatic opening also works quite well as does the manual closing latch which engages easily. A quick spin and most of the rainwater shakes off.
Stylish and really large umbrella does the job
The first one of these that I purchased had a rolling pin missing from one of the lifting ribs so basically one of the short arms just flopped about. I returned it for a refund. But on researching various models around I decided to give this one another go hoping that it was just a one-off fault. The next one arrived and of course, I checked all the roll pins which seemed to be fine on this new one. I am not a big fan of roll pins and prefer solid rivets. I understand why roll pins are used in order to keep the weight down. This being an XL large umbrella obviously benefits from reduced weight.
Straight huge umbrella – big for 2
Really excited about this brolly. You can see the quality of this brolly, the fiber ribs are very close together and flexible, which will obviously make it more durable especially in windy conditions, they are also firmly attached to the canopy. The canopy is of a decent size, will shelter two without being a thorough nuisance to other pedestrians. The handle is of good quality and firmly attached. The cover is also well made with a convenient shoulder strap. Finally, this is surprisingly light for a large umbrella outdoor.
Stylish, dapper and extra large umbrella.
Very good umbrella. It is extra large, well constructed, and 'Curves' enough to shield upper body and head. The original item I received developed a fault on first use, whereby the canopy detached from the stem. This resulted in the umbrella being unusable. The supplier sent out a replacement immediately and kept me up to date with the delivery process frequently. The review is based on the replacement umbrella, which has no faults whatsoever. Excellent.
Sturdy and durable heavy duty large umbrella – options also great buying
I was looking for a brolly that keeps me dry and is windproof whilst I was walking the combined six miles to work each day. I have only used it three times so far but I am very impressed with the brolly, it certainty was large enough and it kept me dry and it handled the blustery wind very well also so far a very good brolly.
Amazing windproof large umbrella – buying options also great
This is the most amazing umbrella. It is windproof, which here in the UK is so important at times, due to the extra braces on the umbrella. We had got fed up with our previous umbrellas blowing inside out and the braces breaking that when we saw this windproof umbrella we had to buy it. We were so pleased with it that even though it could cover me and my wife we bought a second one so that we had one each.
The Royal Walk windproof umbrella has great strength & durability
I have searched far & wide to find the best Umbrella and at last I have found One. The Royal Walk Windproof Umbrella is Great, not only is it strong and very well made but it has great Looks as well. I have returned 2 other Umbrellas before finding this. Wouldn't hesitate to buy again in the future.
Great sturdy large XXL umbrella, has lasted 1 year plus with no issues
Large, sturdy and windproof, dries easily, and keeps at least two (and one small) dry. This is what i needed for everyday use under this weather, is very nice, easy to carry, big and strong.
If it rains this is the umbrella to have.
I am very pleased with the Royal Walk Windproof Umbrella. It stands up to strong winds, it is well made of good quality material. I've had umbrellas branded as being extremely windproof before but this endures the onslaught even better than them
Good quality huge mens umbrella
Very pleased with brolly. Its a good size for two people just as advertised. Have not used in wind yet I cannot comment on that. I do not think it is strong enough to use as walking stick which I would have liked it is fairly long. I don't think it would take me putting any weight on it too often. However, it is a damned good brolly and I am well pleased.
Good quality. Large cane umbrella for men
Great cane umbrella. Arrived very quickly. Good mechanism that works well. Seems robust. Slightly longer than most of the "city" umbrellas I have used in the past so it doesn't work carrying it like a walking stick ( and I'm 182cm or 6ft) There is shoulder type carrying strap attached to the sleeve.
Royal walk walking stick umbrella – the royal winner!
Great brolly! these brollies are a tad longer than normal ones so much better to use as a walking stick umbrella which is fantastic! The handle is fine though it would be even better if they did mens brolly with more "chunky" handles..still a great brolly though that's just my preference. Recommended buy!
Great wood handle umbrella, very stylish
Bought this umbrella with a wooden handle as it's great to have a black umbrella in the boot for all occasions. Wood affect on handle is a really nice feature. This is a very high class fashion accessory! It has a gorgeous wooden handle, automatic opening, metal bottom end and is absolutely huge! This umbrella is practical and fashionable! Very good quality product and glad I purchased. I highly recommend this product.
Very robust and a very English character umbrella with wood handle
The beautiful handle is very well made and solid walking stick umbrella. Handle is comfortable and of a nice looking wood. This umbrella is an absolute winner, it is far superior to everything else! I'm very happy about the quality of this umbrella, completely satisfied; it's elegant, it opens smoothly and it reached home in perfect conditions. However, I think it's too big for me, in my opinion it would suit men or couples better.
Top serves, super seller and nice walking stick umbrella
As I bought this umbrella, I just want wood handle umbrella with good quality. The umbrella itself is super, big and robust in the wind. Well, after couple of months, a small part of the umbrella (thin wire) was broken, which should be my problem after all. The two years Guarantee plays his roll. After I wrote the seller on amazon a message, they answered on the same day. The processor was super easy, sent a couple of pics to prove that umbrella was broken. Then they sent a replacement right away.
Royal Walk Umbrellas for Rain