Protect yourself from the rain with the best style with
Royal Walk Umbrellas for Rain
On rainy days umbrellas become your best allies. For that reason, they are very appreciated, and that's why we want to provide interesting facts about them.
This instrument, very ancient in China and India, was not introduced in Europe until the 17th century. In the beginning, only women were allowed to carry it, but later it became an attribute of the bourgeoisie.
Read more about Royal Walk umbrellas for rain
In England, the umbrellas for rain had to fight against this feminine association for a long time. Even in 1706, dictionaries described it as a "screen commonly used by women to protect themselves from the rain." One of the first men to use it openly in London was Dr. Jonas Hanway (the one featured in the 1756 advertisement), who suffered the jeers of Londoners every time it rained, and he went outside with his umbrella.
By 1730 waterproof fabrics were incorporated; it was a significant breakthrough in the history of the umbrella. But at that time, the characteristic folding ribs were still missing, which would also be created in the following century in Europe.
Today, we have many different models, from classic umbrellas for rain to modern umbrellas, improving their design and ergonomics.
What is a rain umbrella?
The umbrella is a practical and handy tool to take shelter from the rain anywhere without wearing waterproof clothing. Moreover, it is an essential accessory even when strong winds accompany the rain. These are made of materials that resist adverse weather conditions.
There are countless models: classic, folding, with curved handle, windproof, and much more. All of them are light and easy to carry, so that rain is not an unexpected problem.
Types of umbrellas for rain
Unisex rain umbrellas of large width and elegant design, usually available in neutral colors such as navy blue and black, the structure of its body is made up of eight strong ribs and is made of fabric (Teflon-coated, wear-resistant material). It opens and closes by pressing a button, quickly and easily.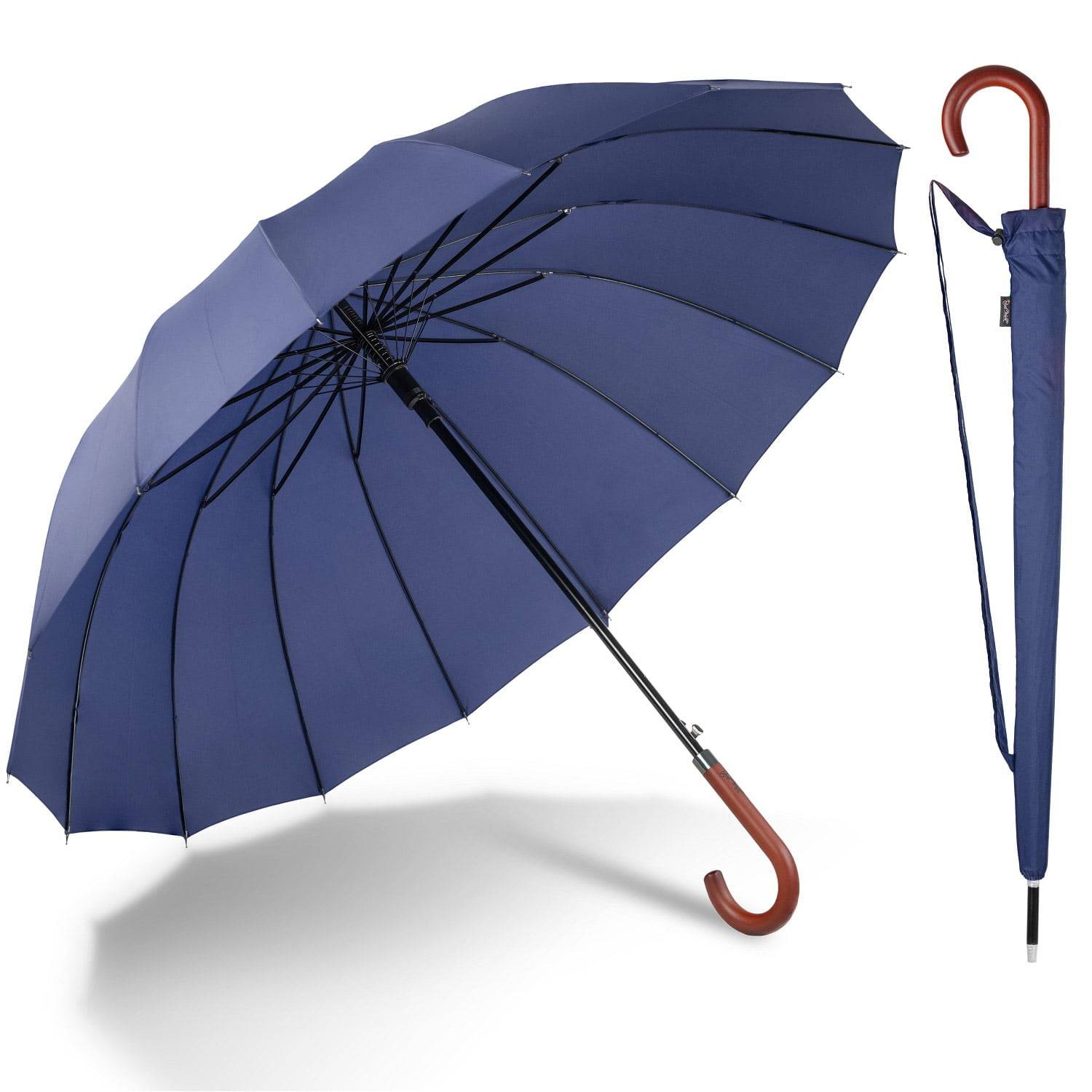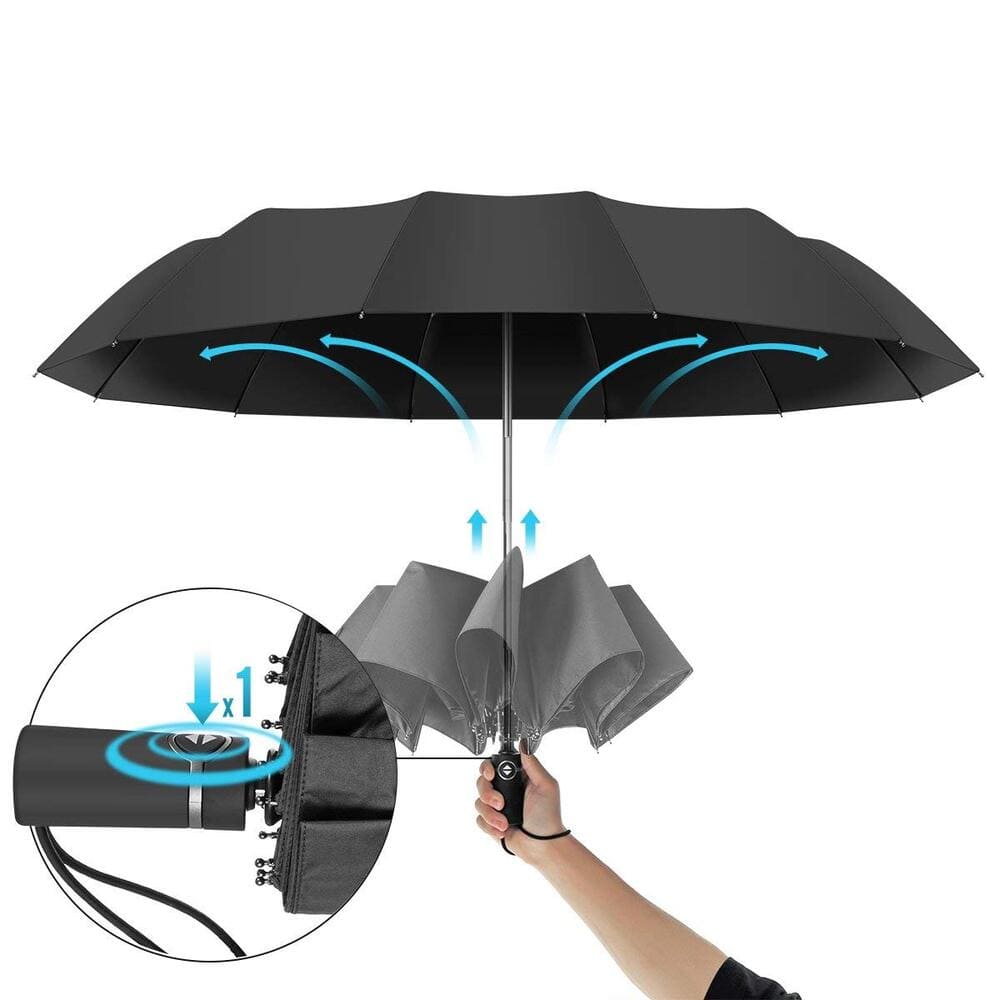 The umbrella comprises nine high-quality, fiberglass-reinforced aluminum ribs that allow the umbrella to withstand winds of up to 150 kilometers per hour without turning over. In addition, an umbrella that is generally totally waterproof and quick-drying is made of Teflon-coated fabric, which prevents raindrops from penetrating the fabric.
Its handle is non-slip and ergonomic for a comfortable grip, cylindrical shape, and rubberized; it has a built-in strap for easy carrying and carrying.
The windproof rain umbrella is ideal for sharing as a couple. It is made of high-quality waterproof fabrics and features an automatic opening and closing mechanism, perfect for one-handed operation and opening the umbrella in a matter of seconds. Moreover, it adds a stylish and modern touch for rainy days.
It is ideal to withstand strong wind gusts, even over 95 kilometers per hour. This rain umbrella turns around to regulate the pressure, and the flexibility of its ribs makes them return to their original position when the atmospheric condition allows it.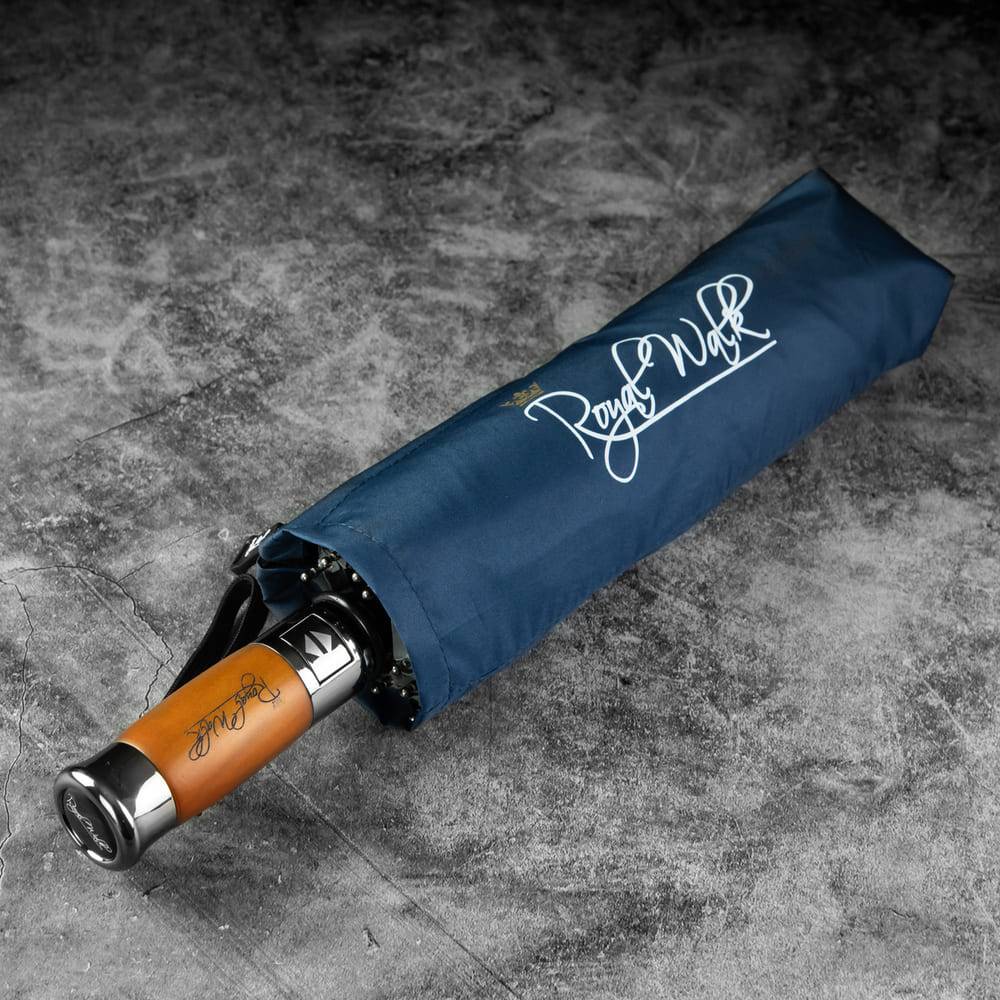 Folding umbrella with wooden handle
The most elegant option to protect you from the rain is a compact folding design with an oak wood handle with finger holes for a comfortable grip. It is lightweight when closed, making it perfect for carrying without being obtrusive. The folding umbrella opens and closes with the push of a button and is available in navy blue or black. In addition, the product includes a protective and storage case.
Travel umbrella
These umbrellas for rain usually measures only 30 centimeters when folded and weighs less than 450 grams, a perfect and compact size to transport easily and take on a trip or in the car's glove compartment. In addition, it has an automatic opening and closing system, which is done with the push of a button very easy to use.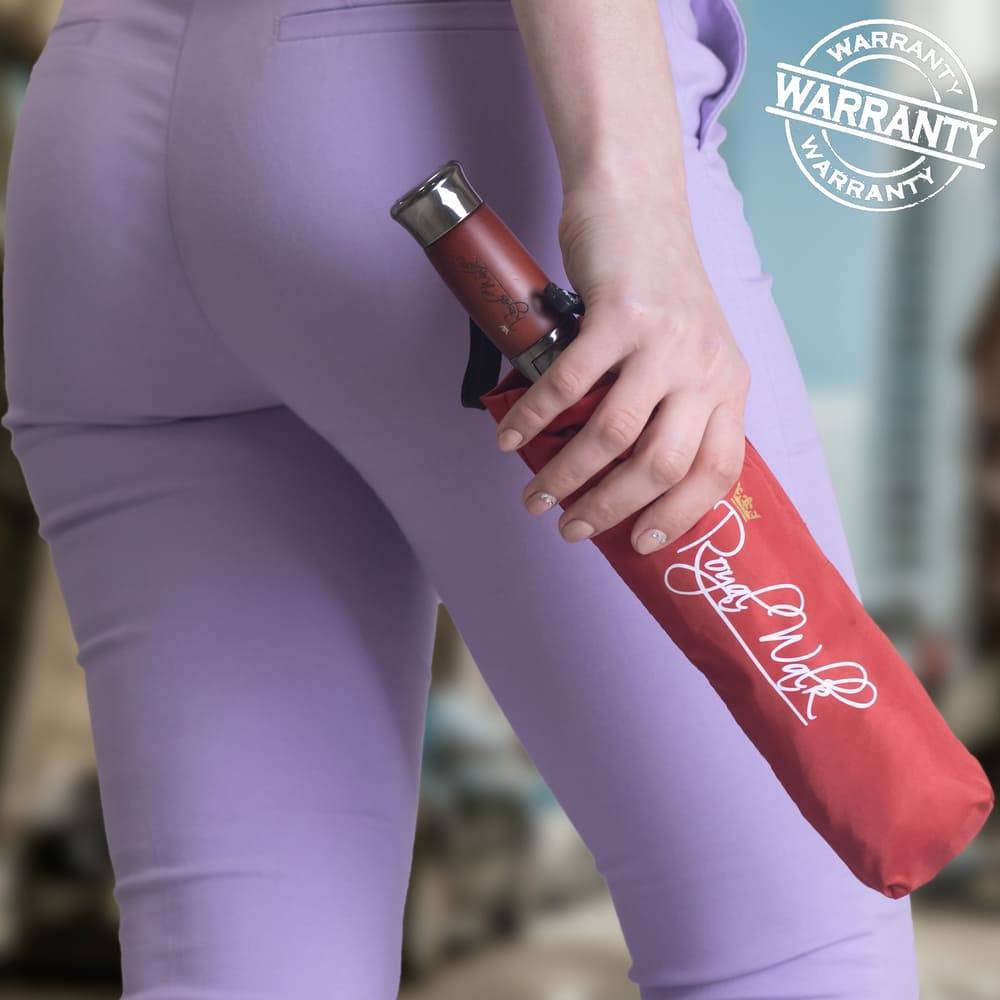 According to the material:
The materials of the rain umbrellas are another essential factor since it is from them that you will know how resistant and durable they will be. Its protective layer is usually made of waterproof synthetic fabric. This fabric counteracts the water drops so that they do not penetrate and slip instantly.
The most recommended are made of stainless steel, aluminum, fiberglass, Teflon fabrics, etc. All these materials can guarantee resistance and long life.
According to the size:
An umbrella is usually purchased to protect you from sun rays and rain, so it is essential to acquire compact models. In this way, you can carry it in any handbag, being helpful when necessary.
The weight may vary depending on the materials used, but choosing a light but resistant model is advisable.
According to the opening system:
You can usually find two types of openings, those that open manually and the automatic ones. The manual ones can provide better stability since you have to adjust the umbrella to your liking. However, the automatic ones are much more practical and easier to use. At the same time, they save a lot of time you are in a hurry.
Water repellency umbrellas
These types of rain umbrellas have fabric waterproofing capabilities. While they were mainly made to help us resist the rains, some only come with little water resistance. These are not practical at all and, over time, may eventually stop working. Instead, you should purchase ultra-water-resistant models, such as Teflon fabrics.
Rain umbrellas warranty
The range of our umbrellas has a 2-year international warranty, designed to satisfy the most demanding customers. Furthermore, the result of the most exhaustive technological research carried out over several years, our models of rain umbrellas guarantee quality.
All our umbrellas with two years warranty have been tested under adverse conditions in the wind tunnel, where they obtained a surprising result. All umbrellas passed the tests in which they were confronted with winds of more than 150 km per hour. In addition, both the 3-section folding models and the long cane umbrellas proved solid and sturdy.
Why buy a rain umbrella?
Rain umbrellas are a classic gift item. Everyone uses these items throughout the year, and they are a cherished item for anyone. They are must-have items for rainy days.
The great diversity of options available allows you to select the umbrella for rain accessory that best suits your needs, even the weather in your region.
Visit our Royal Walk Umbrellas for Rain and take a look at the models we have available!
Customer Reviews for
Royal Walk Umbrellas for Rain
Good strong umbrella
Auto open, easy close, if you can hang on to it, it keeps the rain off you even in quite strong winds. These umbrellas will be put through their paces. Purchased because of the claims that's they are very durable. Ordered in the afternoon delivered the following day, exactly as described.. This umbrella for rain is perfect for windy days
Strong and big umbrella for rain
Good quality umbrella, big enough for two people. I love it. After buying this stylish umbrella I took it out in a windy wet day. Two rods snapped in the umbrella, I used the 2 YEAR Warranty and had a NEW UMBRELLA posted to me the next day!! No hassle. It's a great brolly and the warranty is a no quibble guarantee. 5 star service.
Great rain umbrella
Umbrella is easy to operate, very smart looking and is very practical. Fabulous gift for my very fussy husband who has never been able to find an umbrella of the right height and size. Now we walk together in rain and hail , happily keeping dry and fit. A superb product. Really quick delivery, great product. Recommend seller
Excellent quality, stylish umbrella!
Really impressed with this highly stylish umbrella. Opening mechanism is slick – excellent all-round quality. Carrying sleeve was a very welcome addition. Highly recommended! Worth every penny, however the bottom part broke off fairly easily without me even knowing which was a surprise. Besides that's its elite!
Superb rain umbrella
A great umbrella, with a lot of room. Customer service from the team was fantastic sorting out a minor issue I had. Would fully recommend. And would buy again! These rain umbrellas is perfect – huge enough to keep me properly dry and sturdy enough to stand up to winds. Would recommend!
Good quality, sturdy umbrellas for rain
Really fantastic umbrellas for rain, good quality, strong and the carry case makes it so much more practical. This is an excellent umbrella for rain, it is big and well built. It can withstand heavy wind and it is quick to dry. The umbrella was delivered well before the estimated delivery date. Lovely Thank you 🙂
Excellent quality umbrella
Bearing in mind the price, the quality of this umbrella is impressive. A smooth action when opening with one reds of the button. Excellent build quality. Great quality craftsmanship. Strong and sturdy. The best umbrella I've ever bought! Excellent product, great value and couldn't have come at a better time what with all the bad weather this week! 🙂
Rain Umbrellas
The umbrella for rain is perfect for what we intend to use it for, it appears very strong and good quality. Perfect even in fairly strong wind and heavy rain. Delivery was ahead of schedule, we could not fault the purchase. Great product. Strong and big. Best umbrella I have bought. Great robust product, recommend it.
Brilliant umbrellas
Living in Scotland we are prone to a fair few windy and wet days. This rain umbrella never lets me down. Holds up to the strongest of winds. Would recommend without question. Very good material, Good quality windproof and arrived on time. First class product. Sturdy, elegant and waterproof. What else do you want from an umbrella? How about a carry case with a shoulder strap? Included 😁
Looks great. Well made rain umbrella
I've just bought this rain umbrella. I love it! It's very well made and looks good. I'm very pleased with it and I'm sure it will not let me down. Thumbs up! It seems to be a strong umbrella for rain and does the job which is what I was looking for. It delivers quickly but our post service put it sideways of my house and I found it 3 weeks later but umbrellas is in good condition with the rains.
Umbrella what I needed
Wanted a really good rain umbrella for walking the dog as I am fed up with cheap ones breaking. This is just the job, very sturdy even in strong wind. Love the umbrella, have gone so many in the last few years, this one in perfect. Well made brolly, didn't turn inside out during the high winds which was a pleasant surprise!
Excellent umbrella for rain with windproof construction
Fantastic umbrella for heavy rain and wind. I take my son (5 yr old) with me under it also so good coverage. Superb umbrella for rain. Stylish. Rugged enough to handle strong winds. Large enough to cover three people. Very strong for any wind of the weather. A great two person walking umbrella. Sturdy handle.
Fantastic rain umbrella
Fantastic product. I use this umbrella for rain several times per week at the moment and it never lets me down. We bought this umbrella prior to attending a wedding in Donegal on a stormy weekend. Perfect for the occasion and withstood the strong coastal winds. Brilliant umbrella. Well made, looks good, easy to get around with it. Best umbrella I've had in years.
A very sturdy umbrella for rain
It's light to carry but strong against the wind. Finally, a rain umbrella that matters. My husband and I are completely dry even in hard rain. This large umbrella gives us a real Royal Walk in sturdy British weather :)). It is worth more than the amount it is amazing
Durable Stylish Umbrella for you couples out there
The first one came broken, should blame the delivery. But the seller was very kind to send a replacement in a timely manner. The umbrella is strong and at the same time very light weight. Good product! Great Durable umbrella for rain with a great support. A fantastic rain umbrella. Solidly made and looks the part. Kind of hoping for rain tomorrow so I can try it out.
Fantastic quality umbrellas for rain
Really lovely, sturdy umbrella. It was bought as a gift for my Dad and he loves it! It's generous size keeps my Dad and his little dog dry on long walks – just what he wanted. The after sales customer service is faultless – the people I spoke to were friendly, professional and very helpful. Overall a fantastic quality product from a company with great customer service – you really couldn't ask for more 🙂
Very good quality and well built would recommend it
Box for delivery was overkill, nearly a foot longer than it and was about a foot square on the sides. The Royal Walk Umbrella for rain is of good quality and works well from what I have seen so far, it seems fairly sturdy and although it is guaranteed to be wind resistant to a high-level I feel you would lose grip before this speed and would Lose the umbrella before it gets affected by the wind.
Stylish useful rain umbrellas
My husband is very pleased with his new rain umbrella and thought it was very stylish and loved that it came with a carrying strap perfect for when we need both hands at the races. My daughter n law wanted this for a while she loves it and uses it almost as a walking stick really sturdy. Excellent customer and warranty service. Really happy with the new umbrella for rain.