Wood handle umbrellas - Luxury & Stylish
Classic and elegant models umbrellas
Wooden umbrellas have been used for more than a century. They were made of a single piece of wood, and their purpose was also to serve as a walking stick. Over time, umbrella manufacturing has evolved. Still, the use of wooden handles in high-quality products has not ceased to exist.
Read more about Wood Handle Umbrellas
Umbrellas with wooden handles have great strength and are ideal for braving downpours in style. Their small details complete the sophisticated look. They are sturdy, knot-free, attractive, durable, timeless, and elegant, thanks to the wood. Each wooden handle is a unique piece that gives the umbrella its personality.
Classy Accessory for Everyone
Wood Handle Umbrella is a traditional and classy accessory
Wood Handle Umbrella is a traditional and classy accessory for any who wants to look and feel great. There is no room for comparison between a stylish classic wooden handle umbrella and a plastic one. Having a durable, top-notch umbrella with a handle made of polished genuine wood is a must if you want to make an impression on your business outfit. A handle made that way is considered one of the most luxurious options.
Natural Wooden Handle Umbrellas
Carefully designed and tested wood handle
Royal Walk Umbrellas offer a nice selection of natural wood handle umbrellas that are carefully designed, tested, and made to last. Automatic and semi-automatic umbrellas are available. We offer J-curved or classic wooden handle umbrellas, according to your needs.
Characteristics of umbrellas with wood handle
Wooden umbrellas have durability as their main feature. Therefore, if you are looking for an umbrella that will last over time and is quality, you should buy an umbrella with a wooden handle.
On the other hand, umbrellas that have a wooden frame and handle are artistic. These types of umbrellas, like paper umbrellas, are great for the show but not for durability.
But, if you want to use an umbrella as a fashion accessory, the umbrella with a wooden handle would be a great choice. Ideal for people who need high-performance protection, and at the same time, want a classic and elegant style.
Types of wooden umbrellas
Folding umbrellas with wooden handles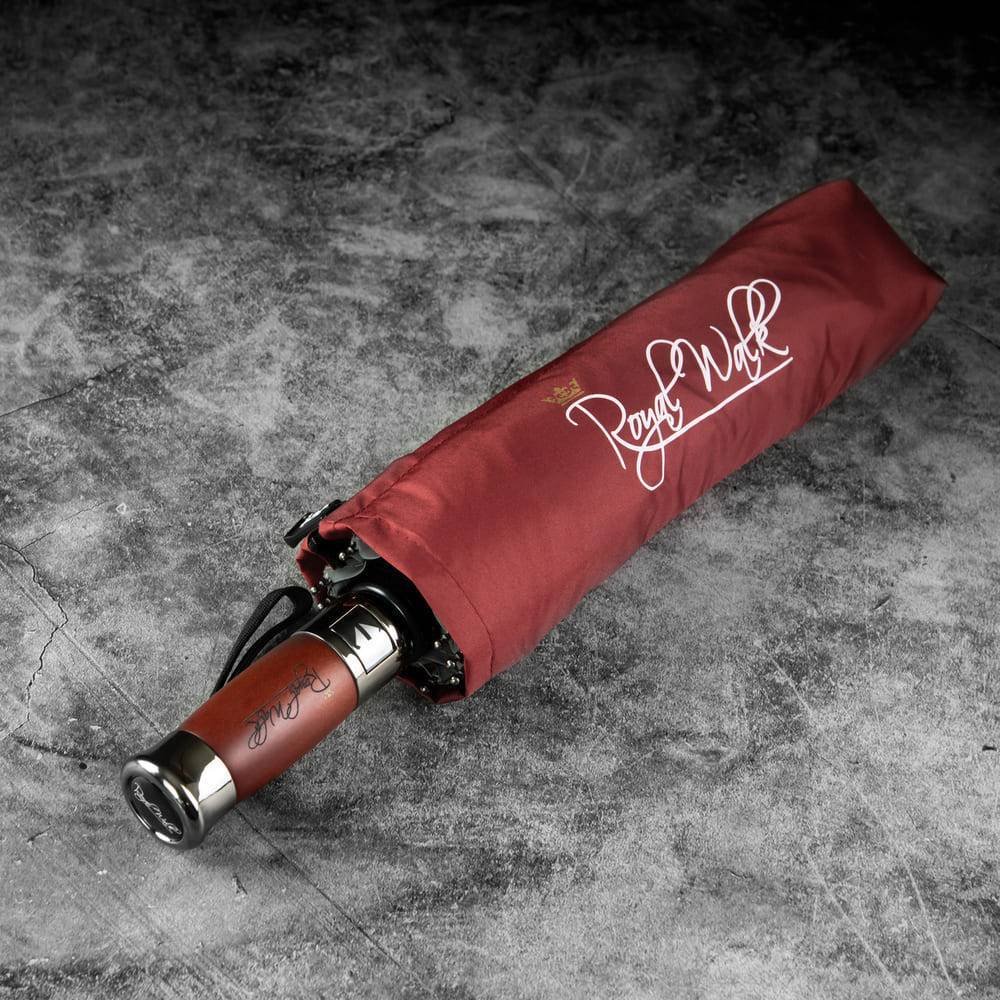 Easy and comfortable to carry
In many places, it is believed that only long umbrella designs can have wooden handles. However, some folding models have this type of handle and with more sober designs. This type of umbrella is sophisticated and very comfortable to carry, because of its compact size, without sacrificing coverage. Once opened, the umbrella has enough centimeters to protect you.
These are small but sturdy umbrellas, highly durable, and wind-resistant. In addition, their weight is lighter than other models with wooden handles. They have an automatic opening system and sliding control for a safer opening and a compact, foldable design with a wooden handle, with holes to support the fingers and allow a comfortable grip. It opens and closes with the push of a button.
It is an umbrella equipped with a fabric and a Teflon coating that makes it very durable. In addition, it is highly weather-resistant, which means that it can protect you not only from the rain but also from the sun.
Excellent quality umbrella for everyday use
It is ideal for everyday use since it is very compact and can be carried anywhere because it weighs only a few grams. Its handle is made of entirely non-slip wood and has an ergonomic design so that you can easily handle it with one hand. To avoid accidents, this type of umbrella usually includes a strap to attach it to the wrist. So it will not fall, which allows you to maintain a high level of safety when using it.
The reviews that have this model are pretty positive, ensuring that it is an exquisite umbrella and excellent quality, being robust and well finished, especially in its thick rods. It also highlights that it is beautiful, solid, and good. It is collected well enough to carry in any backpack or briefcase. It is undoubtedly one of the best options you'll find on the market. It also has a very compact design to carry it everywhere.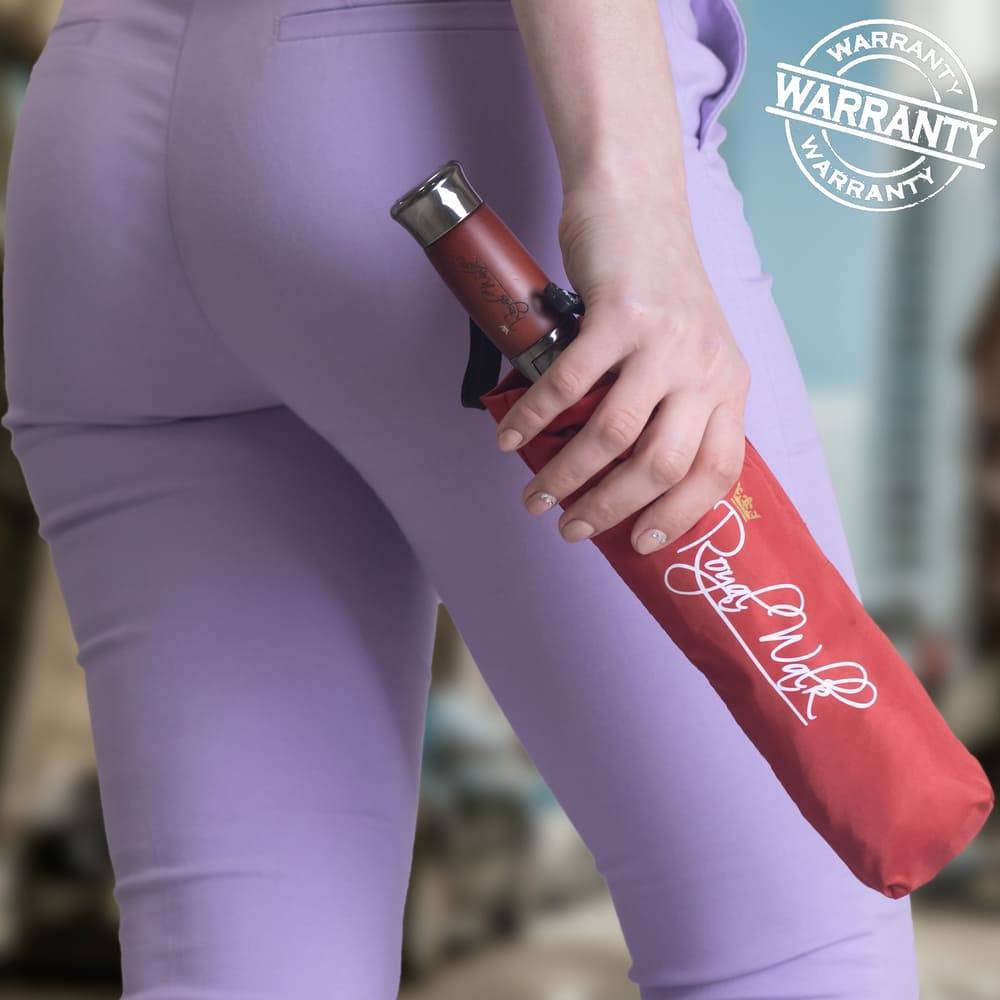 Long umbrellas with wooden handles
Modern classic style
For those looking for a more classic style with modern technology, long umbrellas with wooden handles accompany the most elegant outfits. You can buy a sober umbrella in a single color or discreet design. Others are more casual, with checks and colors that accommodate different styles.
If you are looking for a modern umbrella, you have to know our fashion designs to take with you the model you like the most. This type of umbrella is one that was used in ancient times by the nobles. Therefore, quality umbrellas with a wooden handle are a hallmark of distinction and good taste.
Umbrella with curved wooden hook handle
Comfortable handle for good support while walking
This anti-wind umbrella usually has an aluminum frame, fiberglass frames, and a very comfortable handle. It is undoubtedly a perfect umbrella. It is lightweight so that anyone can use it without worrying about the weight. In addition, it has an automatic opening system at the touch of a button, and its curved wooden handle allows for good support while walking.
They are usually big enough for two people, so having a large opening makes them perfect to easily protect yourself from rainy days. Furthermore, you can use a shoulder strap to carry it, making it very easy to take it anywhere. In addition, these umbrellas feature excellent resistance, so you can be entirely sure that it is a superior quality product.
People who have bought this model have very positive reviews, ensuring that it is spectacular, does not let you get wet in the rain, and has excellent quality. In addition, they highlight that it is a relatively light model; it is not excessively large, the closure is manual, but the opening is automatic. It is an umbrella of outstanding quality. Its case with a strap to carry it on the shoulder makes it very comfortable.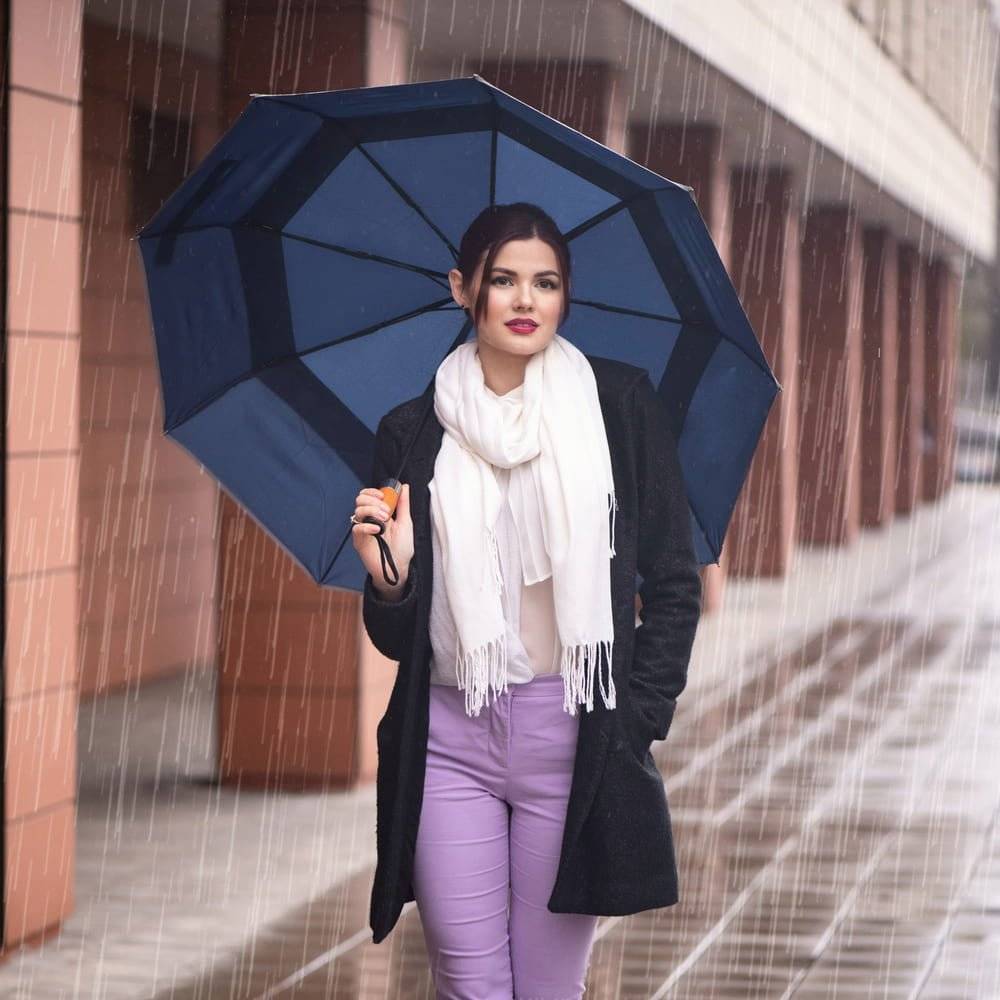 Tips for using the wooden umbrella
Leave the umbrella open to dry.
Do not rest it on heat sources (heaters) because wood can become deformed with heat.
Do not use any umbrella as a walking stick because all its components suffer.
Why choose a wooden umbrella?
A wooden umbrella improves grip and prevents slipping out of your hand, which guarantees the quality of this product. In addition, wooden umbrellas are ideal for outdoor use because of their natural resistance to weathering, fungus, and insect attacks such as termites.
It is a classic that never goes out of fashion, and it is also helpful! An umbrella that you can find at affordable prices, with automatic opening, perfect for outdoor events, leisure, parties, and so on.
An elegant option to protect yourself from the rain
Are you thinking of buying an umbrella with a wooden handle? Classic and long designs that never go out of style will surely come to your mind. They are always elegant and match any outfit.
At Royal Walk Umbrellas for Rain, you will find different models of umbrellas, from classic to modern umbrellas with wooden handles, with exclusive designs and the best quality guaranteed.
Find different models and colors to your liking, in addition, some umbrellas whose handle is made of wood, and have colors that accompany their fabrics and designs. Furthermore, our brand has innovative wooden umbrellas, so you have the elegant companion you need on rainy days.
Our models of wooden umbrellas have an indisputable quality-price ratio. But that's not all; thanks to its manufacturing materials, you will have a windproof umbrella at an affordable price.
Whether you are looking for a large or small umbrella, you will find a wide range of wooden umbrellas so you can choose the most sophisticated and beautiful models. Please select the one that fits your style and carry it with you always.
Best selection of Wood Handle Umbrellas
Royal Walk wood handle umbrellas will impress you
Either looking for large umbrellas, windproof umbrellas, folding automatic umbrellas, double-canopy air-vented umbrellas, or walking stick umbrellas – this is the right place for you.
We specialize in manufacturing windproof and water-resistant rain umbrellas that would withstand the stormiest weather. In most of the umbrellas, we have used fiberglass to create the ribs, which makes them flexible and strong.
We as manufacturers are determined to bring you the best value at affordable prices, high-end quality, and quick & reliable service.
Give yourself "extra" rain protection with Royal Walk Wood Handle Umbrellas.
---
Customer reviews for Royal Walk Wood Handle Umbrellas
Beautiful Wood Handle Umbrella
Beautiful umbrella - I now want it to rain! Not a lightweight umbrella (but I didn't want lightweight) Really nice size, mechanism makes it super easy to open, and beautiful wooden handle.
Lovely umbrella and the wood handle is perfect
Such a beautiful umbrella. The wooden handle is awesome. Very good quality for the price. Excellent purchase.
Best umbrella I've owned
This is the most beautiful wooden handle umbrella. Not only does it look great, but it's also sturdy and well made. It's big enough for two but it's not bulky to carry, due to the lovely wooden handle. I'm delighted with it but let's hope I don't need it too often...
Really impressive wood handle umbrella
Excellent umbrella! I've had lots of compliments about this wood handle umbrella...
In a nutshell shell, well made, and sturdy umbrella. The wooden handle is very smart. The customer service from this company is excellent.
Royal Walk is beautiful, sophisticated and sturdy.
Really beautiful wood handle umbrella. The wooden handle makes it look very sophisticated. Very well made and sturdy although not lightweight. Large enough to cover 2 people walking side by side. It's a firm favorite on a rainy day.
The best umbrella with wooden handle I've ever had!
Wow! What a lovely umbrella. I haven't used it yet due to lockdown, but it is very sturdy and really nice color. I love the wooden handle with the Royal Walk name engraved into it. It adds touch of class. I was so impressed with this umbrella that I bought a navy blue one for my husband. I would definitely recommend it
Excellent wood handle umbrella
Stunning umbrella! Beautiful wooden handle, mechanism beautifully sturdy. Good quality and stylish design. The makers also state that any problems with it, however old, just contact them to get it fixed which indicates to me their confidence in the quality of the workmanship and at an extremely good price for so much workmanship. Can't fault it!
Nice umbrella with wood handle
Lived up to expectation. Seems robust. Nice and strong. Good diameter which should keep 2 people a good social distancing dimension away. Stronger than normal umbrellas of course due to the extra ribs. 3 month update : the canopy has survived a number of testing storms.
High Quality wooden handle umbrella
Having already bought one of these my sister loved it so another was purchased for her. The whole thing just reeks quality. Beautiful strong canopy and the finishing touches such as the wood handle and quality brass spike compliment it perfectly. To just look at it there is no mistaking that this is no ordinary umbrella and in my opinion will last for a very many years. 
Classy strong and well made wooden handle
This is a great product. The umbrella has a wooden handle, not plastic-looking wood. The structure is strong and it is large enough to keep two people dry. It looks classy and has a thick enough shaft for when or if you want to use it like a walking stick. Really happy with it. Came within two days also, well boxed.
Strong umbrella, beautiful styling, a little heavy though
I bought this because I was fed up with umbrellas being blown inside out on the slightest gust of wind. This will hold its shape when being held at a normal angle. The Royal Walk umbrella also looks really good, with a nice wooden handle.
Works wonders and finely crafted wooden handle
Works wonders, ever since I bought the product it hasn't rained.
On a serious note it is a finely crafted umbrella. The handle is solid wood the colour of the material is fantastic opens smoothly and feels sturdy. Also comes with a cover when not in use.
Well-designed wood handle
This item arrived promptly and seems very well designed. Handle is made of real wood. Sturdy made of good quality materials. Tallest wood handled umbrella I've found. It folds up much more cleanly than the typical cheap telescope umbrellas, and it's not hard to get it back in the zippered case.
A 2-layer overlapping design of umbrella seems designed to keep water out while perhaps allowing some airflow. Great product.
Great Umbrella with wood handle, very stylish
I was so excited to receive my new Royal Walk Real Wood Umbrella. It arrived promptly and in perfect condition. Very well made and solid umbrella. Handle is comfortable and of a nice looking wood. Perfect for travel or any day or evening walk in the sun or rain.
Looks good and very good quality handle
As I bought this umbrella, I just want wood handle with good quality. The umbrella itself is super, big and robust in the wind. I've been needing a replacement umbrella now and this one is really nice and just the right size when collapsed. The wood handle makes the umbrella look classy. The instructions that come with it may seem extra to others but I think it's very useful.
Royal Walk Umbrellas