What is the size of a large umbrella?
Large umbrellas are usually about one meter in diameter, which in many cases is too small. That is why it is better to opt for large umbrellas that have a diameter of more than 110cm on many occasions. Usually you can find 115cm, 120cm, 135cm, 150cm even up to 180cm.
Read more about Large Umbrella
An indispensable accessory for everyday use
The primary function of large umbrellas is to protect you from the rain. However, these can also be used on sunny days to prevent the sun's ultraviolet rays from wreaking havoc on your skin. They come in all types and colors, and you should look for one that suits your needs.
If you live in a place where heavy rains are frequent, a large umbrella is ideal for you. Small or mini umbrellas, although very convenient to carry and store anywhere, may not cover enough in your case. That is why it is essential to buy a large umbrella.
Ideal for two people
You can choose a large umbrella for two people, which has the appropriate size to accommodate two. These umbrellas are ideal for sharing an outing as a couple or for covering your child.
Large diameter for the Best Rain Protection
Royal Walk big umbrellas offer more space to hide in the heavy rains and will keep you and your lover safe from the wet rainy weather. Available in different colors, these stylish windproof umbrellas are suitable for men and women as well. You can rest assured that when you leave your home you will go back dry!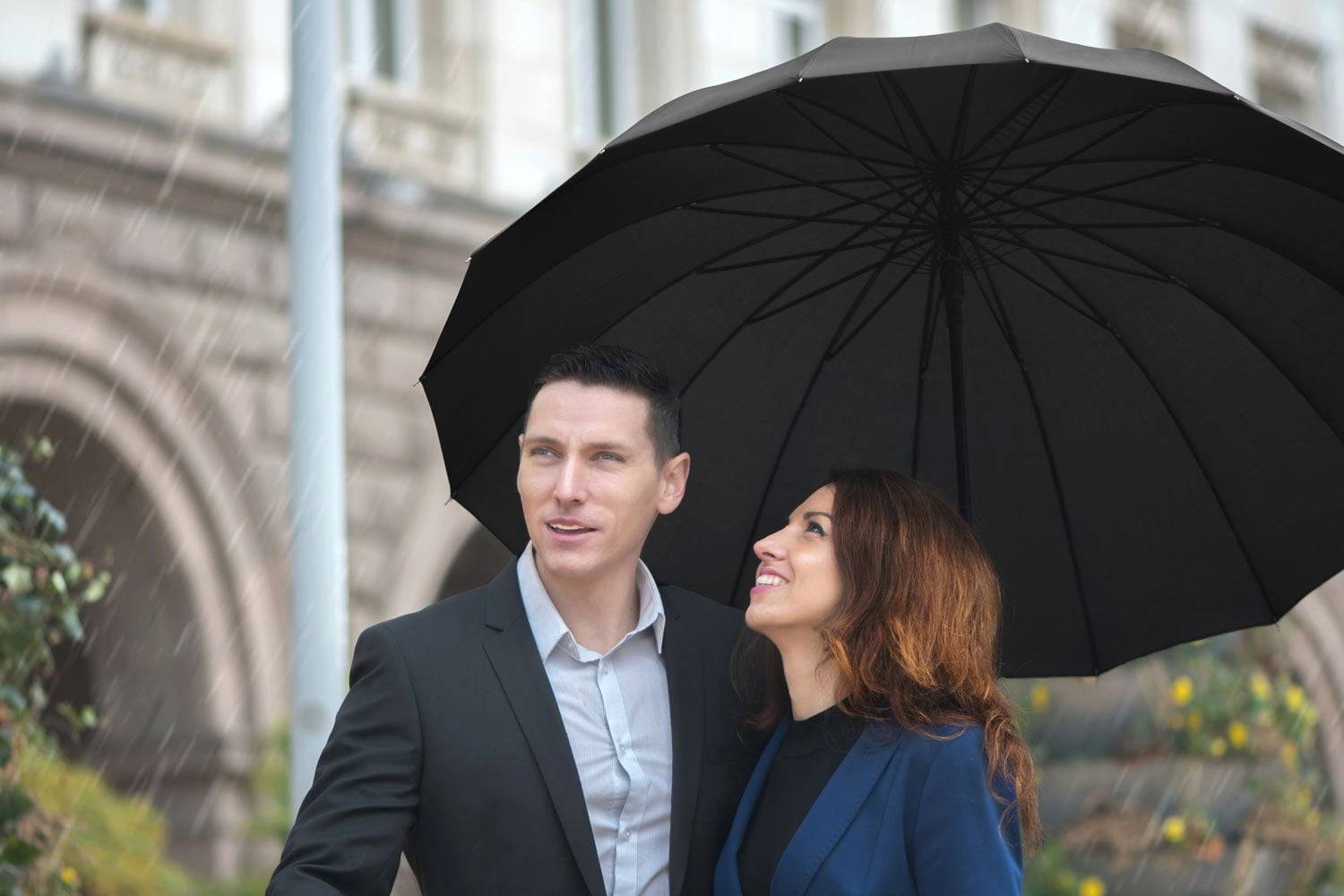 What are large umbrellas used for?
Rain doesn't have to stop you from enjoying long walks, watching soccer, or golf. Although these are outdoor plans subject to inclement weather, large umbrellas are available on the market to protect you from rain, wind, and even the sun.
The large umbrellas are the most suitable to protect against rain or wind, protecting you to the maximum and allowing you to have a good time without interrupting your pastime.
Types of large umbrellas
Classic or traditional umbrellas
Classic umbrellas offer complete coverage from the rain. They usually feature a U-shaped handle, although some are stick or cane style. The handles on classic umbrellas are generally hardwood, although they can also be plastic, plastic-coated rubber. This simple style has been popular for generations.
Bubble Umbrellas
This model is easily recognizable thanks to the design of their spherical-shaped raincoats, which tend to cover the entire face.
Bubble umbrellas are tasteful, with the clear canopies enhancing visibility as you walk. In addition, the creative contour of the canopy arch or fabric provides added protection to your body, especially when it rains gusty. The purpose of this kind of style is to keep your way visible at all times.
Golf Umbrella
It is characterized by its wide span, up to 180 cm in diameter, and is called a golf umbrella.
The golf umbrella handle usually has a square shape rather than curved, for the convenience for the golfer's use by storing it in the golf bag when not in use. This model offers a perfect shelter for outdoor activities.
Paper umbrellas
Ancient Chinese-made umbrellas were created approximately 2000 years ago. These were initially used in Asian nations before being adapted to other parts of the world.
They are primarily used to protect from sunlight and strong winds. In addition, they have religious significance in some Asian nations and are used as a symbol of religion.
Umbrellas for high winds
Some places are prone to high winds, making walking in the rain with an ordinary umbrella difficult. When wind gusts are severe enough, it's not uncommon for a typical umbrella to blow inside out, rendering it useless. But, some specialized companies produce umbrellas that are designed to withstand high winds.
What is most important for a Large Umbrella?
Large Diameter of Rain Protection
Unlike competing umbrellas that are compact, windproof large umbrellas offer outstanding protection in the rain, making them an ideal choice to avoid getting your clothes wet.
Also, the extensive coverage brings more safety when going out of the house to you alone and even your companion.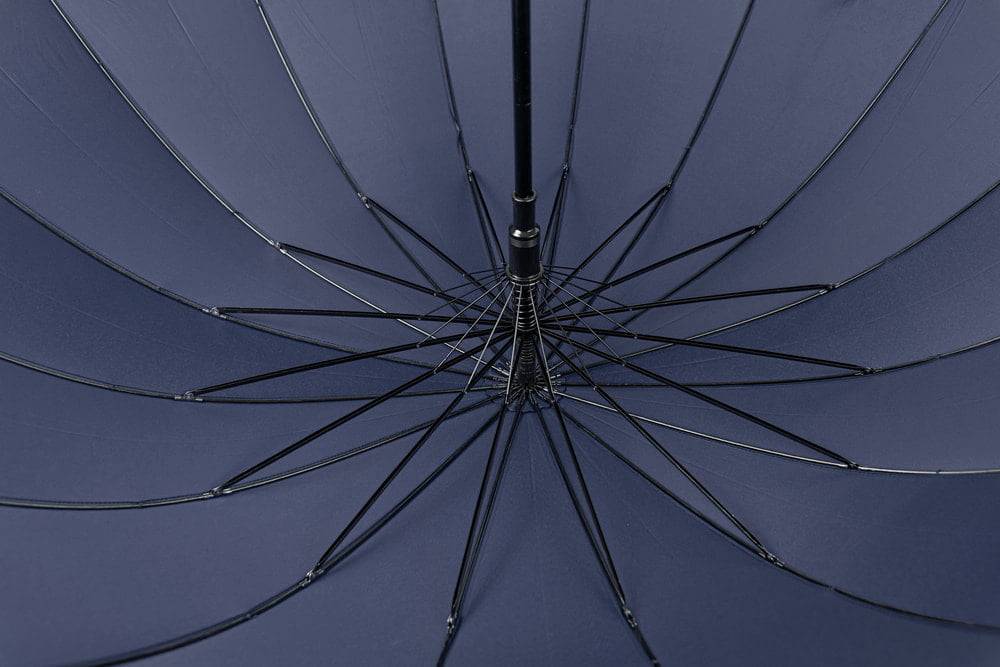 Large and Strong Construction
The large umbrella is twice as strong as a full-size umbrella. There are also upside-down umbrellas that are double-layered, so they are even stronger and of high quality.
They are even windproof umbrellas. Its reinforced and sturdy windproof structure is very resistant to wind as its design provides excellent rigidity.
Easy to Use
When the large umbrella is open, it has extensive coverage to ensure protection from the rain. But, despite its size, its handle allows for easy handling and transport.
Designed for a comfortable and ergonomic grip, without fear of possible slipping.
Large Umbrella with Carrying Sleeve
Your large umbrella order includes a high-quality shoulder holster to carry the accessory more easily. This carrying case has a non-slip ergonomic handle with a shoulder strap that makes it easy to carry anywhere and comfortable to hold.
Everyone needs heavy duty large umbrella
Each large umbrella of them comes with an elegant carry shoulder strap. Some models have more ribs to ensure windproof large walking stick umbrellas will stay stable under the pressure of gusty winds. Others come with a classy wooden handle giving additional luxury to your business outfit.
We specialize in manufacturing windproof and water-resistant rain umbrellas that would withstand the stormiest weather. In most of the umbrellas, we have used fiberglass to create the ribs, which makes them flexible and strong.
We as manufacturers are determined to bring you the best value at affordable prices, high-end quality, and quick & reliable service.
If you are looking for a large, long-lasting durable umbrella, this is the right place for you.
Give yourself "extra" rain protection with Royal Walk Large Umbrellas.
---
Customer reviews for Royal Walk Large Umbrellas
It's big umbrella. I wanted it to be.
Just unwrapped this umbrella. I was expecting a more inferior build quality at the price for a very large umbrella. Perhaps I don't know the correct price point but I was very pleasantly surprised. It comes in a pouch that should you need would allow you to have the closed umbrella over your shoulder like a sling. Good idea so you don't have to carry it when not using it.
Very solid and large umbrella
Ended up ordering this twice within a month as the Mrs managed to forget the first one on the train. Was worth it as I was very impressed by it. Large enough to cover two people with room to spare, very solid and not easily turned inside out in the wind, yet surprisingly lightweight to carry. Altogether good value for money.
5/5 Large Umbrella windproof
Ridiculously cheap for what you're getting. Holds up great in wind. Large enough to shelter two. Stood up to the test of "summer" in the northern british isels.
Practical windproof Large Umbrella
Good and sturdy extra large umbrella outdoor with a big canopy to keep you dry. Withstands quite strong winds, it would take a very strong wind to turn it inside out. Nice and lightweight for carrying and has a useful cover with a strap for carrying it over your shoulder etc.
Staying reasonably dry in the rain!
Large umbrella which works well - big enough to keep two of us dry when we were caught out in the rain with a mile to walk to get home. Handy carrying bag is a great feature as I could carry it easily on one shoulder before the rain came. Good value, well made.
Good overall extra large umbrella for rain - great buying options
Huge umbrella you can easily fit 3 people under it , it's pretty sturdy too , I've tested it out against the elements and it's held up well certainly worth the money
Large Umbrella - Ending summer in style
This Royal Walk large windproof umbrella comes with ultra strong and windproof frame. The umbrella is made of aluminum and 16 fiberglass ribs. Very comfortable curved, wooden handle. Classic style.
This large umbrella opens automatically with an automatic opening system at the touch of a button. It is enough big for two. The length is 39 inches and
The Royal Walk Windproof Umbrella has Great Strength & Durability
I have searched far & wide to find the best Umbrella and at last I have found One. The Royal Walk Windproof Umbrella is Great, not only is it strong and very well made but it has great Looks as well. I have returned 2 other Umbrellas before finding this. Wouldn't hesitate to buy again in the future.
GREAT LARGE WINDPROOF UMBRELLA - buying options also great
I haven't had a chance to use it yet, but this men's windproof umbrella looks like it's constructed very well and I love the big canopy. This heavy duty large umbrella actually is perfect for couples. They can be together under the umbrella.
Great sturdy large windproof umbrella, has lasted 1 year plus with no issues
Large, sturdy and windproof, dries easily and keeps at least two (and one small) dry
Top quality windproof umbrella - options also great buying
I've had umbrella golf branded as being extremely windproof before but this endures the onslaught even better than them
Sturdy and well made windproof umbrella for rain protection and sun.
I made my purchase over nearly 2 years ago and carried it with me across all seasons to see how durable the umbrella was before writing this review. It is as it says on the package - easy to hold and carry, windproof and stoic.
Royal Walk Umbrellas