This has probably happened to you, or at least you have seen it?
Now you have the possibility to own a luxurious, fully automatic folding men umbrella for rain, with which:
✔️ You will always be visible on the sidewalk
✔️ To be always well protected from the heavy rain?
✔️ To have a windproof umbrella for rain
✔️ Luxury umbrella for men which to add a touch of class and style to your business outfit?
✔️ To be a fully automatic umbrella – open and close with the touch of a button
✔️ Compact size when folded
✔️ To fit easily even into a handbag
✔️ To handle the umbrella for rain with unadulterated pleasure?
✔️ An umbrella for rain that is strong enough that could last for years without any problems?
✔️ Have a large folding umbrella with over 1 meter size in diameter
✔️A big size canopy to keep you and your partner safe from the wet rainy weather?
✔️ An folding umbrella with the highest quality possible?
✔️ Low price compared to quality
Our Royal Walk folding windproof umbrella is exact the one to suit your needs!
ROYAL WALK – THE CLASSY STYLE YOU NEED!
That is why we present you with our
Royal Walk fully

automatic folding

windproof umbrella for rain with

v

entilated double canopy with a finishing fine light-reflective strip
In our latest model folding umbrella, we at Royal Walk assure you that we have invested everything that makes an umbrella stylish, durable, windproof, reliably constructed and ensuring your safety in the dark hours of the day, especially with reduced visibility in heavy rain.
DRY IN ONE SHAKE – Best fast drying materials on the market used, giving a superior water-repellency, quality workmanship, elegant and luxurious umbrella design.
The finest and sophisticated high-density fabric with a silky feel, complemented by a patent design luxury ergonomic handcrafted genuine wood handle – and a double layer, zippered carry sleeve, giving you classic, charming high-end, business feel.
Fast drying windproof umbrella made of 210T Teflon coating fabric, using the international leading waterproof technology.
Royal Walk vented double canopy folding windproof umbrella – stylish, beautiful and durable
AUTOMATIC OPEN & CLOSE UMBRELLA with wood handle and double layer, zippered carry sleeve
Classic folding u

mbrella.

The Royal Walk double canopy automatic umbrella

comes with a branded double layer, zippered carry sleeve.
Easy to carry, compact one – elegant when folded in the sleeve.
Fully 

automatic open and close

with the touch of a button compact umbrella
Large & strong enough to protect you and your partner from heavy rains and storms.
Inches (117cm) of arc and 41 Inches (103cm) in diameter
Strong ribs of aluminum alloy and fiberglass
% Rain protection for 2 people
New release bestselling awards in 5 European countries
Masterpiece design and contemporary umbrellas of distinction
Folding umbrella with compact handbag design
Fully automatic, ultra fast-drying, & lightweight
This compact folding umbrella for rain is small when folded and large enough when open.
Ideal size (diameter in the open state – 103 cm) to protect you in the heaviest rain.
Lightweight – weighing less than 1lb (490 grams only), and measuring just 11.5″ long (with a folded length of only 34 cm), the handheld classic umbrella is extremely packable and can be easily assembled in purses, briefcases, backpacks, luggage, or business men's bag (women's bag).
Add a touch of class to your daily business outfit with royal walk wood handle umbrella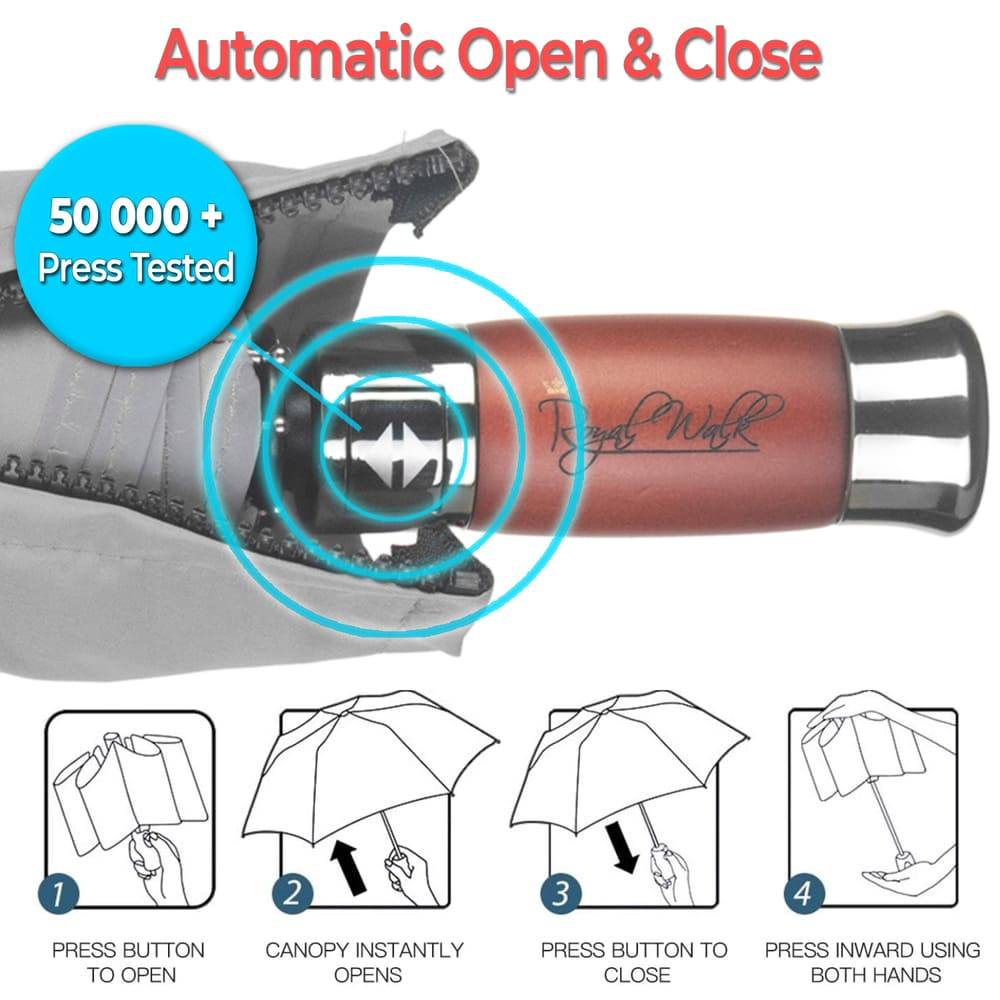 Fully automatic umbrella for rain with auto open & close function
Classic fully automatic men's / women's umbrella
Extremely fast unfolding and folding – opening and closing the Royal Walk folding umbrella is instant at the touch of a button.
Comes with an elegant Royal Walk branded double-layer zippered carry case
50 000 + Press tested
Get our durable and at the same time lightweight Royal Walk folding windproof umbrella NOW
Innovative vented double canopy umbrella with strong windproof construction
Our latest strong windproof umbrella model has undergone a number of structural frame improvements within the past few months to make it more wind resilient.
Ultra-flex Frame technology used in the construction guarantees both strength and flexibility.
The vented double canopy construction supported by solid super wind-resistant frame with premium fiberglass & high-grade steel, allows the wind to pass through the vents, preventing flipping over and breaking!
Innovative dome double canopy, consisting of two overlapping fabric layers that form vents, reducing the pressure, allowing wind gusts to pass through the umbrella, reducing the risk of turning over to provide protection, whether it is sunny, rainy, or windy outside.
The highest resistance tested against winds with a speed of up to 150 km/h.
You can rest assured that when you leave your home with the Royal Walk umbrella for rain you will go back dry!
Windproof umbrella for rain that gives class, style and a great pleasure to use!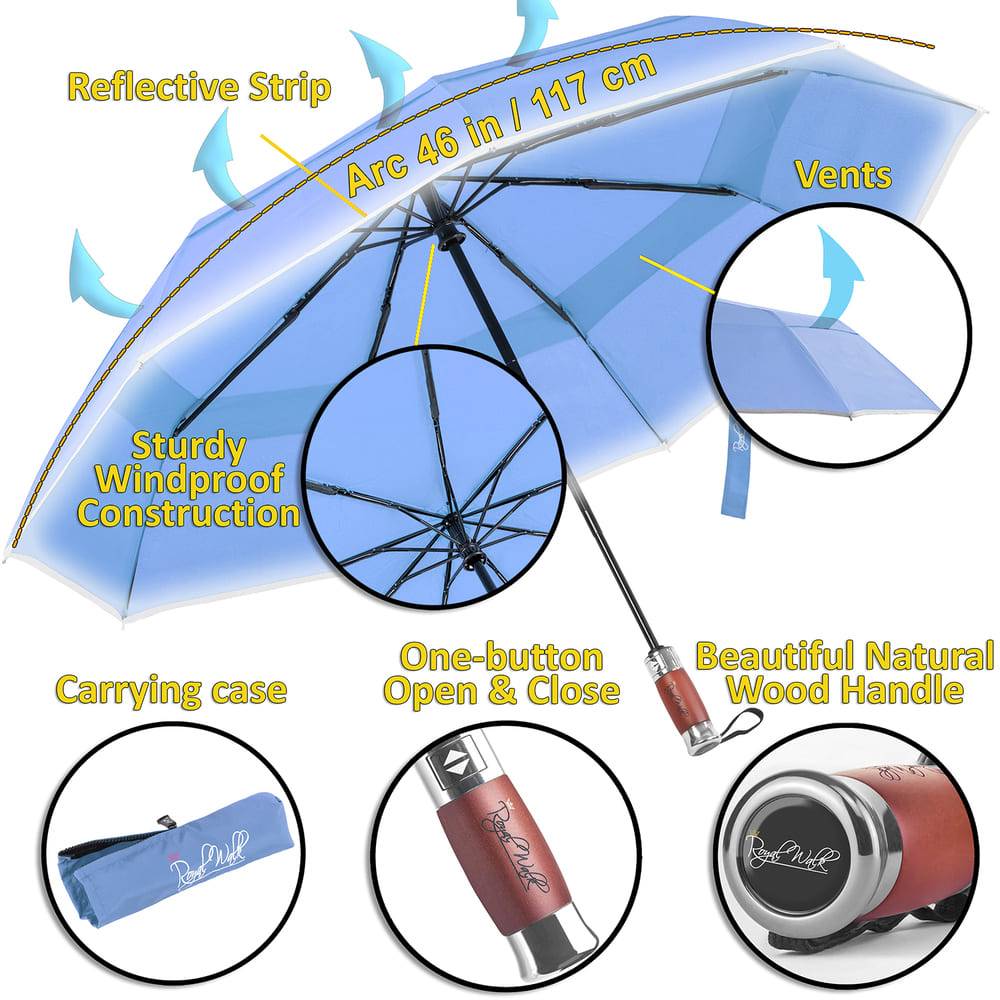 Folding umbrella for rain with light-reflective safety strip
Be safe in the dark hours
A one-of-a-kind fine reflective strip – ensuring safety even in low visibility. An innovative design thanks to the exquisite reflective strip running through the entire diameter of the automatic umbrella.
Safety in the dark – provides high visibility in low light and rainy conditions to warn drivers of cars and vehicles to see you from a distance.
Luxurious umbrella with innovative protection against distracted drivers on rainy nights.
You will never have to worry when you cross a street on a dark rainy evening, drivers will definitely notice you.
You will be much better protected with our umbrellas for women and men.
If you are looking for a men's or women's umbrella for rain, this is the perfect choice!
Superior water-repellency
Ultra-Fast Drying and Waterproof – the superior ultra-soft high-density  Dupont Teflon 210T Polyester material used allows the umbrella to dry minutes after being used.
Soft & Lightweight 210T high-density water repellent fabric with Teflon coating, keeps you dry and protected from the rain.
Rain drops just slip aside – water droplets flow and are not absorbed into the fabric.
Non-water retaining – the special Teflon 210T coating does not allow water retention and leads to instant drying of the umbrella. All this allows the Royal Walk folding windproof umbrella to dry instantly after gently shaking.
Luxurious Windproof Umbrella with super-fast drying fabric – the perfect combination!
ROYAL WALK wood handle umbrellas with vented double canopy – with care and attention to detail – last a lifetime
Folding windproof vented umbrella with 9 reinforced ribs wind resistant construction
2-Year International Warranty
Robust, stormproof and wind-resistant vented canopy
Strong and reliable windproof construction – suitable for all weather conditions
Made of 9 reinforced ribs of fiberglass and aluminum, providing an arc length of 117 cm and a roof diameter of 103 cm, which can be bent but not break to withstand strong gusts of wind up to 150 km/h
Umbrella for rain with UV-protection
Royal Walk luxury line
Comfortable folding umbrella with natural wood handle
58 painstaking steps and 36 points of inspection are used to produce a single "Royal Walk" umbrella.
Every single Royal Walk umbrella has been tested before leaving the factory. The result is in front of your eyes – a one-of-a-kind premium class wooden handle travel umbrella.
*** 2 YEAR FULL INTERNATIONAL WARRANTY – Every Royal Walk folding windproof umbrella for rain comes with a 2 years International Warranty against defects.
* If you have any questions or suggestions you are also welcome to contact our customer service.
An Elegant harmony between excellent materials and details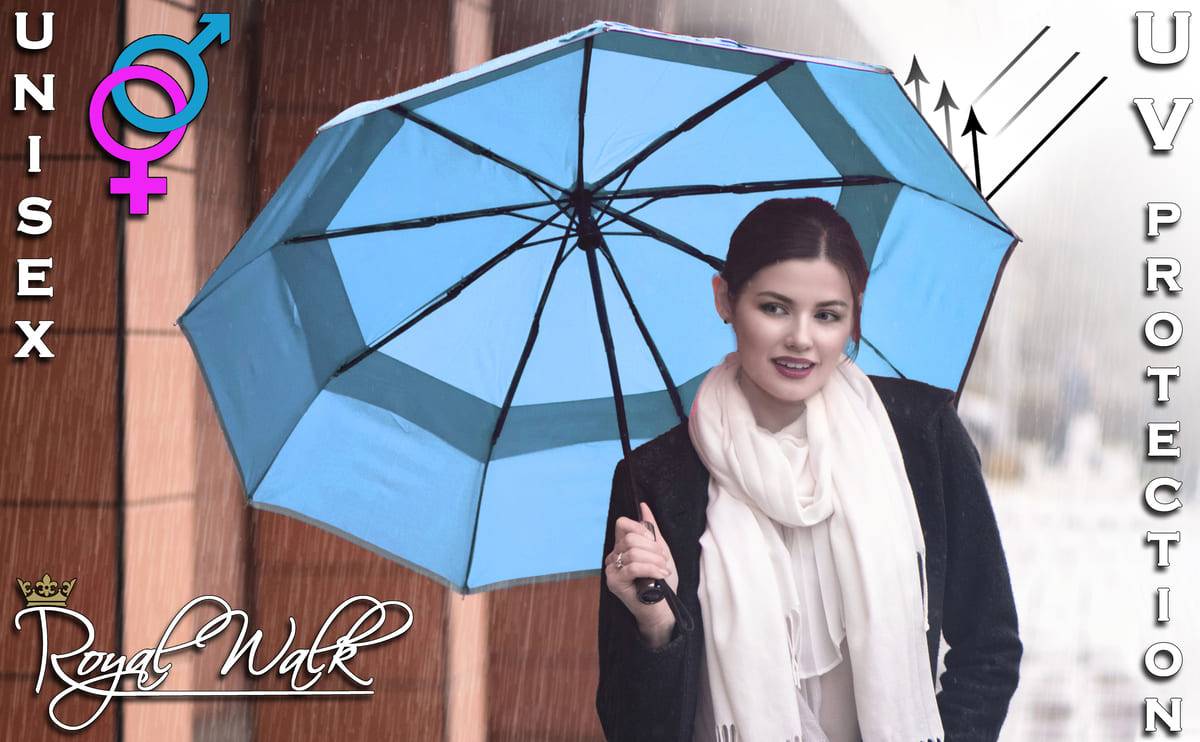 The ideal accessory for everyday use!
Luxurious natural wood handle umbrella
(EU Design Patent Granted: 003381128)
The luxurious ergonomic natural wood handle is extended and thickened (10cm long), giving a strong, comfortable, and secure grip feel.
This is the latest improved version of our Royal Walk folding umbrellas with wood handle, in which the handle is made entirely of real wood and metal.
Laser engraved and elegantly branded with a black Royal Walk logo to set our umbrella and help you easily recognize the original.
Natural wood, specially selected for this purpose, is used to make the handle of the luxury umbrella for rain in order to successfully withstand repeated exposure to moisture and water.
One of the best gifts that can be made – beautiful, functional, and durable over time.
Royal Walk luxurious compact folding windproof umbrella specifications:
Triple folding chrome-plated metal shaft
Automatic Open & Close
Length when open: 64 cm
Folded length: 34 cm
Diameter of unfolded umbrella: 103 cm
Rainbow: 117 cm
Weight: 490 g
9 Reinforced ribs of fiberglass and aluminum
Material: 210T DUPONT TEFLON Pongee Fabric
Elegant Royal Walk branded double-layer fabric carrying zippered case included.
Color: Slate Blue
What makes Royal Walk a desired and unique umbrella?
There is no special secret about it. Using the best quality materials, luxurious design and key attention to details – this makes the Royal Walk umbrellas for rain outstanding!
The Royal Walk vented double canopy umbrella is extremely beautiful and high-quality, and is suitable for both men and women.
The luxury Royal Walk folding travel and compact umbrella for rain that everyone should have!
Get one Royal Walk automatic umbrella with light-reflective strip and you will feel the difference within a second.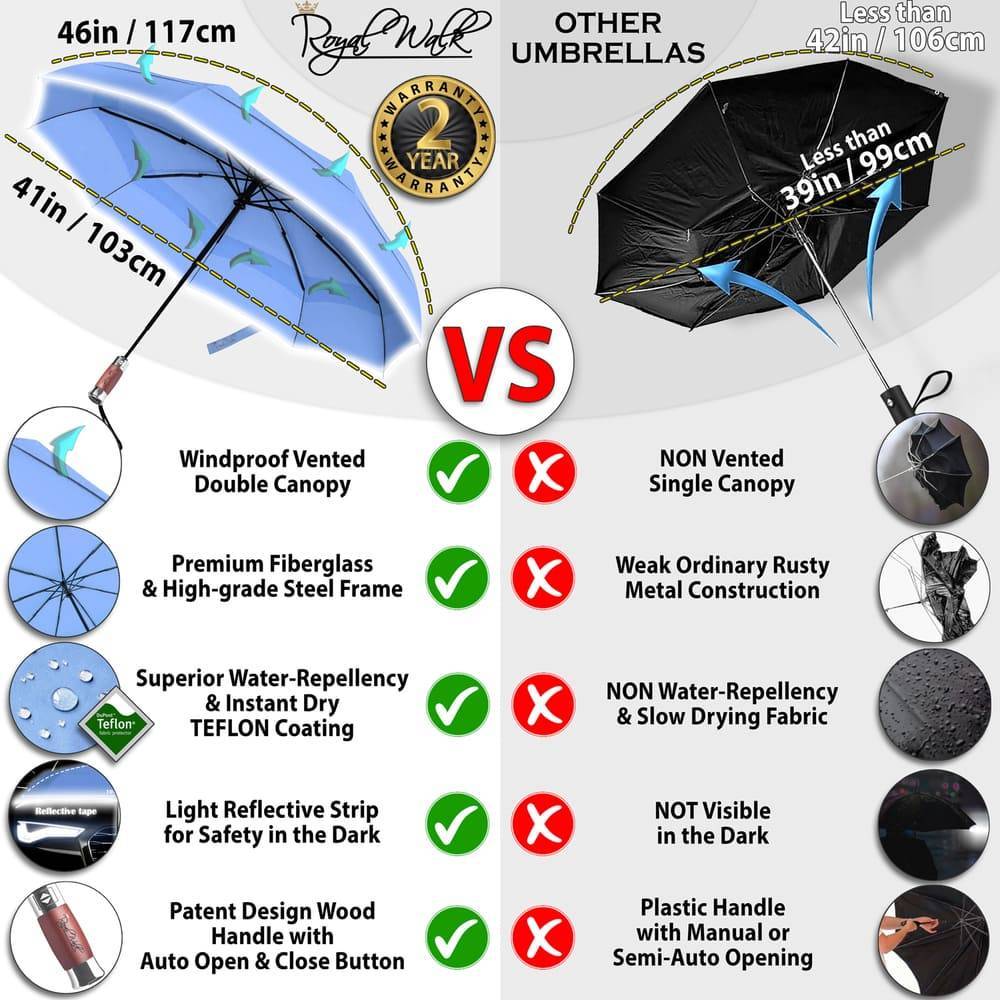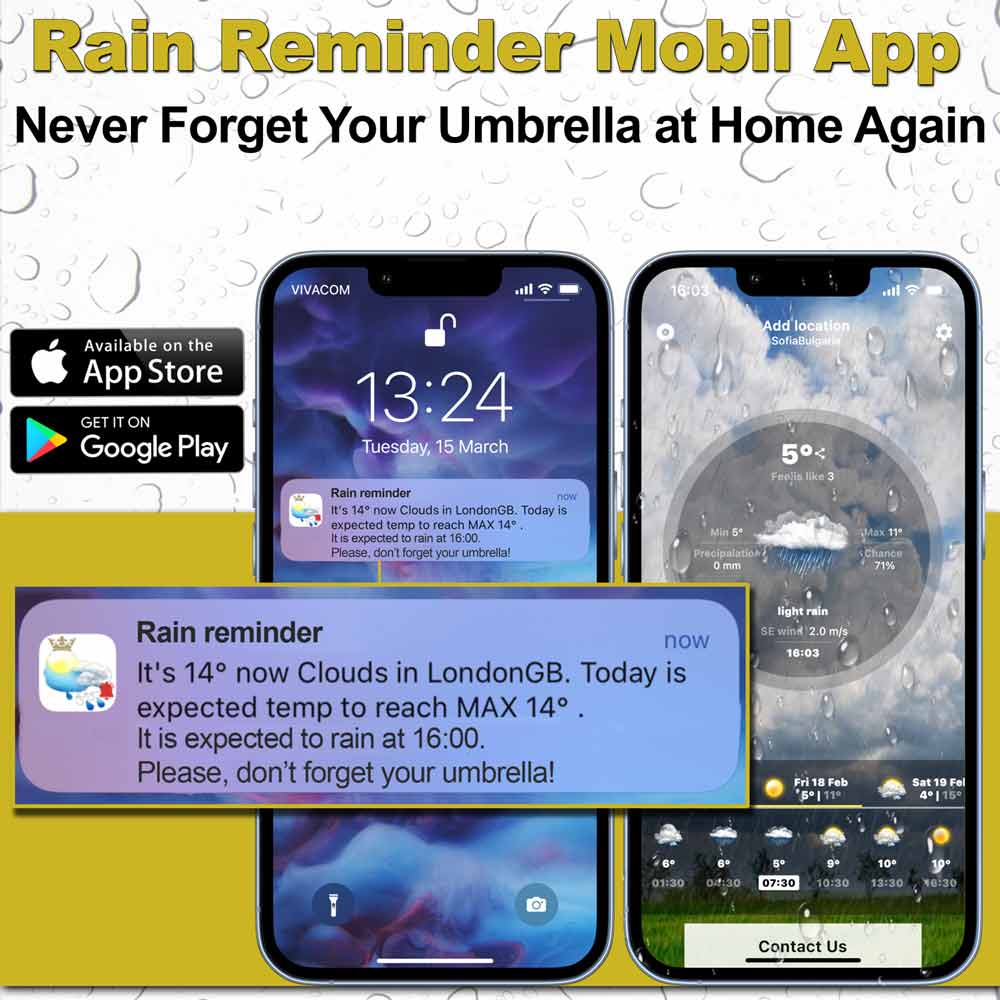 Rain reminder mobile app
Never forget your umbrella at home again
Free subscription
Enjoy a free lifetime subscription to our Rain reminder mobile app only for royal walk customers
Customizable notifications
Set a morning and evening notification at your chosen time of the day to let you know if there is a possibility of precipitation.
Accurate weather forecast
Our rain reminder provides accurate forecast for your current and favorite locations
Never forget your umbrella
Free subscription
Quick customer support
Current & favorite locations
Flexible daily notifications
Hourly & daily forecast
Reliable rain probability
Easy & beautiful design
Additional benefits and discounts
How to get the warranty and the Rain reminder mobile app?
Every umbrella comes with an attached flyer card with a QR code.
Scan the QR code with your smartphone camera (if you haven't got a QR code scanner, you can download it for free for iOS and Android smartphones).
Get 2 Years Warranty and a Free subscription for our Rain reminder mobile app.
Every time when there is a possibility of precipitation you will be notified with a screen notification of your smartphone.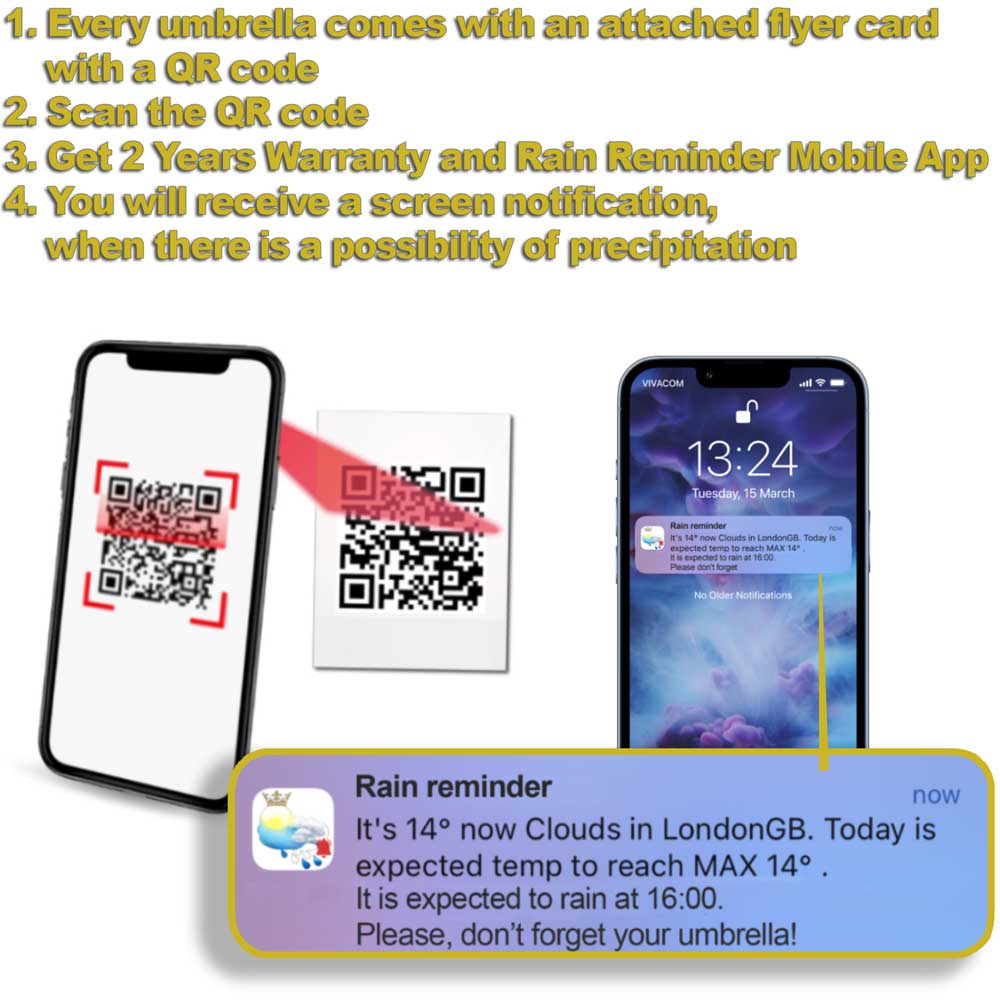 QUALITY WORKMANSHIP, ELEGANT & LUXURIOUS Umbrella at AFFORDABLE price
Positive reviews in Europe
New release bestselling awards in 5 European countries
Awards for the best umbrella on specialized umbrella websites from the UK
The perfect men's or women's umbrella with the best rain protection – It's your choice!
As one of the most desired best-selling newly released automatic umbrellas in Europe, we have sufficiently detailed customer profile statistics.
Made of the highest quality materials and has been tested in rainy and windy UK, the Royal Walk vented umbrella is designed to meet the needs of both men and women.

The number of purchases made by men and women is almost the same. This is an indication that our automatic vented luxury umbrella for rain with a light-reflective strip is a perfect choice for both men and women.
If you still want an umbrella for rain with even bigger diameter of the protective cover, we recommend the Royal Walk luxurious large umbrella for rain – repeatedly ranked as one of the best-selling windproof large umbrella for rain in Europe
Customer reviews for Royal Walk luxurious folding windproof umbrella for rain
Perfect large windproof umbrella for rain
Operation of the Royal Walk umbrella couldn't be made any simpler. The reflective strip around the canopy shows up at night time in the least amount of light, a nice feature when you are out in the dark.
With winter approaching fast, I was glad to have the opportunity to try this umbrella. The only one I had was a large beach-type umbrella which is far too large to use when I am out in the car. This umbrella is perfect, I can open the car door a little and with one hand holding it outside the umbrella can be fully deployed with the button, it's great. I haven't yet been able to assess the effectiveness of the windproof vent but I can see how it will work by spilling the gust of wind out through the overlap. I expect it won't be long before the British weather gives me a chance to fully test all the umbrella's features.
I am impressed with the quality of the Royal Walk windproof folding travel umbrella, especially at a reasonable price. I have no hesitation in recommending it.
Fantastic windproof brolly
Slightly heavier than expected but the quality is fantastic and it looks very elegant with the wooden accent. The opening and closing mechanism works smoothly without any issues. I used a couple of times recently and it seemed to hold its worth against wind and heavy rain nicely. The reflective strip is a nice touch for those dark early morning starts or early evening returns. It's not too in your face but just right and you can't even tell that it's reflective when used during daylight. Dries super quickly and water drops just slide off the surface. Quite a generous size and covers me and my bags easily. The case is of good quality with a smooth chunky zipper that works as expected. A very decent brolly for the price and looks sleek. Would be happy to recommend it. If this review helped, please click on the 'helpful' button to let others know! Thanks ツ
Quality folding umbrella that husband happy to carry
This is a smart folding umbrella with wood handle and chrome effect, and smart branded case. I ordered this for my husband during rain storms last month and the day I received rains stopped 😂 but good old British weather didn't let me down and the last 3 days have been raining constantly. My husband doesn't usually like compact umbrellas but he has been happy to use this one. It opens automatically and smoothly with the press of a button and is large comfortably protecting him from rain ☔️ he was also impressed with his performance on a windy day as he didn't have to struggle with it and at no point felt was going to blow out. It's not the cheapest umbrella but it's well worth money and I'm sure get much use during winter months.
Quality folding compact umbrella with a capital Q
I think this could be my favorite umbrella ever! Such lovely quality with a Teflon coating. Very very smart. How unusual to have an umbrella that closes automatically too! Not small so you can't carry it in your handbag or pocket but lovely to have in your car or in your shopping bag. Beautiful compact travel umbrella for rain. The case is marvelous, it has a zip so you don't have to fight to put it back! Looking forward to the rain now so I can try it out!
The best windproof umbrella for England's weather
I had a chance to try this folding umbrella today, in the rain and in the 20mph wind and it is like new. Very sturdy, a little bit heavy but I think that's why it is so sturdy. Really nice windproof umbrella heavy and well made. Releases automatically with the click of a button. Strong against the wind. Bigger than I thought. A great large umbrella. Little overpriced for me but it works really well against the wind as well as remaining dry. This umbrella is simple to open and shut which is unique. Very happy with my purchase. Highly recommended!
Best folding windproof umbrella for rain ever
I got good use out of this the past week with the wet weather. It looks really well made folding umbrella and has nice finishing on it like the wooden handle and the carry case. The easy opening and closing is a lifesaver especially when I don't have both hands free you just push the button to open and close. It is easy to put back in the case too as the case has a half zip on it so no need to fight to get it back in and it folds away nicely anyway. The vents around the material make it easy to use when windy there's virtually no resistance so it nots flapping about the place and hitting me in the head. I would recommend this automatic travel umbrella for sure.
A really well made and attractive travel folding umbrella – lots of good features
This automatic umbrella by Royal Walk is a very well made traditional-looking large folding umbrella that is portable enough to carry around with you, or you could keep it at home or in your office for emergency use if shopping during a rainy lunchtime. This model features a water repellent high-density 210T Dupont Teflon coated Polyester fabric canopy, which will certainly help to keep the rain off you. This compact umbrella has nine tough fiberglass and aluminum ribs and a strong chrome-plated metal shaft – all of which will help it to stand up well against the British rain and windy weather! This new Royal Walk model measures 64cm long extended, 117cm across the dome with a 103cm diameter; it weighs 490g, and it has a good automatic opening action so you get protected from the rain nice and quickly.
High-quality windproof umbrella for rain
This is a handsome-looking umbrella. It is true to size and features, as stated in the product details.
It is sturdy, as I tried using it the other day when it was raining hard and a bit windy. It automatically opens/ closes using one button, which makes it convenient to use. The nylon fabric is thick and appropriately stitched in the sturdy metal frames.
It comes with a half-zipped umbrella sleeve that is very convenient to use as you won't struggle to put the travel windproof umbrella in when it is wet.
If you're looking for a high-quality umbrella, then I highly suggest this product.
Amazing windproof umbrella for rain
The automatic umbrella for rain is comfortable to hold with its ergonomic natural wood handle, it keeps the rain off very effectively and has not yet turned inside out in the wind! This nine-ribbed model is big enough to protect two people, it comes with a storage sleeve with a zip and represents good value. One of the best-looking compact umbrellas for rain I have used this Royal Walk model is slightly larger than some similar models so can shelter one or two people comfortably, it is very tough and highly wind-resistant making it your perfect companion on very rainy blustery days – five stars. This model also allows quick and easy closing after use.
Excellent windproof umbrella if you not in an area with heavy winds
It's an amazing travel windproof umbrella, I haven't had the chance to use it during strong winds but I am already very happy with it. I had many compliments about it.
The Royal Walk folding travel umbrella is wind resistant. I haven't really had to use this as much when I purchased it as I was working from home a lot due to the pandemic but now that I am leaving to the office more the wind has blown this umbrella inside out two times and now needs to be replaced.
Best windproof umbrella 🌂 I ever had
This folding umbrella is very good quality and sturdy, it can resist wind too. Also, it is lightweight and not heavy to hold on hand too. It has everywhere around edges visibility for nighttime. The feel is great to touch this wood handle umbrella. Also, gas is such a nice bag to upon it and is zipped to use it easier. Love the fact that it gets folded quite small and you can easily put it on your bag or in a basket on baby's pram as I do. Worth the money definitely although looks pricy at £22 when reviewed but will buy another one for my hubby 😉
Best compact folding umbrella for rain I've owned
Great compact umbrella with great attention to detail, like a zip on the case to make it easy to get on and off. Automatic opening with the touch of the button and automatic closing using the same button. The canopy is large enough for two and is a double canopy helping with wind resistance. The umbrella looks smart in black with the grey trim – that is actually reflective – a great safety feature at night (but doesn't look out of place in the day).
This travel umbrella is quite heavy and quite large so not really a pocket umbrella – more for a briefcase or large handbag. Perhaps not something you would carry everyday. A quality product that hopefully will last.
Perfect Windproof folding travel umbrella for men
So the description states this is a:-
Windproof folding travel umbrella compact and strong luxurious real wood handle automatic open-close vented double canopy for men and women.
It's not just any type of windproof umbrella, this has a reflective strip around the outside so you see it at night. The fabric is like magic it dries in no time. Its double layers remind me of our garden canopy, so it helps airflow and does not damage the structure. Win-win. You can tell it's a quality piece of kit. The only thing is the price. At the time of reviewing is £23.99, if it does what it says it should do it will be worth it. Instead of all the cheap ones that always end up in the bin and landfill. So in the long term, if it's going to last its definitely worth it. But it also comes with a 2-year warranty so you have some protection over that also.
Premium quality Compact travel umbrella
Very pleased with this compact umbrella. It is competitively priced, which sometimes means poorer quality but as soon as you hold the product it has some sturdiness about it which is reassuring. The build quality is good and it is compact enough to fit neatly in my rucksack.
Tried this out yesterday in quite a heavy downpour it's a great windproof umbrella very sturdy opens and closes quickly and easily. It was also cheaper than the Totes version. The downside is it is quite heavy and you need to push it quite firmly once down to close it. It also has a lifetime guarantee so a great purchase.
Royal Walk folding windproof umbrella, handles stormy weather well
Most umbrellas promise that they are truly windproof, But to be honest, This is usually far from the case. This windproof umbrella does however stand up to heavy rain and gust of winds pretty well. Considering my part of the world is usually raining, This has been a good test of its build. I couldn't find any negatives with this, As it looks pleasing to the eye. Comes with a cover and a sturdy handle that seems decent. The reflective strip is an added bonus, As it helps me to feel a bit safer when the sun sets and the lights bounce off the rim of the umbrella.
Does the job and fairly priced.
Excellent folding automatic umbrella for rain
This is a pretty stylish-looking umbrella. It extends (and also, surprisingly, retracts) at the touch of a button. This mechanism works really well, and it offers more convenience than standard umbrellas. IT's pretty sturdy too, and stands up to winds much better than other umbrellas that I have.
Overall umbrella looks great, feels luxurious and have a stylish design as well as all the practical aspects that are required by umbrella. I am very impressed with the product and would definitely recommend it for daily commute to work or for social travel. 5 stars for a premium quality innovative design umbrella.
It's not super small when folded up, but it is compact and easy to carry around.
Very happy with it – highly recommended.
Excellent quality windproof umbrella with wooden handle, worth it
Winter approaches and a need for a strong windproof umbrella. This one is excellent. Feels really made and retracts to a small size. It has a nice reassuring weight. It certainly keeps the rain off and goes up and down very nicely. The design feels excellent and you feel it will withstand the rain and also last.
A little heavier than your usual umbrella so I'm hoping it doesn't ache my wrist when in use, I guess the weight of the item is down to the quality! Quality feels amazing. As for it being windproof, I'm yet to find out! This is a quality umbrella with a wooden handle and is worth it. One of the top-quality umbrellas I have seen and used. It is made of supreme quality and designed to be windproof as it disperses wind through vent flaps. The steel structure is strong as well as being compact, lightweight, and robust at the same time. The handle is made of real wood and feels luxurious.
Very impressed with Royal Walk Folding Windproof Umbrella for rain
Most compact umbrellas are quick to blow inside out in strong wind: so to be honest I wasn't expecting much of this one. It's larger than the very compact umbrellas on the market and it's well made and sturdy. The handle is wooden and shaped so it fits well into the hand. It has a cover for protection, which is zipped, making it easy to get in and out. It has an automated open and close button which works well, with a spring loaded mechanism opening and closing the umbrellas swiftly and neatly.
I've tried it in windy weather, and the double canopy worked well – it never felt like I was battling the wind and it never felt like it was going to blow inside out.
The brand of Royal Walk isn't one I am familiar with but it is presented well and makes this item look like a top quality branded umbrella. I'm really impressed with this compact travel umbrella and I think it will last for many years. It would make a good gift, but is a good buy if you are looking for a quality folding umbrella for yourself.
Royal Walk Umbrellas for Rain