This has most likely happened to you, or at least you have seen it?
Probably you want a windproof rain umbrella that doesn't fall apart in the first wind?
And at the same time to be:
A folding one, fully automatic open & close
An umbrella, looking elegant and getting a compact size when folded
Sturdy rain umbrella, resistant to strong and harsh winds up to 140 km / h
Fast-drying one, that does not retain water and dries instantly
Stylish, beautiful and durable
The perfect women's rain umbrella or…
The best men's rain umbrella
If "Yes" – then our Royal Walk Folding Windproof Umbrella is exactly for you!
ROYAL WALK – THE CLASSY STYLE YOU NEED!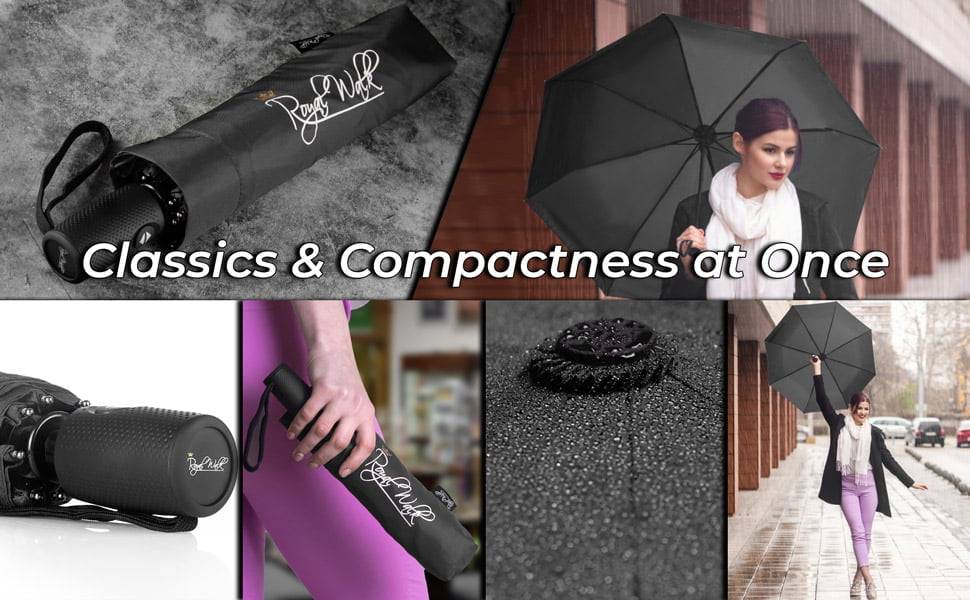 That is why we present you with our
Royal Walk

wind-resistant fully automatic windproof umbrella for rain
THE BEST UMBRELLA , combining strength, stability, wind resistance, compactness and low price at once.
DRY IN ONE SHAKE – Best fast drying materials on the market used, giving a superior water-repellency, quality workmanship, elegant and luxurious umbrella design.
A fast drying WINDPROOF UMBRELLA made of 210T Teflon coating fabric, using the international leading waterproof technology
AUTOMATIC OPEN & CLOSE UMBRELLA with a handy carry sleeve
Fully automatic open and close function with the touch of a button
Classic travel umbrella – comes with a branded handy carry sleeve.
Large enough to protect you and your partner from heavy rains and storms.
Durable, lightweight with windproof construction supported by 8 spokes of aluminum alloy and fiberglass
Fabric with Teflon coating (Dupont Teflon 210T Polyester) does not allow water retention, which makes it instantly dry
Strong folding umbrella with a compact size when folded – only 31.5 cm
Large diameter 102 cm – big enough to protect even from heavy rain
Inches (115 cm) of Arc and 40 Inches (102 cm) in diameter
Strong Ribs of Aluminum Alloy and Fiberglass
% Rain Protection for 2 People
% Most preferred Umbrellas' size in Europe
Royal Walk Folding travel umbrella – stylish, compact and durable
Protection against both pouring rain & the sun's UV rays
Rain umbrella with UV protection

Made of the highest quality materials and has been tested in rainy and windy UK

A windproof umbrella for rain that gives class, style and a great pleasure to use

Rain umbrella with extremely strong construction of aluminum alloy and fiberglass

Triple folding chrome-plated metal shaft

Made of 8 reinforced ribs
If you re looking for a men's or women's umbrella, this is the perfect choice!
Windproof construction – strong and reliable, suitable for all weather conditions
The Royal Walk folding automatic umbrella is suitable for use in heavy rains, snowfalls and even strong storms.

Ultra Flex Frame technology used in the construction guarantees both strength and flexibility.
The wind resistance tested against winds with a speed of up to 140 km/h.

With this windproof 3 folding umbrella you will always stay always protected.
You can rest assured that when you leave your home with the Royal Walk compact umbrella you will go back dry!
Lightweight & compact umbrella with handbag design
This compact folding umbrella for rain is small when folded and large enough when open.

Ideal size

 (diameter in the open state – 102 cm) to protect you in the heaviest rain.
Lightweight – weighing less than 1lb (420 grams only), and measuring just 12.4″ long (with a folded length of only 31.5 cm), the handheld classic umbrella is extremely packable and can be easily assembled in purses, briefcases, backpacks, luggage, or business men's bag (women's bag).
Fits effortlessly even into a handbag

Convenient storage – comes with an elegant Royal Walk branded carry case

40 000 + Button press tested
Add a touch of class to your daily business outfit with the royal walk classic umbrella
Superior water-repellency
Ultra Fast Drying and Waterproof

–

the superior ultra-soft high-density  Dupont Teflon 210T Polyester material used allows the umbrella to dry minutes after being used.
Soft & Lightweight 210T high-density water repellent fabric with Teflon coating, keeps you dry and protected from the rain.
Rain drops just slip aside – water droplets flow and are not absorbed into the fabric.

Non-water retaining

– the special Dupont Teflon 210T Polyester coating does not allow water retention and leads to instant drying of the umbrella.

All this allows the Royal Walk large umbrella to dry instantly after gently shaking.
Compact travel umbrella with super fast drying fabric – the perfect combination!
ROYAL WALK umbrellas – with care and attention to detail – last a lifetime
Exceptional quality
Numerous points of inspection are used to produce a single "Royal Walk" umbrella.
Every single Royal Walk umbrella has been tested before leaving the factory.
The result is in front of your eyes – a one-of-a-kind premium class compact travel umbrella.
Royal Walk Classics Line
*** 2 YEAR FULL INTERNATIONAL WARRANTY – Every Royal Walk folding travel umbrella for rain comes with a 2 years International Warranty against defects.
* If you have any questions or suggestions you are also welcome to contact our customer service.
An elegant harmony between excellent materials and details
The ideal accessory for everyday use!
How to use the royal walk automatic umbrella properly?
The button is pressed once.
The umbrella opens completely automatically
The button is pressed again to close the umbrella
It closes automatically
Press the umbrella on the top to fully assemble
The umbrella is already closed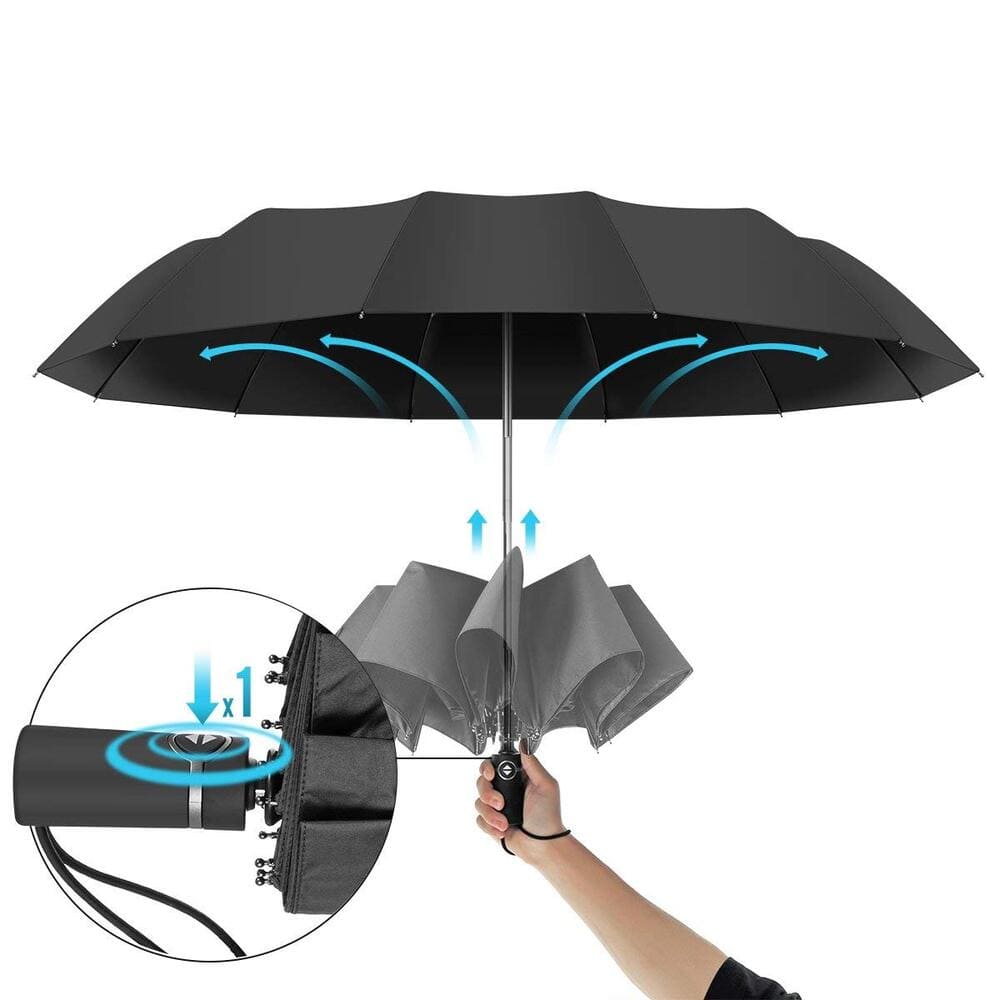 Automatic umbrella with e

xtremely fast

unfolding and folding
Opening and closing of the Royal Walk automatic folding umbrellas is completely automatic and is instant done at the touch of a button.
One of the best gifts that can be made – beautiful, functional, and durable over time!
What makes Royal Walk a desired & unique umbrella?
There is no special secret about it. Using the best quality materials, luxurious design and key attention to details – this makes the Royal Walk Umbrellas for Rain outstanding!

The Royal Walk Automatic Folding Umbrella is extremely beautiful and high-quality, and is suitable for both men and women.

The luxury Royal Walk folding travel and compact umbrella for rain that everyone should have!

It is suitable for use in everyday life by men and women.

The women's rain umbrella should be small enough to fit in a shopping bag or handbag.

The men's rain umbrella should have a large diameter and coverage area to provide good protection from the rain.

The finest and sophisticated high-density fabric with a silky feel, complemented by a classic ergonomic gripped handle – and a branded carry sleeve, giving you classic, charming high-end, business feel.
Get our durable and at the same time lightweight Royal Walk strong folding umbrella NOW!
Classic & compact umbrella with comfortable gripped handle
Classic fully

automatic

men's / women's umbrella
Ergonomic handle – this is the latest improved version of our Royal Walk Classic windproof folding umbrella, in which the handle is extended and thickened, with a natural latex coating for better grip and comfort when worn.
Comfortable umbrella with luxurious plastic handle with rubber grip.
Easy to carry, compact one – elegant when folded in the sleeve.
Get one Royal Walk folding automatic umbrella

and you will feel the difference within a second!
Royal Walk compact umbrella specifications:
Triple folding chrome-plated metal shaft

Automatic Open & Close

Length when open: 62.2 cm

Folded length: 31.5 cm

Diameter of unfolded umbrella: 102 cm

Rainbow: 116.8 cm

Weight: 420 g

8 Reinforced ribs of fiberglass and aluminum

Material: 210T DUPONT TEFLON Pongee Fabric

Elegant 

Royal Walk branded

carrying case included.

Color: Red
We at

 Royal Walk 

know how to make premium quality umbrellas for rain. Trust us, as many others have already done.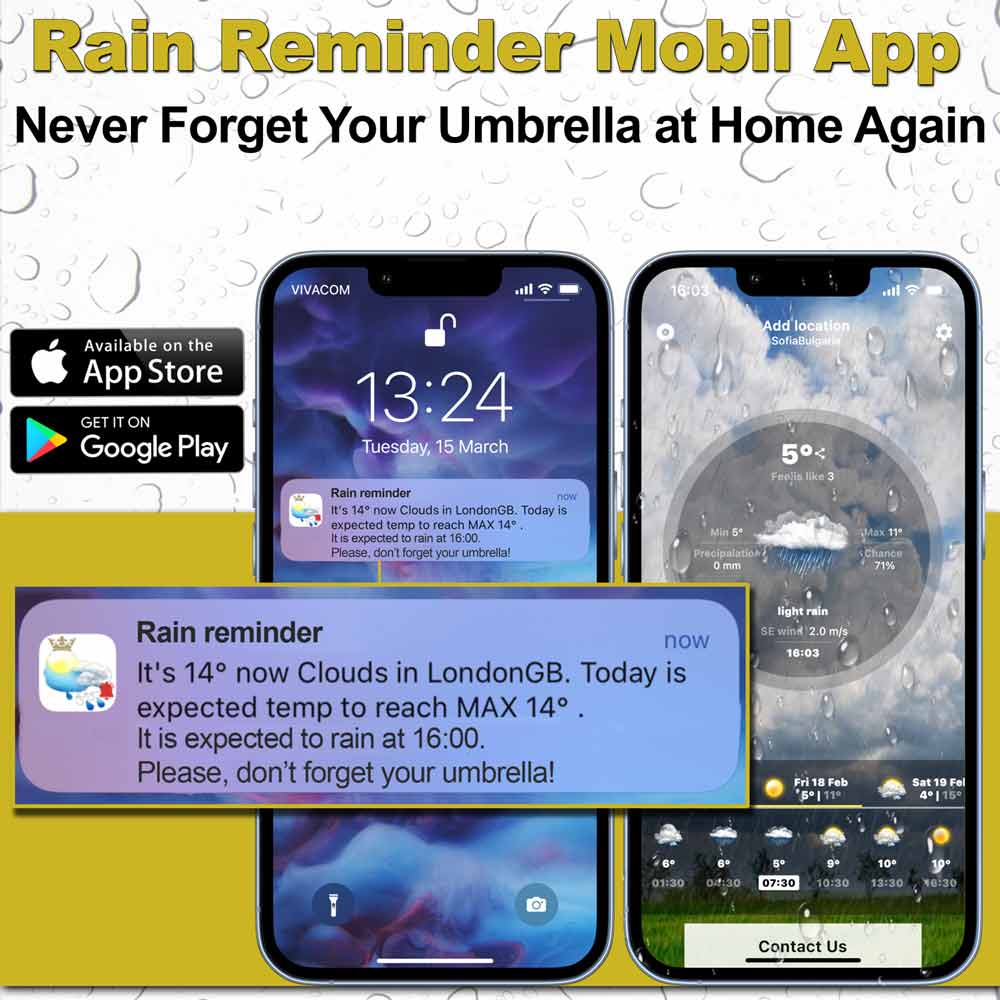 Rain reminder mobile app
Never forget your umbrella at home again
Free subscription
Enjoy a free lifetime subscription to our Rain reminder mobile app only for royal walk customers
Customizable notifications
Set a morning and evening notification at your chosen time of the day to let you know if there is a possibility of precipitation.
Accurate weather forecast
Our rain reminder provides accurate forecast for your current and favorite locations
Never forget your umbrella
Free subscription
Quick customer support
Current & favorite locations
Flexible daily notifications
Hourly & daily forecast
Reliable rain probability
Easy & beautiful design
Additional benefits and discounts
How to get the warranty and the Rain reminder mobile app?
Every umbrella comes with an attached flyer card with a QR code.
Scan the QR code with your smartphone camera (if you haven't got a QR code scanner, you can download it for free for iOS and Android smartphones).
Get 2 Years Warranty and a Free subscription for our Rain reminder mobile app.
Every time when there is a possibility of precipitation you will be notified with a screen notification of your smartphone.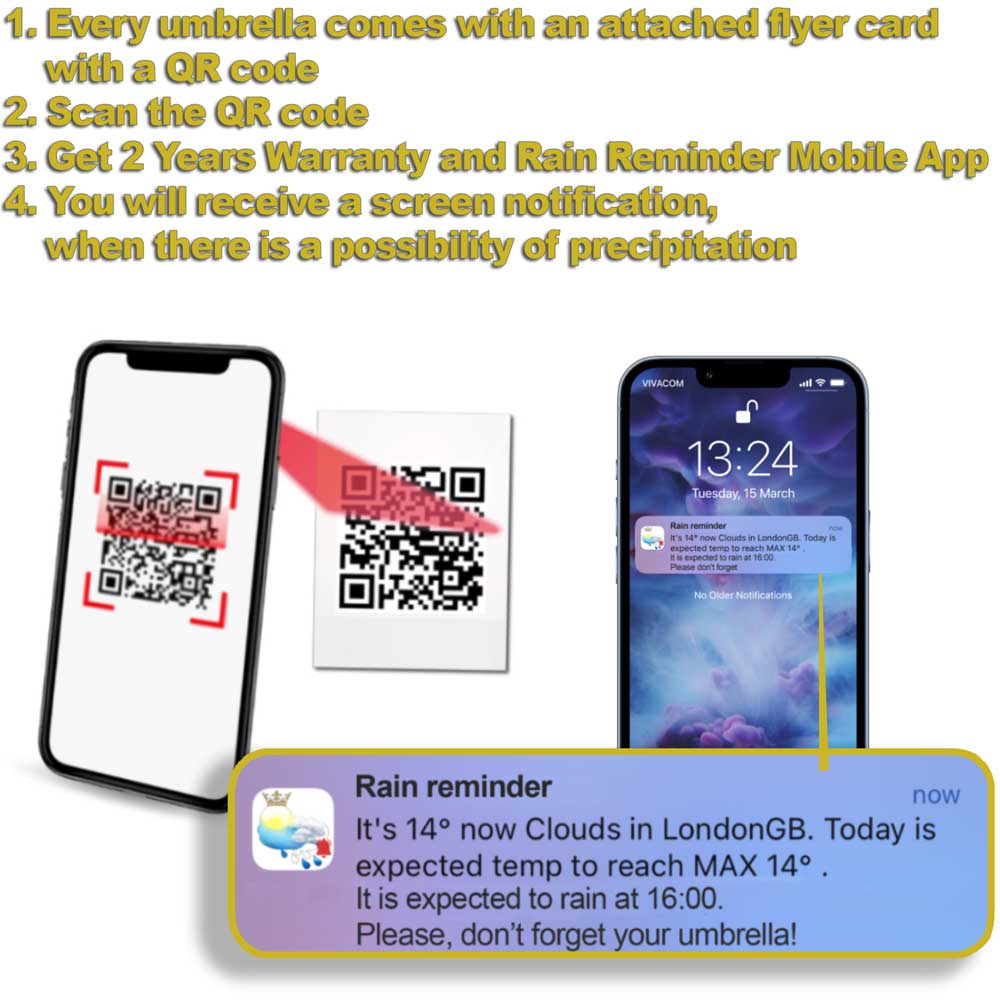 Quality workmanship, elegant & luxurious umbrellas at affordable price
Positive reviews in Europe
% Most preferred Umbrellas' size in Europe
Awards for the best umbrella on specialized umbrella websites from the UK
Masterpiece design and contemporary umbrellas of distinction
The most convenient and desired automatic men's or women's umbrella.

Best-selling travel compact umbrellas in Europe.
If you still want an umbrella for rain with even bigger diameter of the protective cover, we recommend the Royal Walk luxury large umbrella for rain – repeatedly ranked as one of the best-selling large umbrella for rain in Europe
Customer reviews for Royal Walk folding travel umbrella for rain
Superb brolly!
I'm really pleased with this brolly. It wasn't the cheapest, but loads of good reviews drew my attention to it.
It's really compact and light when folded down and it fits into the supplied cover really easily. It's fast when you press the button to put it up and the spokes feel really sturdy as they're strengthened with some sort of plastic stuff. Whatever it is, it works! This brolly is really strong! The vents are barely noticeable but allow the wind through just enough. The rain just rolls off the brolly because of the Teflon coating.
Nice, solidly built folding compact umbrella
Bought this in response to a comparative review of many umbrellas; the Repel was the only compact folding umbrella which got good feedback. Edinburgh's a very windy city so I've previously used Senz stormproof umbrellas, but their quality of manufacture seems to have dropped dramatically in recent years and I've had three in a row fail on me.
Delighted with my purchased royal walk umbrella
I wanted a red compact umbrella to take on holiday with me to England, not only for any rain we may get but importantly for the sun. This umbrella is extremely strong with a positive sturdy automatic open/close action. The ribs are strong and look as though they will withstand both wind and rain. Finally, it is neat when folded away yet a good size to provide the protection you need from an umbrella. The price is extremely good given the excellent quality
Great windproof folding umbrella for the price
This is a sturdy, compact umbrella that is good for windy days. I'm glad to say the weather has been quite nice since I bought it but I'm sure it will come into its own in the next few months! It's easy to put up with the push of a button but the slight negative is when folding up again… that strong, spring mechanism that puts it up so easily means it requires a strong push to fold it down! This could be tricky for anyone with "hand issues" But you can't have it both ways!!
Well built and folding travel umbrella
I bought this as it was listed as one of the very best folding travel umbrellas by Wired magazine.
It's a little on the heavy side, but beautifully constructed. The whole family love the blue sky picture on the inside of the umbrella. The canopy is a bit larger than most folding umbrellas, so I guess that will help to keep me dryer.
Brilliant compact umbrella and great service
Perfect for what I need. Seems really good quality and sturdy. The auto-open is quite powerful too, it doesn't just flop open! Feels solid when folded up.
I love the fact that the seller emails during the order journey, feels more personal than most companies and I'd definitely recommend and will use again. Thanks!
Great to buy travel umbrella
Only used it a couple of times, but does what it's supposed to. Press of a button and it opens perfectly, another press of a button and it folds in, you then just have to press the handle in. Fits perfectly in my over the shoulder man bag along with my lunch.
When open the handle has a very slight movement to it, but overall at the moment for the price a great buy!
Excellent compact umbrella
This is a larger than average folding umbrella and the spring powered deployment is 'aggressive' but works well. It's a solid unit and has some weight to it; probably not suitable for a pocket. The quality of the 2 I've seen (mine and my partner's who bought her's months ago) is fine.
Recommended.
Master piece… simply superb travel umbrella
What a masterpiece created sturdy n designed to the state of the art…. never seen such a lightweight folded umbrella which can have so strong ribs n bones… used it and posted review after one month. I feel if the umbrella's bottom holder can be a little bit smaller, it can be fit into my bag's upper zip. Guys I have tried many umbrellas till now n personally recommend this one. Don't give a second thought. Grab before the stocks last. And what can I say about the after-sell services… magnificent lifetime warranty best one to buy.
Compact and easy to use travel umbrella
I buy quite a few compact umbrellas and tend to lose them. This one is a little heavier than normal but I am hoping that this is a good thing and maybe it will last me longer. It is a substantial size for a folding one, and is very well made. I am looking forward to keeping this one for a while. Excellent service from this seller.
Good quality windproof folding umbrella
This strong folding umbrella has an impressively large and sturdy canopy for its size (about 1m) so keeps the rain off easily. I found that the opening mechanism is pretty tightly sprung, so much so that most of the water shoots off when reopening the umbrella inside to dry it – this does mean that it dries very quickly, but be aware that you'll spray water everywhere in the process! The wooden and stainless steel handle feels heavy and solid in the hand and is probably the most comfortable umbrella handle I've come across so far. I was also very happy with the packaging that it came in – just a thick paper bag that can easily be recycled.
One of the best travel umbrellas you could buy
After years of buying small lightweight foldable brollies and watching each one fold in windy weather I was ready to change my mind on getting a heavier one
This travel umbrella although much heavier and bigger than all my other small ones is well worth it. It opens at the press of a button and collapses with the push button too. The spikes are very sturdy. I have had the chance to test it on a pretty windy day. It wasn't gale force but still very strong. The brolly held up well. It is quite wide so my arms don't get wet either
First time using a quality brolly
Like most people, an umbrella is an umbrella, right? When I got my husband a Royal Walk travel umbrella, we got to use it extensively over the typical British bank holiday. Rainy, windy but the umbrella held up very well. It's compact, folds up nicely and fits in the side pockets of our rucksacks perfectly.
I'm really pleased by my new folding umbrella!
It's definitely a stylish thing, looks pretty nice and very elegant. I put 4 stars for sturdiness because I haven't got a chance yet to use my umbrella in very windy weather, I think it will be good as well, will try. As for weight, it's slightly heavier than an ordinary small folding umbrella, same with the length, slightly longer, for me all these nuances are absolutely ok but if you are looking for a tiny umbrella suitable for a tiny bag – it's not the option.
Solid fold-up umbrella
The first thing you notice when you get your hands on the folded compact umbrella is its size and weight of it. It's a bit bigger and weightier than your standard flimsy fold-up umbrella and makes it feel reassuringly solid without being cumbersome or difficult to pack away somewhere. It comes with both an outer storage bag with drawstring and an inner bag to keep that will be handy to keep your other stuff dry if you put it away on the go.
A very stylish folding brolly
Delighted with this so far. As others have noted the handle is quite long so it's longer than most foldable umbrellas when in its folded state. however, this translates to a sturdy feel and comfortable hold. The material and size are perfect to cover me and my rucksack on a rainy commute and the open mechanism is effective and strong. It is not immune to being blown inside out but easily popped back into shape. The material seems very effective and looks attractive as well as drying quickly. all in all very pleased so far and have high hopes it will last effectively
Robust travel umbrella
A good strong umbrella which seems to be windproof ad a good size. Opening mechanism very quick, a bit stiffer to shut down. not as light as some folding umbrellas but made to last. I lost mine, my fault, and ordered another identical one as replacement.
Lovely travel umbrella
Compact when folded and big enough for two people when open. Lovely vibrant colour.
I like the open/fold button, its handy when getting in and out of the car. This umbrella does feel sturdy and hasn't turned out in the wind yet.
Seller is very good at communicating and solving issues, I'd definitely recommend them.
Royal Walk umbrellas for rain