Men's umbrella - original and elegant style for your look
An umbrella is perfect for any man on rainy days because apart from being elegant, they also provide protection. This accessory is ideal for today's gentleman because it helps him move from one place to another in the big city to relatively close areas. Still, on the way, a sudden rain can ruin the outfit.
Read more about Men's umbrellas
Umbrellas can be made of different materials. Their protective layer is usually made of waterproof synthetic canvas to counteract the rain and prevent its penetration. However, some models are also made of plastic to achieve the same result.
Depending on the model, the umbrella's skeleton is usually made of metal, fiber, or wood. In addition, there are numerous variables and functionalities such as automatic opening and closing, anti-storm materials, folding umbrellas, bubble umbrellas, or luxury umbrellas.
When buying an men's fashion umbrella, you should consider the features above since they can influence your day-to-day comfort. For example, if you choose an umbrella that does not work correctly, it can cause discomfort.
For that reason, we will do our best to guide you in purchasing an umbrella for men, which can protect you both from the untimely rains and the inclement sun. Also, offer you that casual elegance that means carrying a stylish, elegant, and well-made umbrella. This accessory is what you need to be a dry and neat gentleman, impeccably dressed.
Types of men's umbrellas
Long walking stick umbrellas for men
On a rainy day, an excellent long umbrella is the best compliment for men. In our store, you will find a wide variety of models and designs so you can choose the one that best suits your needs or tastes.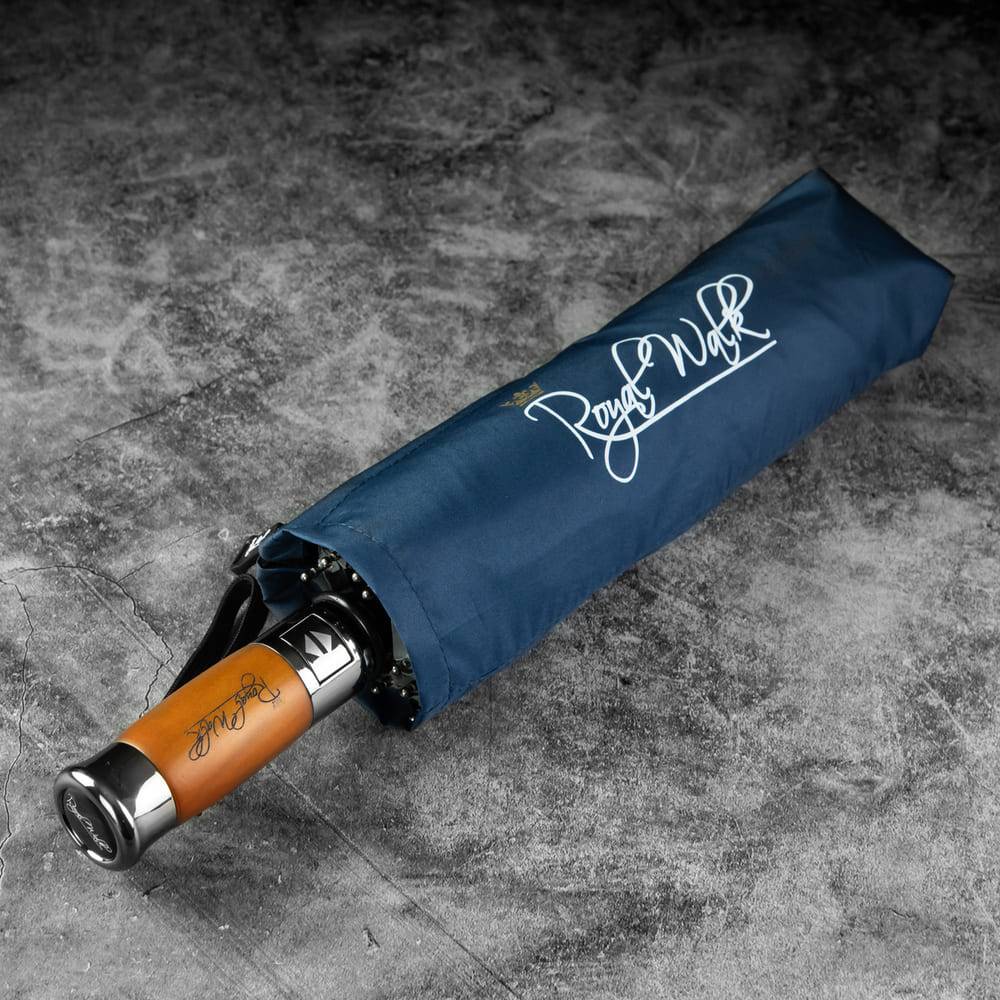 Folding men's umbrellas
Folding umbrellas are the ideal companion for those who want to use them individually and are looking for a portable size. This accessory is a complement to the clothing that in certain weather conditions should always go with you.
Suppose you find a long umbrella cumbersome and want a small umbrella that is easy to carry or fits easily in the glove compartment of your car. In that case, you can take a look at our folding umbrella catalog.
Keys to buy a men's umbrella
When buying the best umbrella for men, you can find very different designs, colors, sizes, and modes of use. Each feature of the umbrella you are going to buy can be very influential in your day-to-day life. For this reason, we will show you some tips to consider when making your purchase decision:
Is weight significant in men's umbrellas?
The weight of an umbrella is essential; nowadays, you can find models made of very light and resistant materials.
What type of opening is essential in an umbrella for men?
The type of opening is essential to consider when buying an umbrella for men; currently, there are two types of space. Manual opening or automatic also called folding umbrellas, are usually operated by a button.
What is the right size for an umbrella for men?
Depending on the use you are going to make of the umbrella, it is advisable to consider the size. The bigger the umbrella, the bigger the weight and the bigger the size. Folding umbrellas are the smallest in their category.
What types of materials are used in men's umbrellas?
The quality of the materials is essential to consider if you want reliability, resistance, and design in an umbrella for men. You can find exciting materials such as plastics, wood, and steel.
Advantages of an umbrella for men
The umbrella, apart from complementing any outfit, is essential to provide protection and have specific characteristics such as:
Elegance, resistance, and durability.
A necessary piece for today's man.
Highly recommended for a good gift.
For these reasons, today's gentleman cannot and should not do without a good umbrella that complements his wardrobe and at the same time offers protection from the sun.
Why choose to buy our gent's umbrellas?
We tell you the reasons that make us the best compared to other umbrella selling sites:
We have umbrellas for gents with maximum flexibility and an anti-wind system that allows the umbrella to return to its original shape. This guarantees its durability and resistance.
Maximum protection from the sun
Our best men's umbrella for gentlemen are equipped with UV protection technology so that the sun's rays do not damage your skin. In addition, the fabrics used in these umbrellas have a barrier that blocks these
Choose a stylish umbrella for protection
If you're looking for umbrellas for men that are on the cutting edge of design for a touch of elegance every time, you're in the right place. Our umbrellas are resistant, light, and comfortable so that you can carry them with you at all times.
Find in our store beautiful and functional umbrellas, ideal for any occasion. We have a variety of colors and trendy designs that can give an avant-garde touch to any outfit.
Whether you are the modern type of man, looking for innovative and eye-catching designs, or you like classic, you can find the perfect umbrella for you in Royal Walk Umbrellas for Rain. For example, some elegant gentlemen use long umbrellas with wooden handles and checkered or one-tone designs to protect them from the rain. For them, the wide range of umbrellas for men allows you to choose styles that suit your best outfits every day.
We know you need an umbrella that matches how you are, so we invite you to choose the style that suits you best in our shop!
Royal Walk Men's Umbrella - High-Quality and Strong
Men's Umbrella is an accessory man usually do not think about very often. However, a strong, sturdy, and high-quality umbrella is exactly what we need when caught in heavy rain. All umbrellas are made of high-quality materials like fiberglass, aluminum alloys, and wood that make Royal Walk umbrellas be light and robust at the same time, ensuring long-lasting performance and the best rain protection.
Men's umbrellas with fast drying and awesome rain protection
Most of our models operate automatically. Using genuine wood is crucial when trying to reach the top of the notch quality. The fabric used in our fast-drying umbrellas is high-density Dupont Teflon, which provides awesome rain and UV protection. Raindrops just slip aside.
Every man must have one Royal Walk men's umbrella
Regardless of the umbrella type, you are looking for – either a large walking stick umbrella or a compact folding umbrella, this is the right place for you. We as manufacturers are determined to bring you the best value at affordable prices, high-end quality, and quick & reliable service.
Our men's umbrellas collection includes a wide range of people's favorites - large umbrellas, windproof umbrellas, small folding automatic umbrellas, double-canopy air-vented umbrellas, walking stick umbrellas, wooden handle ones, and other classic umbrellas for men.
We specialize in manufacturing windproof and water-resistant rain umbrellas that would withstand the stormiest weather.
If you are looking for a large, long-lasting durable umbrella, this is the right place for you.
Give yourself "extra" rain protection with Royal Walk Mens Umbrellas.
---
Customer Reviews for Royal Walk Umbrellas for Men
Very good men's umbrella!
Just the right size for me. I love the quality, you can feel it. The open and close action is very easy and reassuring. The brolly got used for the first time on a day out this weekend where it tipped it down and it kept all day. I am only hoping it stands up well to strong winds, as it wasn't windy. As a fella, I went for the navy blue, to make a change from black. This makes a very good men's umbrella in black or blue for those like me who don't want a massive golf style umbrella which is so much hassle. 
Very well made men business umbrella.
To be honest I never use umbrellas and mainly because I am sick of these one-day products on the market, which are usually broken when you need them. But when I saw this one I honestly wanted to be raining outside and to try it. It also dried very quickly, which was another good point. For the price paid, I am quite happy.
Really good strong and stylish umbrella
A great umbrella for men. Used loads in the past few days in heavy rain in the Lake District. Not used in windy conditions yet which will be the real testing point. This is usually when my umbrellas blow inside out and end up in the bin. Hopefully, this one won't do the same. The umbrella frame seems very robust and the push-button mechanism is also very strong. An only minor complaint is that the umbrella is not lightweight but not heavy either. But it's the weight that allows it to be as strong as it is. I chose the bright yellow and
Strong yet compact and very easy to use mens umbrella wooden handle
A very well-finished and professional-looking umbrella suitable for both men and women with a handy sleeve to store it away. It is a great size making it suitable for any occasion as it won't get in the way and is opened and closed instantly at the push of a button which sits seamlessly in the wooden handle next to your thumb. It has a sturdy frame so it will stand up to strong winds. A great umbrella for men.
Compact umbrella for Men
I travel with work a fair bit, and always carry an umbrella with me. The one I currently have is starting to show a bit too much wear and tear so I thought I would treat myself. Having looked through several compact men's umbrellas, I kept coming back to this one. It looks very expensive with its wooden handle and I've never had an auto open-close one before. Arrived next day, and it is a fantastic umbrella for men.
Sturdy, Durable, Wind resistant men's golf umbrella!
The best men's umbrella I've ever had!
It does its job wonderfully keeping me dry and safe from strong winds, remaining good as new.
Royal Walk umbrella seems to dry much quicker than standard umbrellas.
Great quality men's umbrella
Great umbrella for men. Lovely tactile handle. Seems very good quality. Opening action Via the button is quite fierce so make sure no one is standing near you! Feels sturdier than my previous compact men's
umbrella
, although heavier. Only time will tell whether it will last on a windy day! 
The Royal Walk Windproof Umbrella has Great Strength & Durability
I have searched far & wide to find the best Umbrella and at last, I have found One. The Royal Walk Windproof Umbrella is Great, not only is it strong and very well made but it has great Looks as well. I have returned 2 other Umbrellas before finding this. Wouldn't hesitate to buy again in the future.
Good quality umbrella for men
When closed, this umbrella is small. When opened, it is larger than most men's golf umbrellas of that type. The automatic open-close mechanism works really well. The shape is elegant, for Botha men and women.
A well-built strong men's umbrella.
I bought this umbrella for myself after I left my last one on the train. It's a very well-built umbrella for size and does well in windy conditions, I've particularly liked the fast-drying feature of the umbrella when comparing it to other umbrellas. It's just the right size for my messenger bag for those rainy days.
Strong, robust umbrella for men, strong after-sales
Excellent umbrella, received well packaged & very prompt delivery. Automatic opening as well as closing which is great when it is raining & you are carrying things with your other hand. 2 years replacement guarantee on an umbrella is absolutely fantastic. A tad heavier than expected.
Strong mens umbrella windproof with automatic open and close feature
Good automatic open and close feature. It doesn't appear particularly sturdier than similar umbrellas but I can tell it is a little more reinforced and strengthened which is good. It's compact and fits into my handbag well.
Great umbrella and customer service
A great mens umbrella. One push of the button and it opens automatically. I had one issue with my first umbrella in that a strut joint was at a slightly different angle to all the others. Not sure why that was the case but when I contacted the company, no questions asked. A new umbrella was in the post to me and arrived within the week. Amazing customer service. Would definitely recommend this product.
Great umbrella for every man
This umbrella is excellent value for money. Stays firm in strong winds and is a good size for a large umbrella without being too big. The carry bag it comes is a nice touch and useful to catch the rain drip when you close the umbrella and bring it inside. On top of that the customer service with the seller is also excellent.
One person found this helpful
Great size, strong umbrella
This was a gift for my husband for Christmas. He loves how smart it looks and the size is just what he needs for his business trips. I really like the size and style of the umbrella. It really looks the part and does the trick! It's withstood the strong winds and rain recently. Great umbrella and even has it's own carry case
Royal Walk Umbrellas